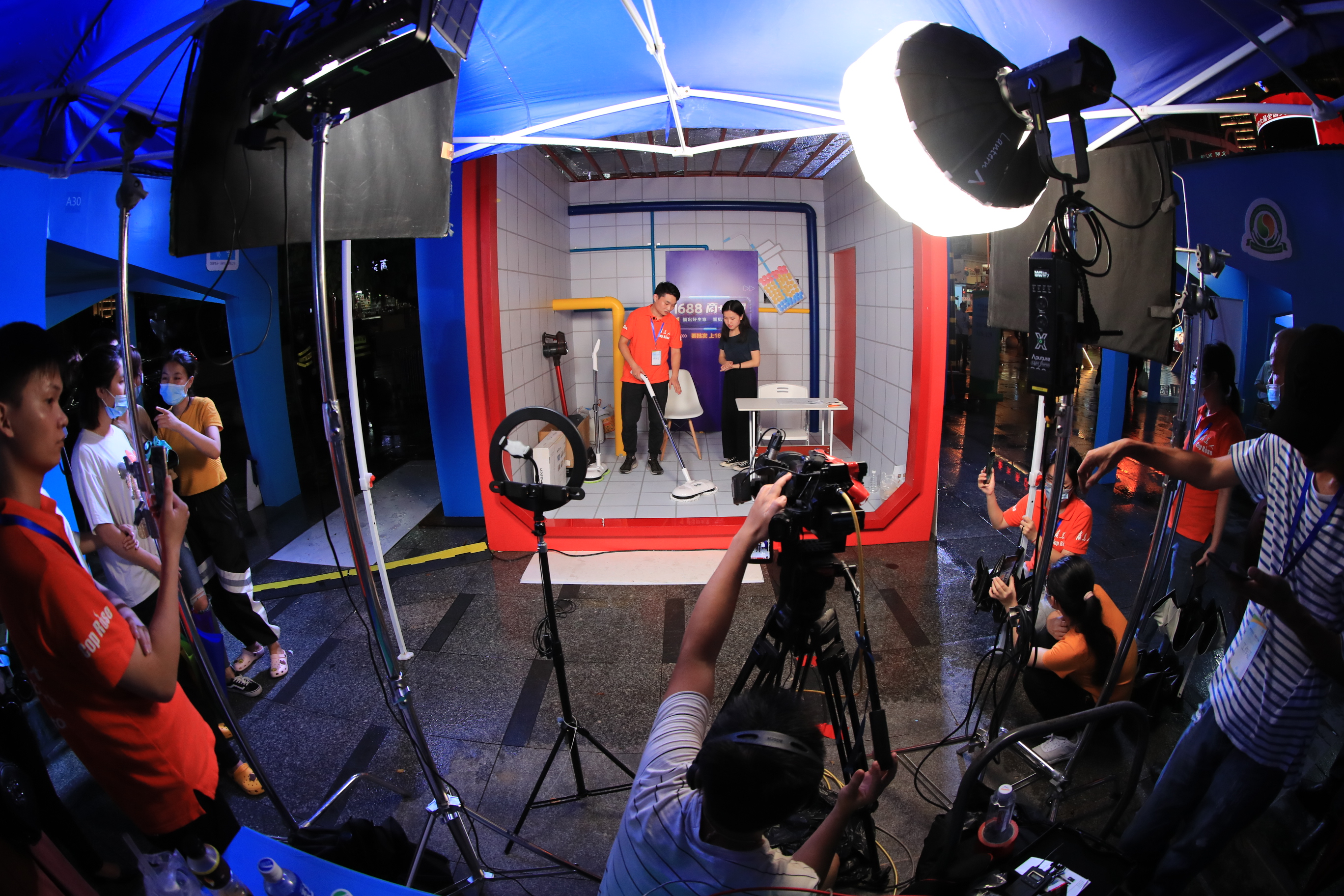 A retailer promotes a mop during a livestreaming session on Dongmen Pedestrian Street in Luohu District for a shopping festival Thursday night. Sun Yuchen
Over 100 companies including Huawei, DJI, Skyworth, Airmate and FIYTA have brought thousands of their export products to Dongmen Pedestrian Street in Luohu District for a shopping festival.
The festival, which kicked off Thursday and will run until Sunday, was designed to boost selling of export products to domestic consumers so as to counter economic impacts caused by the COVID-19 epidemic.
The event was organized by the Ministry of Commerce and Shenzhen Municipal Government.
A launch ceremony for the event was held Thursday night on Dongmen Pedestrian Street, which also witnessed the launch of renovation projects on the street.
More than 100 vendors have set up booths on Dongmen Pedestrian Street, in the Yingbin Garden square and Dongmen culture square.
Products on sale include home appliances, digital products, clothes, foods, daily necessities and cultural products.
During the event, sales have also been put online to embrace the trendy live-streaming economy and the influencer economy. Fashion shows, robot performances and interactive activities are being held during the event.
In addition to Shenzhen, similar shopping festivals also took place in Tianjin and Harbin to boost domestic consumption.
It is reported that Shenzhen held a promotional activity in 2009 to help companies in Guangdong, Shenzhen and Hong Kong to cooperate with product distributors both in China and foreign countries to boost domestic demand after the 2008 financial crisis.