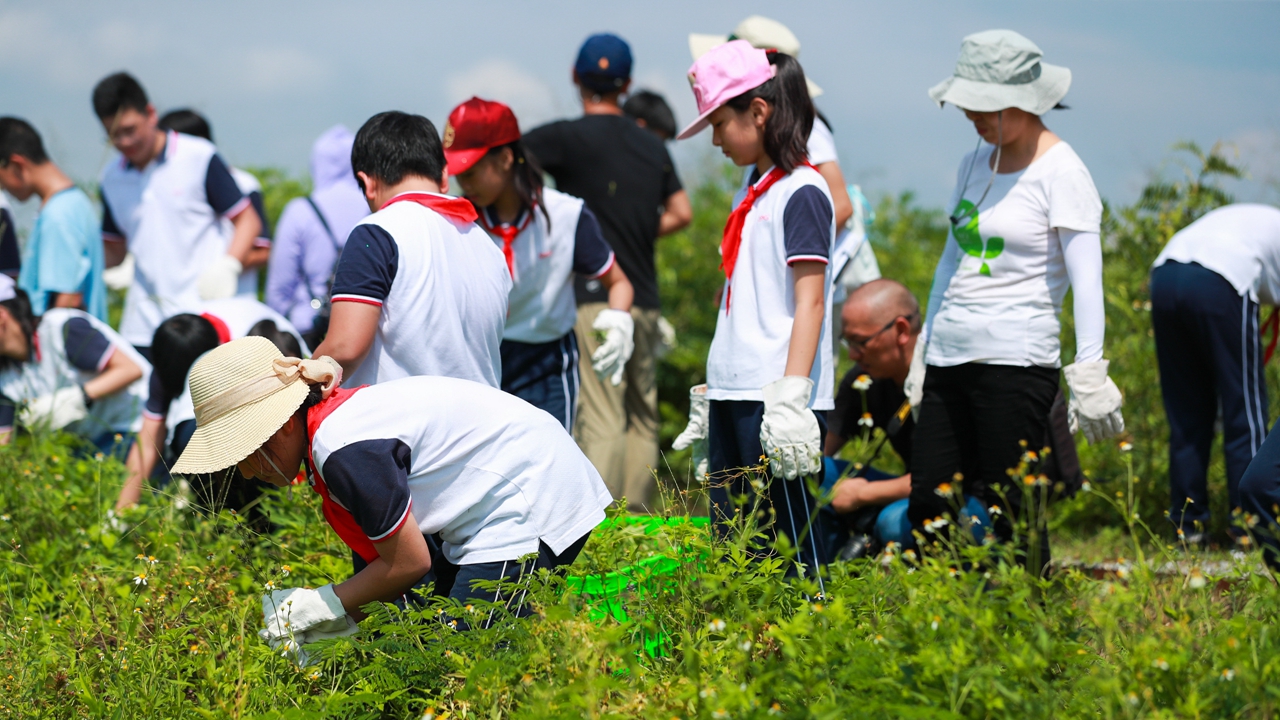 Residents at an activity held to eradicate invasive alien plant species after the opening ceremony of the memorial park Saturday. Courtesy of MCF
A scientific experiment to span 100 years in Shenzhen, named Project 2121, was launched at the opening ceremony of the IBC 2017 Memorial Garden on Saturday in Futian Mangrove Ecological Park.
The memorial garden, where the century-long scientific experiment will take place, was built to commemorate the XIX International Botanical Congress (IBC) that was held in Shenzhen and implement the Shenzhen Declaration on Plant Sciences reached during the congress.
Located inside Futian Mangrove Ecological Park and covering an area of 16.7 hectares, including an estuary, tidal flats, mangroves and land habitats, the memorial garden will serve as a plant science base, encouraging scientists from home and abroad to share ideas on technologies and methods for biodiversity conservation and green development, educating the public for awareness of environmental issues, promoting citizen science, monitoring biodiversity changes and sharing biodiversity data.
Designed in the belief that the greatest designer is nature itself, the memorial garden does not have many constructed facilities, with the exception of necessities such as gravel roads, plank roads and public toilets.
In an echo of the XIX IBC's slogan of "care for plants, care for the future," Project 2121 has received support from top scientists and ecologists at home and abroad. They have accepted invitations to serve as members of the scientific steering committee.
Under the project, science and research institutions and other social organizations can organize the public to conduct continuous scientific observation. On the one hand, it will produce professional scientific achievement; while on the other hand, it will increase the public's awareness of botany, so that the memorial garden will be a platform for plant science research as well as a carrier for public science education.
An activity to eradicate invasive alien plant species, dubbed "green monsters," was carried out right after the opening ceremony of the memorial park Saturday as part of Project 2121.
Another activity of Project 2121, a quick survey of plants in the memorial garden, was also carried out yesterday and attracted more than 30 citizens to participate, which was well received. Residents can visit the memorial garden and participate in scientific programs by appointment.