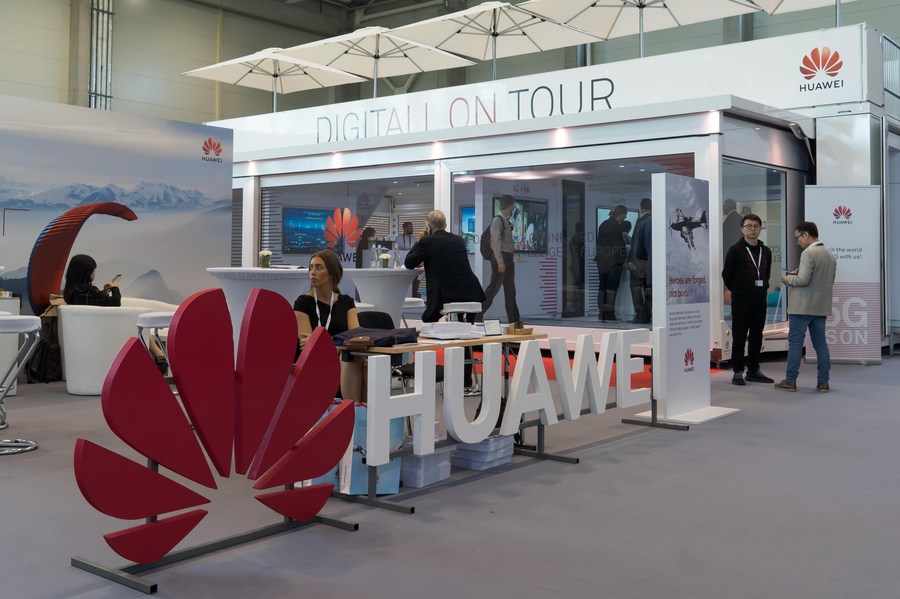 People visit the booth of China's telecoms company Huawei during the International Telecommunication Union (ITU) Telecom World 2019 held in Budapest, Hungary, Sept. 10, 2019. Xinhua
Shenzhen-based company Huawei has retained the top spot on the top 500 Chinese private companies list this year, with a revenue of 858.83 billion yuan (US$125.64 billion), Shenzhen Special Zone Daily reported.
The top 500 list, which was unveiled Thursday at the China Top 500 Private Enterprises Summit 2020 held in Beijing, is an annual ranking conducted by the All-China Federation of Industry and Commerce (ACFIC).
A total of 27 Shenzhen companies, including Huawei, Amer, Evergande, Vanke, BYD and SF Express, made it onto the list this year. Delivery giant SF Express broke into the top 50 Chinese private companies for the first time.
The threshold for the 500 largest private enterprises stood at 20.2 billion yuan in revenue, up by 1.62 billion yuan from 2019. The thresholds for the top 500 private enterprises in the manufacturing industry and the top 100 private enterprises in the service industry both increased compared with the previous year.
According to the report released by ACFIC, Huawei continues to rank first among the top 500 private enterprises and the top 500 private enterprises in the manufacturing industry this year.
Suning and Amer International, both moving up one spot compared with last year, entered the top three.
Evergrande Group ranked first in the total assets of the top 500 private enterprises with 2.21 trillion yuan, the report showed.
SF Express took 45th place on the list with a revenue of 112.19 billion yuan, 17 places higher than last year, and ranked first in the express delivery industry.
China's top 500 private enterprises saw steady growth in their ability to innovate during 2019. Within the leading 500 firms, the key technologies of 402 companies were mainly developed independently, accounting for 80.4 percent of the total.
The number of valid patents obtained by the top 500 companies grew by 8.46 percent in 2019, while the figure for international patents also increased significantly, according to the report.