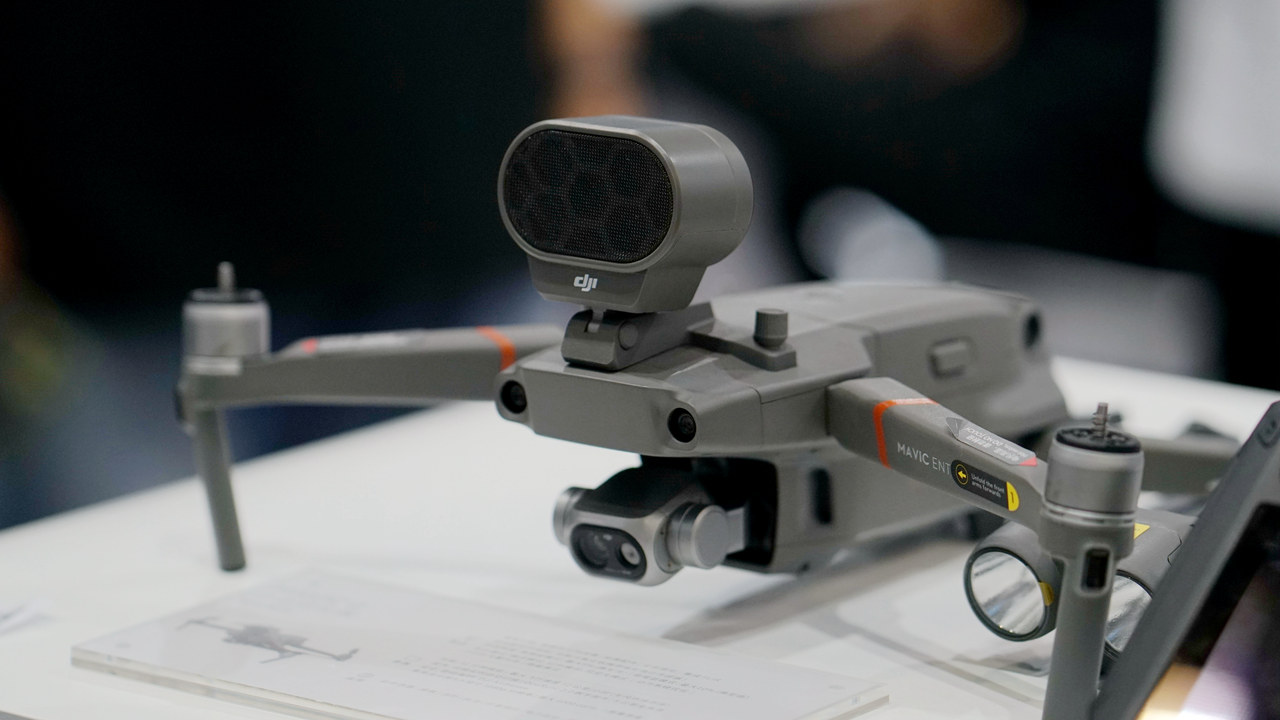 A drone developed by DJI is being displayed at the fifth Shenzhen International UAV Expo. Wang Haolan
Nanshan hopes to be a drone, or unmanned aerial vehicle (UAV) manufacturing and development hub based on its capacity that now houses 80 drone manufacturers that generate about 20 billion yuan (US$2.93 billion) a year.
Among the enterprises, DJI is the most well-known and a leader in the industry. Recently, DJI completed construction on the main structure of its global headquarters, DJI Sky City, in Liuxiandong Headquarters Base.
The structure with two tower buildings at 193.1 meters and 211.6 meters will be the headquarters with research and development innovation, operation services and comprehensive supporting services functions.
DJI holds approximately 70 percent of the global market of small-sized consumer drones and employs more than 3,000 staff members. It is also the proud producer of one of the world's most popular drone models — DJI Phantom 3.
Besides DJI, AEE Aviation Technology, Zero Tech and Flypro and many other companies have also chosen Nanshan for their bases focusing on producing unmanned aircraft.
AEE Aviation Technology is the only drone maker that was involved in the drafting of industrial standards with the Ministry of Public Security. The company has its own research institution and manufacturing base in Shenzhen.
Smart Drone, another popular UAV company, started to specialize in developing drones in 2014 and has grown in popularity by creating drones that can fly about three times longer than competitors.
With the biggest names in the drone industry all dwelling in the district, Nanshan will be able to work out a long-term development plan and standardize construction of the UAV industry, introduce preferential policies, encourage enterprises to invest in science and technology innovation, and try to be the capital of the UAV world, according to a report of Shenzhen Economic Daily yesterday.
At present, Nanshan has unveiled its policies supporting the development of 5G and completed construction of 6,926 base stations by the end of July.
In big data, half of the 5,000 big-data related enterprises in Shenzhen have settled in Nanshan District.
In artificial intelligence, Nanshan is home to 14,000 AI-related enterprises, 30 percent of the total in Shenzhen.
The district has strong capabilities in science and research with higher learning institutions gathering together, such as Tsinghua University Shenzhen Graduate School and Harbin Institute of Technology (Shenzhen).
The district also has a congregation of electronic spare part makers for mobile phones and personal computers. A drone needs the technologies of smartphones, including about 2,000-3,000 spare parts, which can be found in Nanshan and neighboring areas.
The geographical location of Nanshan, which enjoys good transportation facilities and infrastructure for sea, air and land, is helpful for export of the products.