The design for ZTE's new headquarters in the Super Headquarters Base in Nanshan District was released recently, according to Shenzhen Economic Daily.
The building named "Shenzhen Wave" was designed by Buro Ole Scheeren Group, an international architecture firm.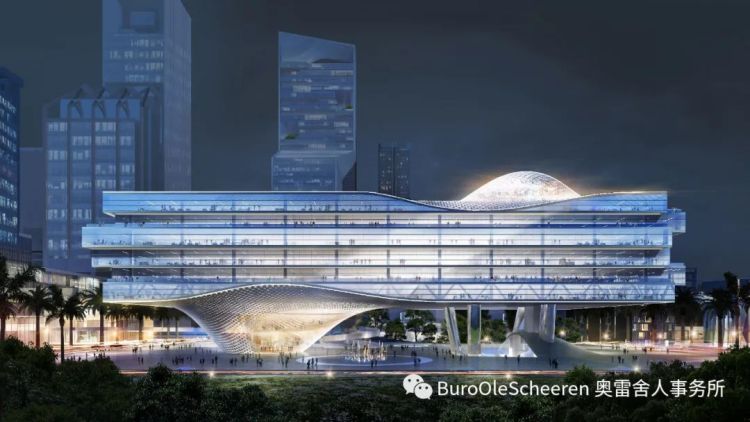 The "Shenzhen Wave" building. Courtesy of Buro Ole Scheeren Group.
It is reported that the "Shenzhen Wave" building will be situated at the arrival point for all traffic approaching from the east, before the road descends into a multi-lane underground boulevard covered with a linear urban park above.
In comparison to the many high-rise headquarters in the district, the building is a medium-rise structure with a height of 60 meters, however, its 120-meter width and prominent location means it will form the front "face" of the Super Headquarters Base to the Shenzhen Bay.
According to the plan, a "wave" cuts through the building and links its multiple levels, lifting the structure off the ground and cresting up through the roof.
This key element becomes an open and experiential pathway through the building for light, views and air circulation, encouraging encounters between users throughout the structure.
The spatial organization of the building embodies and amplifies the company's culture of interaction and innovation.
The "Shenzhen Wave" building is conceived as a piece of city, responding to its context, and integrating with the local community.
As the building floats gracefully above street level, a new plaza beneath the suspended structure connects the waterfront to the urban fabric behind and gives some public space back to the city, according to the description of the plan.