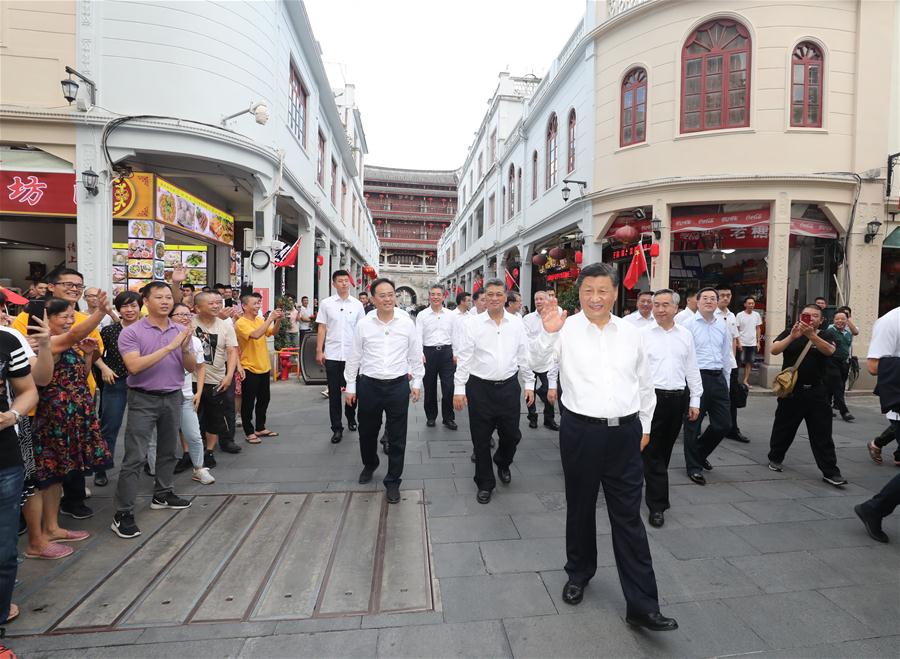 President Xi Jinping waves to people during an inspection tour to Chaozhou City, Guangdong Province, on Monday. Xinhua
President Xi Jinping yesterday inspected the People's Liberation Army (PLA) Navy Marine Corps in Chaozhou City, Guangdong Province, and stressed building it into an elite troop.
Xi said the PLA Navy Marine Corps is an elite combat force for amphibious operations, and it shoulders the important duties of safeguarding the country's sovereign security, territorial integrity, maritime interests, and overseas interests.
He called for enhanced efforts to advance the force's transformation and improve its combat capabilities to forge a powerful troop with battlewise soldiers, which is integrated and versatile in operation, swift in response, and capable of fighting under multi-dimensional conditions.
Xi also inspected the city of Shantou yesterday afternoon, visiting Xiaogongyuan, or the "Little Park," an important cultural and historical area of Shantou.
On Monday, Xi visited Chaozhou Three-Circle (Group) Co. Ltd. in Chaozhou, an electronic component and communication device manufacturer.
He said independent innovation is key to the growth of companies, the upgrade of industries and the high-quality development of the economy.
Xi inspected featured products of the company and learned about its research on key technologies.
"We are undergoing major changes unseen in a century, and we need to take the road of self-reliance on a higher level," said Xi.
Xi also visited cultural and historical landmarks in Chaozhou, including an ancient bridge, an ancient gate tower and a street lined with ancient archways, to check on the restoration and protection of cultural relics, the inheritance of intangible cultural heritage, and the development of cultural and tourism resources.
Xi visited local shops, inquired about prices and talked with residents, learning about the protection of historical and cultural blocks and resumption of business.
Chaozhou is a famous cultural city with a long history, he said, hailing Chaoshan culture as an important part of the Chinese culture. He called Chaozhou embroidery and the region's wood carving, sculpture, opera, tea and cuisine precious treasures of the Chinese culture.
"We love this city. We must take good care of it and build it well," he said.
During this National Day holiday, Chaozhou received nearly 2 million tourists reaping in some 890 million yuan (US$132 million).
In 2019, Guangdong's GDP exceeded 10 trillion yuan. Over 1.6 million people have been lifted out of poverty.
This morning, Xi will attend a grand gathering in Shenzhen marking the 40th anniversary of the establishment of the Shenzhen Special Economic Zone.