The Spring/Summer 2021 Shenzhen Fashion Week will open today at the Shenzhen Museum of Contemporary Art and Planning Exhibition in Futian District, Shenzhen Garment Industry Association said at a news conference at Shenzhen Concert Hall yesterday.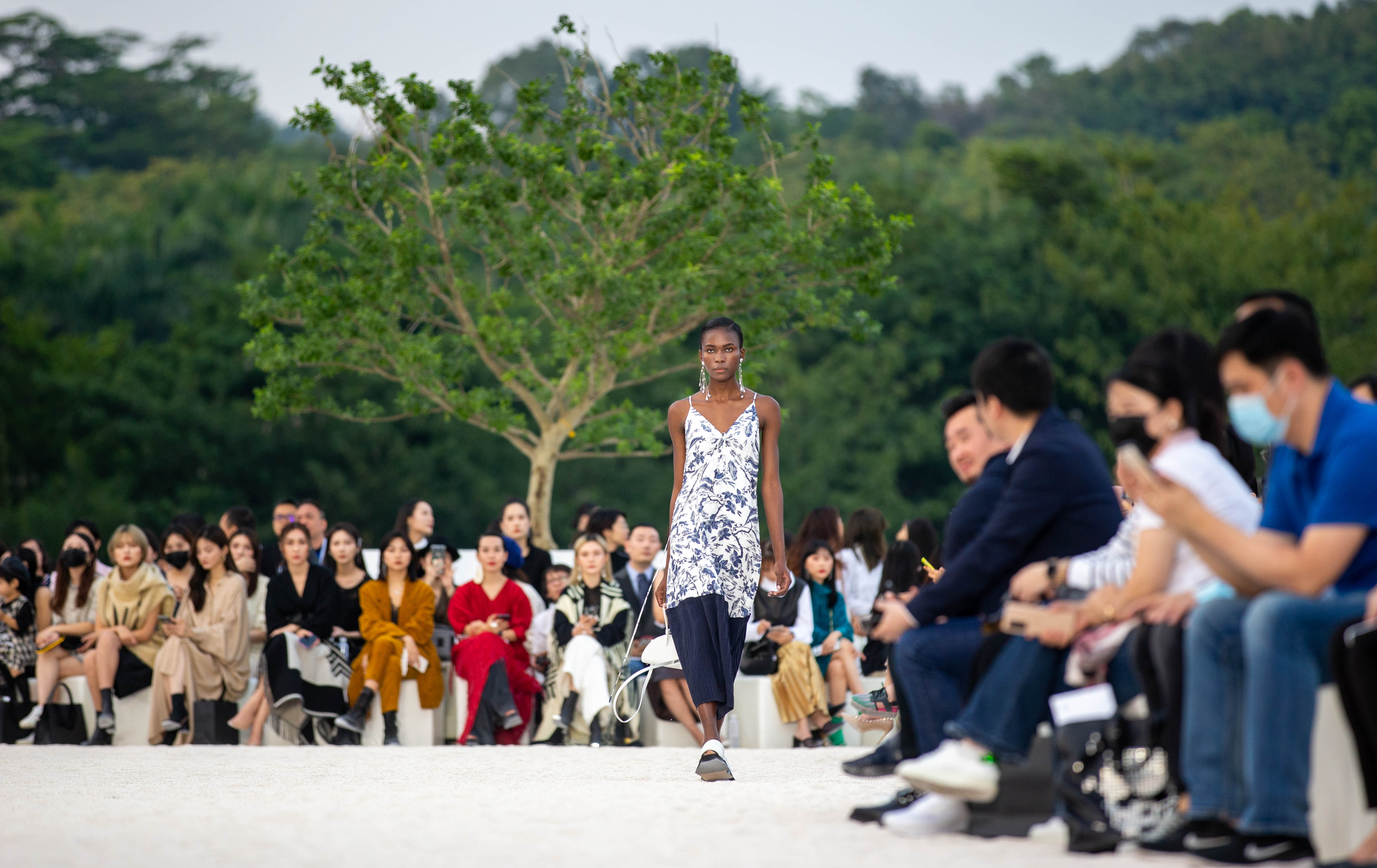 A model walks the runway in a show for Shenzhen Marisfrolg Fashion Group collections at the terrace of Shenzhen Concert Hall in Futian CBD yesterday. The show was staged after a press conference was held to announce the opening of the Spring/Summer 2021 Shenzhen Fashion Week today. Lai Li
Over the week until next Tuesday, more than 60 catwalks involving more than 100 garment brands will be on stage, showing designs and the creations of Chinese designers to the fashion world.
Starting this year, the fashion week officially becomes a biannual event, a norm in world fashion weeks.
At the inauguration ceremony yesterday, Shenzhen Marisfrolg Fashion Group presented designs named after its chairwoman and chief designer, Zhu Chongyun, at the terrace of Shenzhen Concert Hall in Futian CBD.
Marisfrolg, originating from a garment factory set up by Zhu in 1993, now owns six brands, with more than 700 shops in 106 cities in China, Singapore and Milan of Italy, and employs over 6,000 people.
In April, due to the COVID-19 pandemic, the organizer held an online fashion week, originally scheduled for March. A total of 70 online fashion shows were presented on the official Douyin account of the organizer, setting the latest trends for the 2020 Fall/Winter collection.
For the event in October, the fashion week will be held both online and offline. The virtual showrooms will display short videos produced by fashion brands and released on the Shenzhen Fashion Week account on Douyin.
Apart from the main venue, there are three subvenues at Dalang Fashion Town in Long-hua District, Vanke Square in Longgang District, and Yitian Holiday Plaza in Nanshan District.
Shenzhen is a developed city in the fashion industry and initiated Shenzhen Fashion Week in 2015. It is home to 2,500 garment factories with 300,000 employees including 20,000 designers, according to Shenzhen Garment Industry Association.
Its fashion industry has ranked first in the country in terms of the number of local fashion brands, the number of listed fashion companies and their market values, as well as its market share. In 2019, Shenzhen's garment industry posted 260 billion yuan (US$37 billion) in sales, accounting for 10 percent of China's total.
In March this year, Shenzhen unveiled an action plan (2020-2024) for high-quality development of the fashion industry. In five years, the city will strive to lead the fashion industry in Asia and become a well-known capital of the fashion industry in the world.