The 22nd China Hi-Tech Fair (CHTF) will open today at the Shenzhen Convention and Exhibition Center in Futian District, highlighting the latest science and technology achievements China has made during the 13th Five-Year Plan period (2016-2020), according to a press conference yesterday.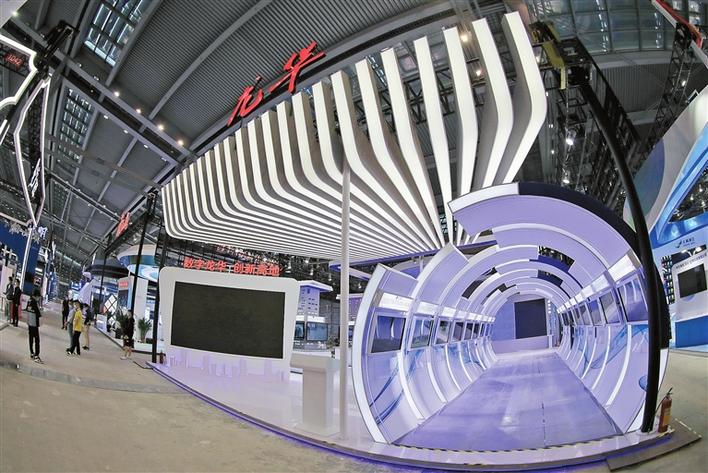 A view of the booth of Shenzhen's Longhua District at the Shenzhen Convention and Exhibition Center in Futian District yesterday, one day before the 22nd China Hi-Tech Fair opens.Sun Yuchen
Themed "Transforming the Future with Technology and Driving Development with Innovation," the five-day fair will exhibit new-generation technologies, advanced technologies and products in energy saving and environmental protection, optical displays, smart medical treatment, smart city, advanced manufacturing and aviation in a combined exhibition area of over 140,000 square meters in the main venue and two subvenues across the city.
Five new trends of technology development in 2020 will be showcased at the fair, including widespread AI application in all parts of life, the unexpected impact on the structure of technology hotspots caused by the novel coronavirus pandemic, the increasing growth of the 5G commercial industry, high-precision technology, as well as smart cities, Shenzhen Vice Mayor Ai Xuefeng said at the conference.
The Belt and Road pavilion as well as the exhibition area of foreign delegations will be exhibited in both online and offline venues. A total of 48 delegations from 41 countries and international organizations, including Argentina, Australia, Austria, Bahrain, Belgium, Brazil, Bulgaria, the Czech Republic, Croatia, Egypt, Estonia, Finland and Germany, have confirmed their participation.
Hall 1 will be divided into four exhibition areas focusing on AI, smart driving, intelligent manufacturing and smart home.
In Hall 6, the Smart City exhibition area will showcase applications of technologies like Internet, IoT, AI, big data and cloud computing in smart city construction. Huawei has set up a 200-square-meter booth to show the all-scenario solutions to smart cities.
This year's fair will also feature fast-growing industries spurred by COVID-19 such as online education, online office, online medical treatment, smart medical treatment and smart city management.
A special area will be designated to show the products and technologies that have played an important role in fighting against COVID-19.
Products including noncontact thermal checks, noncontact delivery, robotics and drones will also be displayed.
In Hall 5, the Chinese Academy of Sciences (CAS) will bring its latest achievements and introduce its latest progress in the construction of its CAS Shenzhen Technology University, a project signed by Shenzhen and CAS at the 2018 fair, sources from Shenzhen Institutes of Advanced Technology of CAS said.
The fair also sets up a virtual international exhibition center to display products and items of overseas exhibitors who are unable to attend the fair in person.
To ensure safety, visitors need to register their names, show health codes, wear masks and go through temperature checks.
On the sidelines of the fair, the Hi-Tech Human and Intellectual Resource Exchange of the China Hi-Tech Fair will be held in the Shenzhen Talent Market on Thursday and Friday.
A number of government, businesses and academic institutions will attend the event, while a series of activities will be carried out, including forums, exhibitions and online recruitment.
The exhibition activities of the event include an excellent skilled talents exhibition, the Guangdong Human Resources Service Industrial Park Expo and the Human Resources Innovation Expo. The three exhibitions will be displayed both offline and online, focusing on the growth of outstanding skilled talents, as well as the development and application of the Guangdong Human Resources Industrial Park and the human resources innovative service model.
In addition, a human resources digital technology competition, an online recruitment conference for high-end talents in the Guangdong-Hong Kong-Macao Greater Bay Area, as well as a talent development forum and job fair on the new generation of information and communication technologies will be held.