The designs by Foster + Partners Ltd. have been chosen for the construction of the Guangmingcheng Comprehensive Transport Hub that integrates high-speed rails, an intercity rail and Metro lines, according to Shenzhen Special Zone Daily.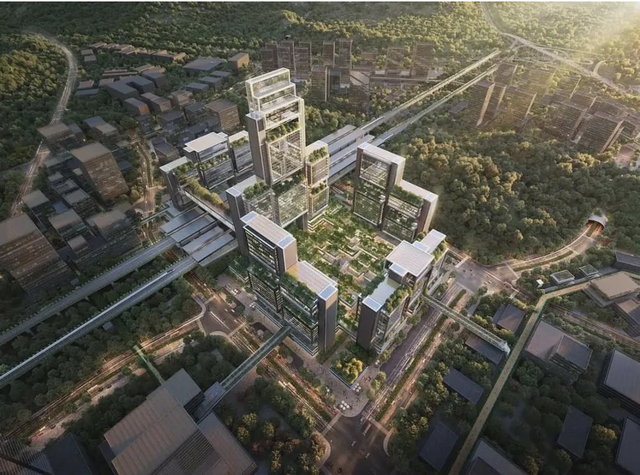 A computer-generated image of the transport hub. Photos from Shenzhen Release
The Guangzhou-Shenzhen-Hong Kong Express Rail Link will meet with the Ganzhou-Shenzhen High-speed Rail and Shenzhen-Dongguan Intercity Railway and three Metro lines at the hub.
The transport hub, covering an area of 14.9 hectares in Fenghuangcheng area in the southeast part of the district, is encircled by Kelin Road, Qiaokai Road and Fengxing Road.
Foster + Partners said at a release that it was a fantastic opportunity to develop a contemporary urban center with an integrated and sustainable transport hub at its heart.
According to the designs, the generously landscaped, walkable urban center will seamlessly connect to the smart autonomous transportation system, combining both well-being and convenience and create a vibrant urban focus for the surrounding neighborhoods in Guangming.
The hub is envisaged as an integral part of the city with three Metro lines, specifically the Line 6 spur line, Line 13 and Line 18, to connect with rest of the area, and two high-speed rail lines intersecting at the site.
The central idea of the design is to capitalize on the natural beauty of the site and utilize the lush landscape to create a lively experience for visitors and locals, according to Foster + Partners.
A large green space sits atop the underground Metro and intercity rail stations, with stepped green terraces that create a link with the surrounding forest, looking onto the central green spine. The openings at the ground level of the tower buildings mark the central access to the high-speed rail station, while subways and bridges to neighboring areas create convenient connections for pedestrians, cyclists and driverless vehicles.
A new transport museum is situated on the bridge over the high-speed rail station, connecting the eastern and western halves of the site. Visitors will be able to enjoy futuristic exhibition displays using the latest VR, AR and projection mapping technologies against the panoramic view of the high-speed rail station.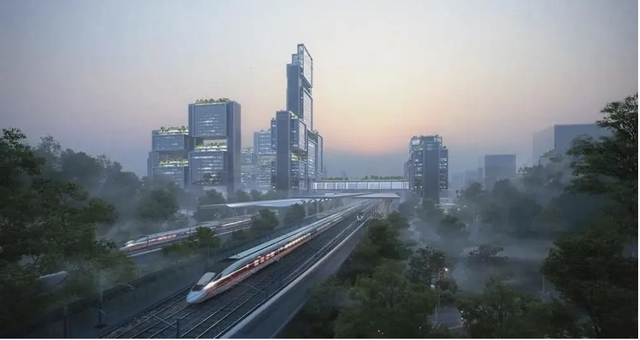 In addition to controlling wind and solar access, the project maximizes landscape areas, public amenities and pedestrian priority to provide enjoyable outdoor spaces.
Guangming, on the northwest side of Shenzhen, is the home to the State-level Science and Technology Town on the Guangzhou-Shenzhen Science and Technology Innovation Corridor. The Guangming Science and Technology Town will become a world-class science center with global influence and a key engine for achieving China's goal to become a world scientific and technological power by 2050.
From the Guangming Science and Technology Town, it takes 30 minutes to reach Hong Kong West Kowloon Station and Guangzhou South Railway Station via the Guangzhou-Shenzhen-Hong Kong Express Rail Link.