At 84, Chinese artist Han Meilin says he must "keep pace with the times."
The prolific artist who "brings surprises in art creations every day" is holding his "The World of Meilin in Shenzhen" exhibitions at two venues in town.
Han Meilin in Shenzhen on Dec. 21. Photo courtesy of the exhibitions' organizers

One exhibition, "Han Meilin Art Exhibition: Heaven, Earth, People & Harmony" at the Guan Shanyue Art Museum, mainly features his diverse artworks imbued with poetic elegance and innovative artistic language; the other, "Han Meilin Chinese Zodiac Art Exhibition" at the Nanshan Museum, displays his various works with the theme of 12 Chinese zodiac animals, which are common cultural symbols for the Chinese people.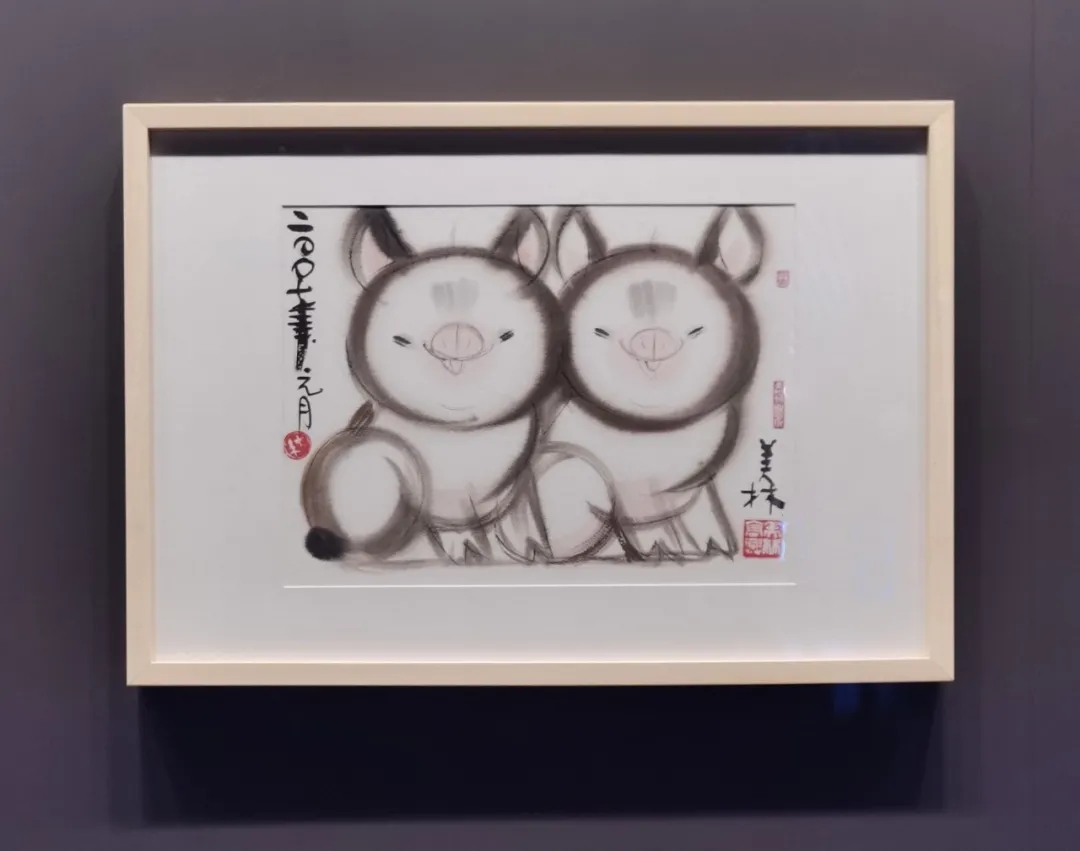 A painting on display at the Nanshan Museum.
"Han has been creating for seven decades. Before I came to the exhibitions, I had thought they must be his old works, but later I found a painting was even created two days before his arrival in Shenzhen. And his new works are more and more simple in form but very modern and powerful," said China Central Television host Bai Yansong at the opening of Han's exhibitions Monday.
"I began to paint at 6 years old, and it is the ancient Chinese art that gave me inspiration and strength. Now the world has been developing rapidly and young people are in the forefront of art. I have to keep pace with the times and catch up with young people. Presenting my works at the exhibitions, I'm confident that I'm bringing tradition to the modern frontier," said Han at the opening.
Renowned for designing the 2008 Beijing Olympics Mascots, the Air China logo and some Chinese zodiac stamps for China Post, as well as a great many cultural icons across the country, Han's artworks are distinctive in simple form yet gorgeous and graceful.
Painting "Flying With the Dragon" (2006) at the Nanshan Museum.
The passionate expression of life can be found in his creations. Animals in his paintings and sculptures are lively and adorable, based on his sharp observation from life and countless practices. In his artworks of humans, he masterfully highlights the most beautiful parts of the human body and accurately presents the body curves when portraying humans in movements, fully showing their vibrant life.
In addition to painting and sculpting, Han is also skilled at making purple clay teapots, artistic chairs and ceramic artworks, as well as dying fabrics and carving plates. He applies modern aesthetics into these traditional handicrafts and pioneers in adding a contemporary twist into folk custom designs. In his daily objects, the artist easily conveys historical and cultural themes in a simple, relaxed mood.
Han believes that artists should seek inspiration from traditional culture which is bound up with the country and people. Therefore he usually travels to remote villages and cultural sites at home and abroad to draw inspiration. At the Shenzhen exhibitions, visitors may find that Han didn't paint horse hooves in his horse paintings and that's because he was inspired by the ancient rock paintings of Helan Mountain in Ningxia Hui Autonomous Region.
"Han Meilin's art is inspired by both the traditional Chinese culture and modern changes in the globalization. He made breakthroughs in styles. By providing emphasis with his unique visual impact, Han also appeals to the wide audience in aesthetics, so he tries to depict a simple, pure and natural life while demonstrating the Chinese spirit," said Zhao Li, principal curator of the "Han Meilin Art Exhibition" global tour and vice dean of the School of Arts Administration and Education at the Central Academy of Fine Arts.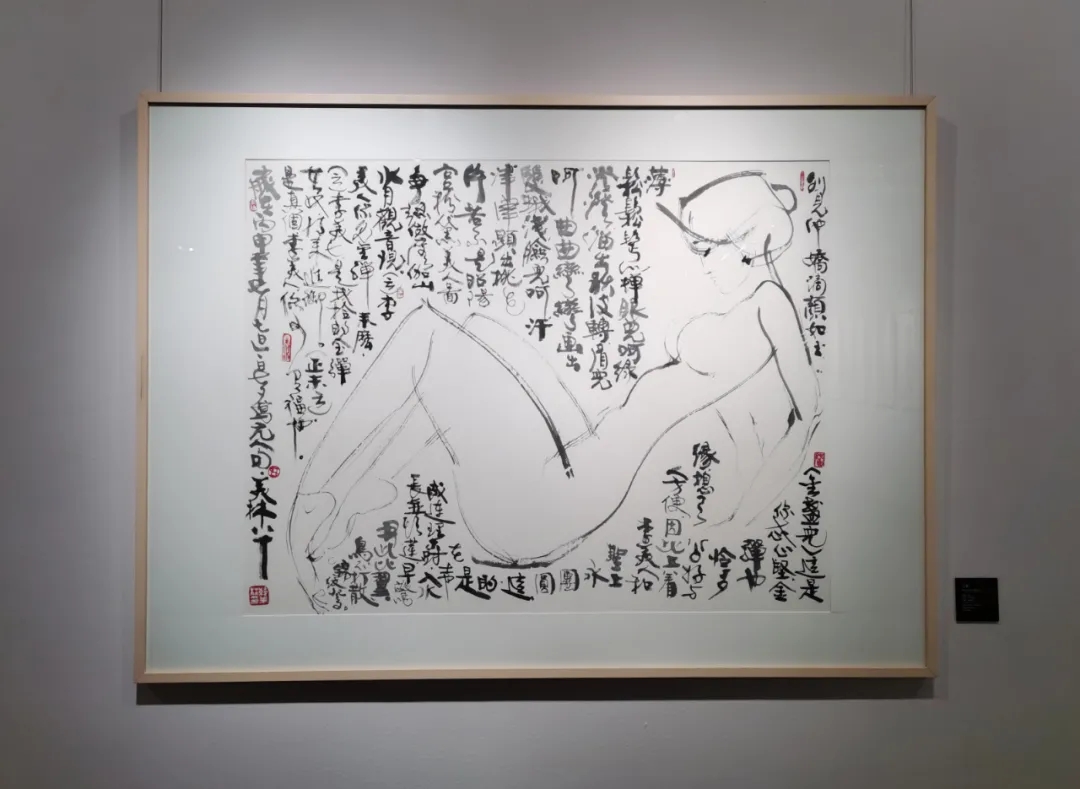 Painting "Human Body" (2016) at the Guan Shanyue Art Museum.
Claiming himself as "an ox working hard throughout his whole life," Han paints every day and believes that inspiration emerges during the process of practicing. "Heavy rain is formed by accumulated water drops and clouds. When the exciting lightning bursts in the sky, the heavy rain is coming. Art creations also rely on years of accumulation," he said.
Born in Jinan, Shandong Province in 1936, Han has studied at the Central Academy of Fine Arts and the Central Academy of Arts and Design (now Tsinghua University's Academy of Arts and Design). He created several urban sculptures for Shenzhen since 1994 and his works have been exhibited abroad since the 1980s. His "Han Meilin Art Exhibition" global tour started in 2016 and has been held in Venice, Paris, Seoul, Bangkok, Liechtenstein, and other places.
At the exhibitions in Shenzhen, he donated some of his books to the Guan Shanyue Art Museum and the Nanshan Museum. "My exhibitions pay homage to Shenzhen's pioneering ox spirit and give a warm wish for the upcoming Year of the Ox."
The Center for Han Meilin Art Research, Tsinghua University was also established Monday. Fifteen scholars and artists, including Zhou Lingzhao, Chang Shana, Feng Jicai, Fan Di'an and Yu Qiuyu, have been selected as members of the center's academic committee.