Apart from other industries, Shenzhen is also a hub for medical devices and health care industries, said 62-year-old German Klaus Zenkel, who is general manager of Imedco Technology (Shenzhen) Co. Ltd. and vice chairman of the South China Board of European Union Chamber of Commerce in China.
"I cannot tell you the past 40 years of Shenzhen, but I can tell you its past 18 years," joked the old Shenzhener in an exclusive interview with Shenzhen Daily.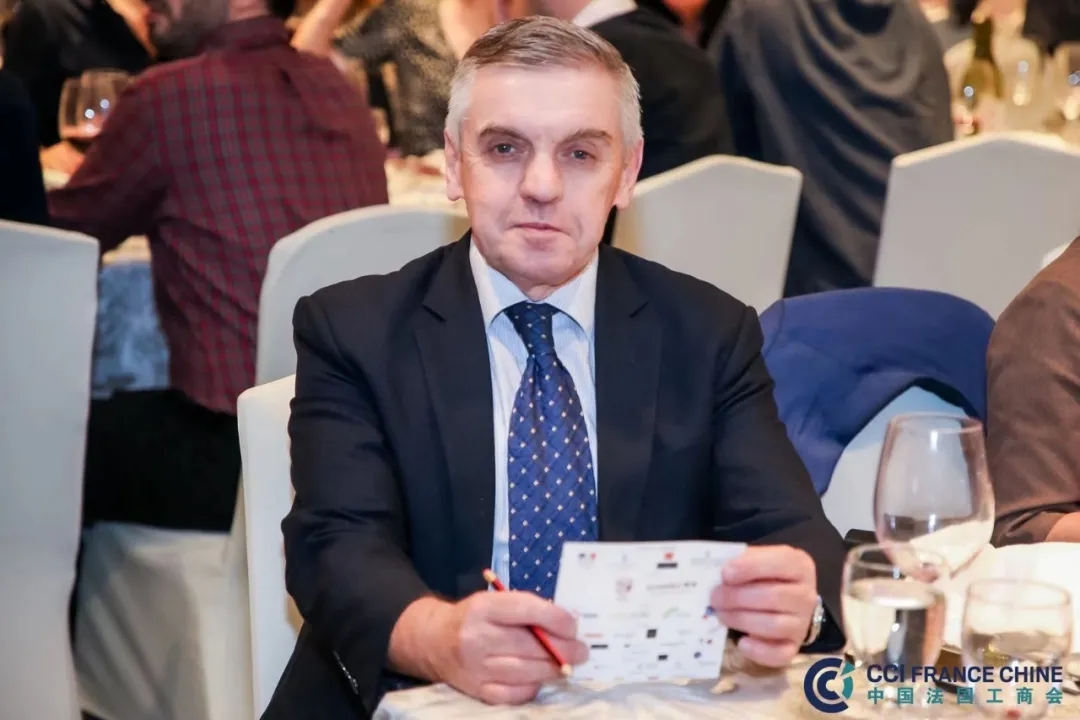 Klaus Zenkel. Photos courtesy of the interviewee
Zenkel moved to Shenzhen in 2002 as the technical director of Siemens Shenzhen Magnetic Resonance.
In 2006, he challenged himself with a startup and built from scratch the Shenzhen subsidiary of Swiss Company Imedco AG, a global player in the health care industry that provides magnetic resonance imaging (MRI) shielding solutions for hospitals and research institutions.
Zenkel suggested setting up a subsidiary in Shenzhen for three main reasons. "We have MRI manufacturers in Shenzhen: Siemens was here, BASDA was here [it was a local supplier], Mindray also started MRI," he said.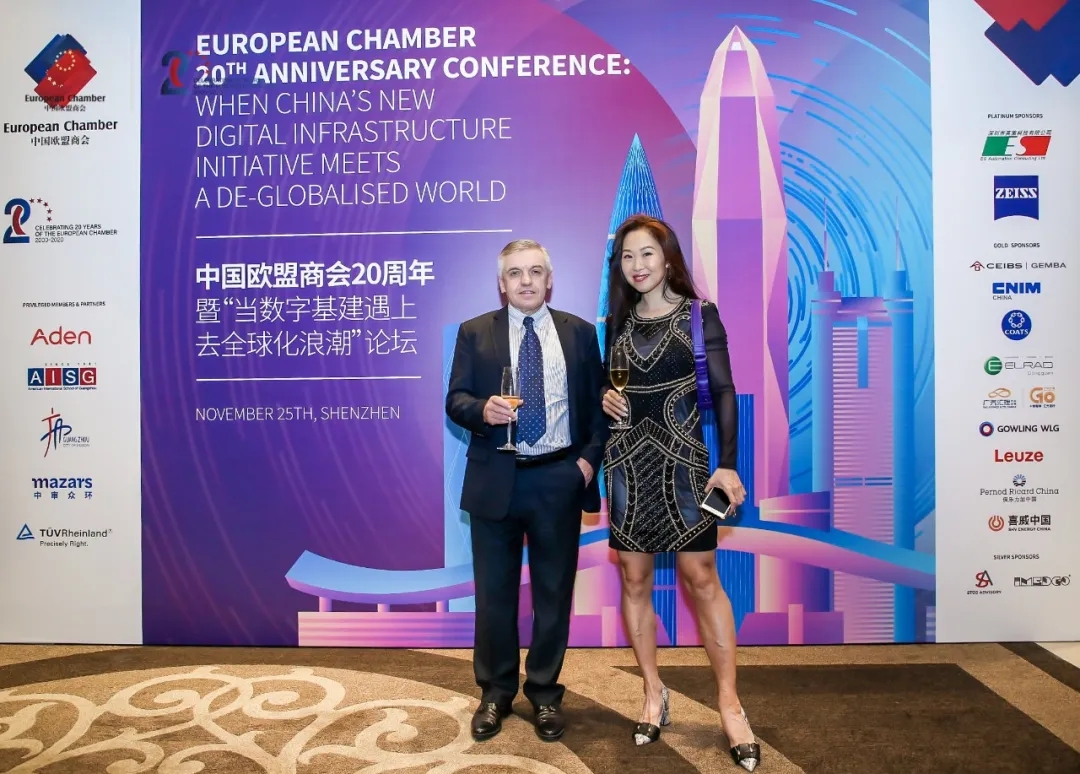 Klaus Zenkel and his wife at the European Chamber 20th Anniversary Conference.

"Secondly, I learned from Siemens that we can get the supply chain and the suppliers in this area. Thirdly, the infrastructure in Shenzhen is good. We are also producing for the Asian market and the shipping in Shenzhen is very convenient."
According to Zenkel, Shenzhen is a hub for medical devices and the health care industries in South China. "Many medical device manufacturers are here, including Mindray which is a world leader in monitoring devices and ultrasound, Siemens which is the leader in MRI, and two domestic MRI manufacturers... In the pharmaceutical industry, you have the big French pharmaceutical company Sanofi Pasteur in Pingshan.
"There are also biotechnical companies and life science companies, interesting platforms for medical device manufacturers which not only produce big devices, but also many small devices. I met a Shenzhen company in the radiology show in Chicago one year or two years ago, which has an ultrasound machine that can be operated with a mobile phone," said Zenkel.
The reason why Shenzhen has become a medical hub, according to Zenkel, is that in the Great Bay Area, the supply chain is good for many different industries that were already developed in the 1990s. "They started the companies in the 1990s. So whether it's for the medical industry or another industry, the suppliers can do it all. Thus the supply chain is an advantage for Shenzhen."
For Zenkel, the success of Shenzhen lies in the creativity of its people. "At that time we were based in the high-tech park in Nanshan, near Shenzhen University. Some domestic companies like ZTE and Mindray were also there. And you could see the workforce was very dynamic. Shenzhen was quite a young city and very eager to achieve something."
Klaus Zenkel has a talk with Guangzhou Vice Mayor Chen Zhiying at the Understanding China Guangzhou Conference in October, 2019.
"Young talent at that time worked for domestic companies. Nowadays they start their own small companies because Shenzhen has a lot of platforms for startups. The city was already dynamic 15 years ago but it has developed further in a more innovative way. People around are really thinking not only 'OK, I go to do my work, that's it,' they have very strong ideas about what to do and this is the success of Shenzhen," said the German GM.
For Zenkel, Shenzhen back in 2002, though very different from today, was already more advanced and convenient than other Chinese cities. "In the beginning, we still went a lot to Hong Kong to shop for groceries, because at that time there was only one big shopping mall, the MixC City in Luohu," recalled Zenkel, adding that now you only need to walk around the corner to buy what you need.
"At that time there were still a lot of manufacturers in Nanshan, a lot of factories. Now many factories have moved to Longgang and Bao'an districts. Back then, some of the factories were still basic manual manufacturing with workers working on the floor. Now things have improved. The environment for the industrial parks is much better now," said Zenkel.
An entrepreneur himself, Zenkel thinks the business environment in Shenzhen has improved a lot. "There are more facilities to do business, whether it's B2B or B2C. Shenzhen has done a lot to make this environment suitable for entrepreneurs who aspire to start something new."
As for the living environment, he thinks the city is very developed and very well designed. However, he hopes the city could implement some smart traffic control systems. "They have a lot of cameras there, but the traffic is not controlled by them. For example, they still stick to the long traffic lights even if there is no car coming from another direction. They could implement some smart traffic control systems."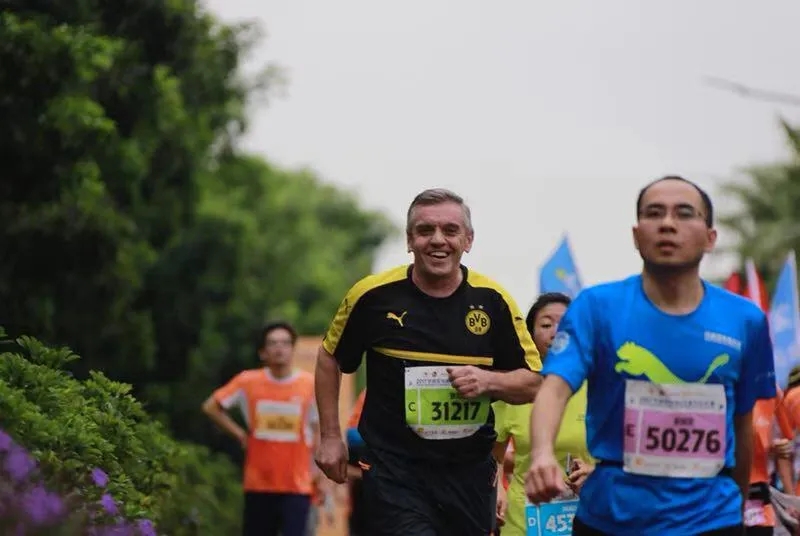 Klaus Zenkel runs at the Shenzhen Nanshan Half Marathon in 2017.
He also believes that a good transportation network could help solve the problem of high housing cost to attract talent. "All the development in the city is good to attract talented workers, but they have problems with the cost of apartments. The solution for this could be a very good transportation network through which you can commute from maybe Foshan or Dongguan within half an hour. That's important for the Greater Bay Area."
At the EU Chamber, Zenkel supports the 300 member companies in South China, most of which are located in the GBA. Nationwide the EU Chamber has nearly 2000 member companies, with an aim for the upcoming year: advocate for the future.