Reducing greenhouse gas emissions requires far-reaching changes in human activity, which in fashion terms includes changing both the way we produce clothes and how we consume them. Some young Chinese fashion professionals are trying their best to reduce fashion's negative impact on the environment and at a talk at the Sea World Culture and Arts Center on Jan. 10, they shared their sustainable fashion concepts and called for younger generations to change lifestyle to fight against pollution.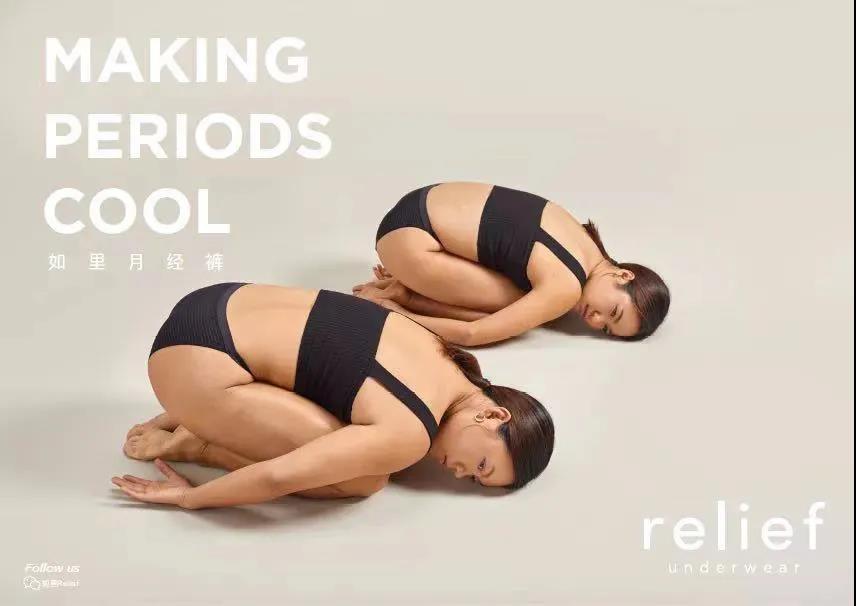 A promotional photo of Relief Underwear's period pants. By courtesy of Relief
Chen Aiyin, founder of Relief Underwear, has launched China's first period pants that can be worn during menstruation as a substitute or a supplement to traditional feminine hygiene products, like some existing period underwear brands in the West, such as Thinx, Knix and Modibodi.
"Every year, tons of sanitary pads are sent to landfills and burned. It takes 500-900 years for sanitary pads to be degraded into microplastic. Menstrual pants are made from breathable, antimicrobial and stain-resistant fabrics, which are washable and reusable and are designed to replace pads and tampons, or be worn with menstrual cups for extra protection," she said.
Lin Jiayu, omni-channel director at Allbirds (invested in by Leonardo DiCaprio), not only introduced Allbirds shoes' sustainable materials, such as merino wool, eucalyptus and sugarcane, but also stressed that going sustainable doesn't mean to make shoes or clothing uncomfortable or unattractive. She added that Allbirds labels every item produced with its carbon footprint, measuring the carbon intensity of every decision they make — materials, development, manufacturing, packaging and shipping, like food companies labeling calories on packages.
Chen Danqi, founder of fashion brand DONSEE 10, said that her company uses sustainable materials, such as Ingeo PLA (made from starchy plants like corn) and RPET (recycled polyethylene tetraphyte). In her recent "One for All" collection, different layers are designed in a garment so that separate components could be worn again in different ways. She pointed out that fashion designers should convey their sustainable concepts to the public and influence consumers to choose environmentally friendly items.
Yang Zhiyuan, co-founder of the Jiuhao Store, advocates reducing wastes through changing lifestyle and behaviors. His company is an online platform selecting daily products from global suppliers and then selling them to consumers. He said that products in his store should meet 10 requirements, such as being long-lasting, repairable, easy to clean, cost-effective and made with environmentally friendly materials.
"From producing, using to recycling, any of the three stages couldn't solve the pollution problem independently, so consumers, in the using part, should actively change their behaviors, such as reducing purchasing and reusing existing items," he said.
Other professionals at the talk agreed that the fashion industry should contribute more to the fight against climate change, as China aims to bring carbon emissions to a peak by 2030, and achieve carbon neutrality by 2060 with more forceful policies and measures.
Organized by Design Society, Vanke Foundation, R.I.S.E. and C Team, the talk is a spinoff event of the "Fashioned From Nature" exhibition at the Sea World Culture and Arts Center, which reflects on the relationship between fashion and nature.