This is the 15th of a series of reports on expats sharing their stories with the Shenzhen Special Economic Zone, which celebrates its 40th anniversary this year.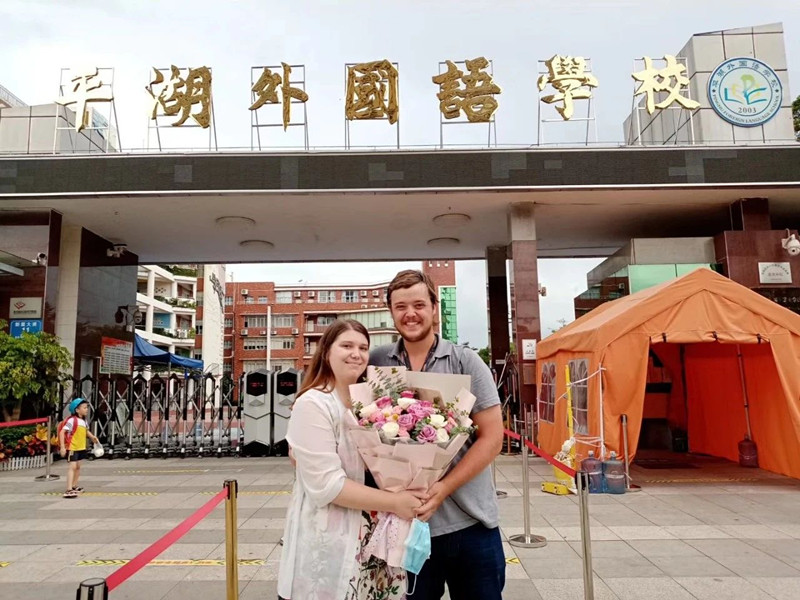 Jared Andrew Herring and his wife Sovi Nicole Herring.
With a great passion to explore strange lands outside America, the young married couple, Jared Andrew Herring and Sovi Nicole Herring, moved to their first destination — Shenzhen, after graduation from their university in May last year.
Before moving to China, the American couple only talked to people who had traveled to the rural areas of China.
So the city is very different from what they had expected.
"The city is massive. Each subway stop is basically its own city. It's mind blowing," Sovi described.
The couple came to Shenzhen in September 2019, first settling in Pinghu of Longgang District before moving to Shekou in Nanshan District this July as Sovi changed her teaching school in Pinghu to one in Nanshan.
Their experience in Longgang and Nanshan has enabled them to see the city from different angles.
It was not until they had settled down in Shekou did Sovi and Jared learn that the Metro card and the bus card are the same.
"One of our new foreign friends was taking us around, and they explained it also covers the Metro," Sovi said. "It took us a while, almost seven months." This fun fact also revealed their public transportation experiences had mostly been on buses.
"In Longgang, we didn't live near the Metro, we had to take a bus for an hour to the Metro," Sovi described their life in Longgang as isolated. "Cause we would be on a bus for an hour, so we just get off when we feel like, that looks cool, let's go see that."
"And we are now in Nanshan, we can just hop on a Metro and go wherever the place is." Sovi enjoys the convenient traffic in Nanshan. "We didn't have much of a chance to travel until we came to Nanshan," Sovi added.
Living in Longgang, the couple has had a great relationship with Sovi's coworkers. They usually went to karaoke and had dinner together. Her coworkers liked to spend time with Jared, because he can always tell funny jokes.
To their surprise, when they came to Nanshan, their social activities exploded.
"We've been bowling. Did you know you can go bowling in China? I did not," Sovi said in an excited voice. "There's bowling here, there's ice skating."
"And there's a trampoline park here," Jared added.
They also meet foreign nationals that organize activities, like brief talks, rock climbing and hiking. "Lots of different groups to meet people, a lot of things to do," Sovi said.
Nanshan is an international and convenient district for the couple, full of entertainment and novelty. Living in the district helps them better fit in with the local community.
Sovi praises the life in Nanshan a lot, while Jared prefers Longgang's green views.
"I kind of prefer Pinghu, the edge of Shenzhen, because how much nature there was," Jared said. With less buildings in Pinghu, more trees seem to cover the area.
"I really like there [Pinghu]. It's really fun here [Nanshan] too, in the area, there are a lot of substitutes. In Pinghu, I can ride around, watch the nature and listen to audio books," Jared added.
"In comparison to Nanshan, it's more like a village," Sovi said.
But the "village" develops at a fast pace. "It's much easier to see [changes] in Longgang, because it's still constructing the city out there... Longgang had its skyscrapers up in two weeks. Very fast," said Jared.
"Metro goes there now," Sovi added. As Metro Line 10 was put into operation in August, Pinghu is better connected with the other parts of Shenzhen.
Longgang is an "isolated" but warm district. Although they traveled less because of the inconvenience of travel, the language barrier and Sovi's long hours at work, they miss their life in Longgang, especially Sovi. She misses many of her cute and hard-working students there. And since the Metro links deep in Longgang to Pinghu, the area they once lived is much more open.
Working as an English teacher, Sovi spends a lot of time with children; Jared is rather free for being a freelance voice actor for apps and audio books.
Sovi picked up her job as a teacher in Shenzhen. Although she has changed schools, she has always had a great time with children. She majored in communication and psychology at university, and she said being a teacher also needs strong communication skills with students.
Jared also shows a strong love for children. Before COVID-19, Sovi occasionally took Jared to the school as a guest speaker for her students.
Children loved this big guy with a big beard, that he had at the time, because he can do so many different voices to play different characters.