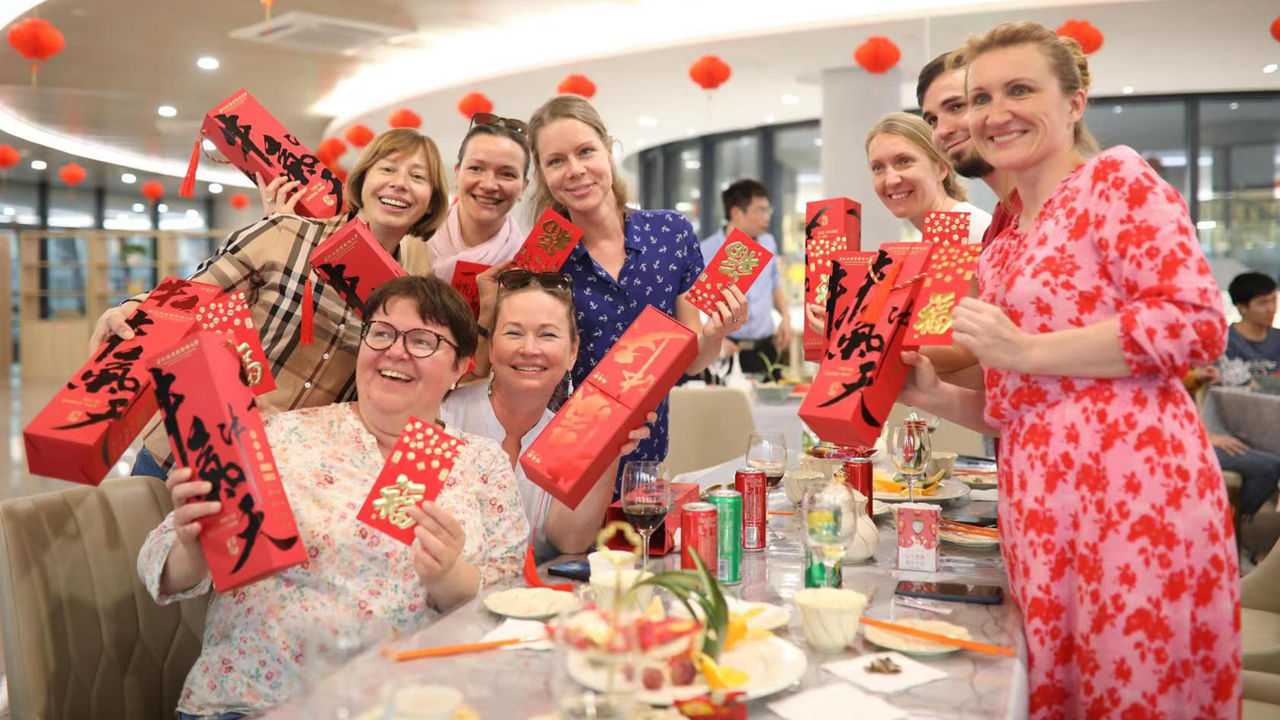 Teachers with Shenzhen MSU-BIT University (SMBU) in Longgang District pose for a photo holding gifts they received for Chinese New Year. Courtesy of SMBU
Yasin Muhammd, a Pakistani and a second-year Ph.D. student majoring in Optical Engineering at Shenzhen University, is going to spend his second Spring Festival in Shenzhen. He has been in China since his return from Pakistan in the summer of 2019.
"I used to travel around China over the Chinese New Year holiday, which is two to three weeks, but I will travel around Shenzhen this year to support the university's COVID-19 control work," Muhammad told Shenzhen Daily. He declined his friends' invitation to spend the Spring Festival in Qinghai Province.
Muhammad is not alone. The majority of foreign students and teachers in Shenzhen universities have forgone their travel plans to their home countries or other cities over the upcoming holiday.
In the past four months, sporadic cluster infections have broken out in many places in China. The Spring Festival travel rush, dubbed the world's largest human migration, is expected to increase the risk of spread of the virus. It is the first time that Shenzhen has encouraged residents to celebrate the festival in the city.
The number of teachers and students of local universities who will stay in Shenzhen over the Spring Festival holiday this year is estimated to be more than 10,000, according to Shenzhen Economic Daily.
Staying put doesn't mean boredom. Expats have put a variety of holiday plans on their schedules, ranging from exploring traditional Chinese culture to self-development.
Megan Hutchinson is an American teacher in the Foreign Languages Department at Shenzhen Polytechnic. She has also abandoned her travel plans.
"Originally we had plans to go back to his (Hutchinson's fiancé's) hometown (in Henan Province)," Hutchinson said. "This year, my fiancé and his family are staying in Shenzhen as well. So I am going to go have [the Chinese New Year's Eve] dinner with his family and we will make dumplings and write on red paper and do all of that."
The upcoming holiday is going to be quite busy for Jose Shin, who is studying for a master's degree at Peking University HSBC Business School (PHBS). "This time (year), I have to work on my thesis and learn new skills to get a good job in China," he said. The Guatemalan postgraduate student is teaching himself Mandarin and programming via online platforms.
Like Shin, 97 other foreign students are studying for their degrees at PHBS, according to the international office of PHBS.
Some universities in Shenzhen have organized engaging activities for students and teachers who don't have the chance to return to their hometowns to ensure that they can enjoy the festive atmosphere.
More than 100 students and teachers of Shenzhen MSU-BIT University (SMBU) are staying on campus over the holiday. SMBU has prepared a series of events for them, including visiting tourist attractions, making dumplings, and watching the Spring Festival Gala.
Over 40 foreign teachers chose to stay in Shenzhen, and only those who don't need to teach in the following term headed to their home countries, a PR representative with SMBU told Shenzhen Daily.
"The calling on us to stay put is doing good for us. It is for our safety. Without the pandemic control measures, the city might have been under another lockdown," Muhammad said, adding that staying put didn't bother him at all.
Hutchinson spoke highly of the achievements Shenzhen has made in the anti-virus fight, and the responsibilities Shenzheners have taken for others' health.
"It's nice that the Shenzhen government is not forcing anyone to do anything, but they are using reason and logic to encourage people to make the right choice. A lot of people are even more willing to stay because they have the choice. They feel like they're helping the country and helping their fellow citizens, especially with the winter coming. I do think it is a smart thing," Hutchinson said.