Shenzhen-based Chinese biotech company BGI Group, which helped Serbia build two state-of-the-art Fire Eye laboratories for COVID-19 PCR (polymerase chain reaction) testing, received the first class of the Order of the Serbian Flag on Serbia's Statehood Day on Monday.
Serbian President Aleksandar Vucic honored the company and nine Chinese physicians for assisting the country's battle against the COVID-19 pandemic.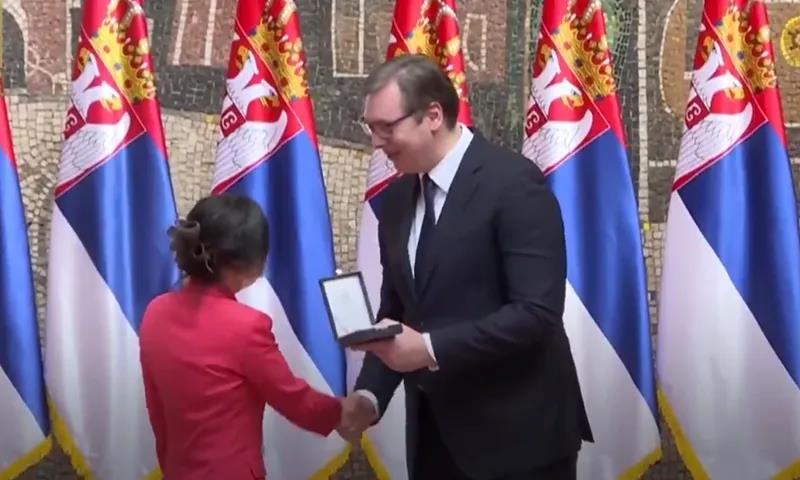 Serbian President Aleksandar Vucic (R) presents a gold medal to a representative from Chinese biotech company BGI Group for its aid in the country's COVID-19 battle Monday, which is Serbia's Statehood Day. CGTN
The gold medals for merit were conferred on nine members of the medical team in absentia, who arrived in Serbia at the very beginning of the pandemic and for months shared their knowledge and experiences with local counterparts.
"Thank you, heroes of our time, who gave a lot to Serbia and lived not only for yourselves, but for us," Vucic told the award recipients. "To give a lot to Serbia without asking for anything in return, to incorporate one's work in its name, to sacrifice for it — is the most that someone can do in life and that is why Serbia responds with gratitude and the greatest recognition it can give. Their names will be written in the eternal book of praise, courage and honor."
Celebrated since 2001, Statehood Day marks the anniversary of the first constitution that the Principality of Serbia adopted in 1835.
The Serbian Government and BGI signed an agreement April 8, 2020, entrusting BGI to build two Fire Eye COVID-19 testing labs in Serbia, one in the capital city of Belgrade and the other in the southern city of Nis. The capacity of the lab in Belgrade reached more than 6,000 samples a day after April 30 and the lab in Nis was put into use in July. The two labs have greatly improved Serbia's capacity to detect the COVID-19 virus.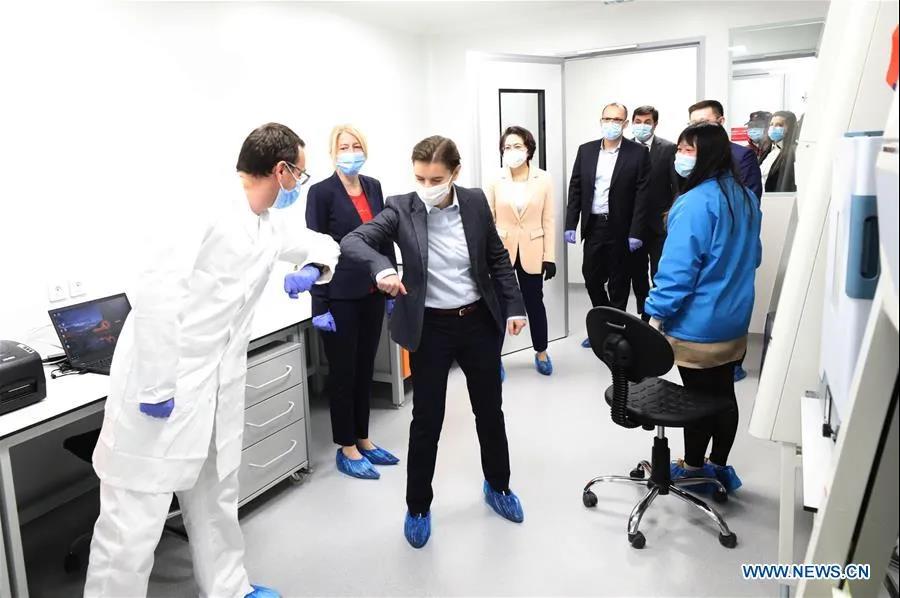 Serbian Prime Minister Ana Brnabic touches elbows with a Serbian expert to greet each other at the opening of the Laboratory for Molecular Detection of Infectious Agents dubbed "Fire Eye" in Belgrade, Serbia, on April 20, 2020. Xinhua
In Serbia's fight against the pandemic, the country has received support and assistance from China in terms of supplies, experts, technology and experience. The first batch of foreign supplies Serbia received was SARS-CoV-2 test kits developed and produced by BGI, which arrived in Serbia on the night of March 15, 2020.
The Fire Eye laboratory is an integrated solution. In addition to virus detection technology, it can also have antibody detection and high-throughput sequencing technology, used in conjunction with nucleic acid detection. Not only can the samples be screened for whether they are infected with viruses, but the lab can also effectively promote the research of virus tracking and monitor possible mutations.
By the end of December last year, BGI had built more than 80 Fire Eye labs overseas in nearly 30 countries and regions. The daily PCR testing capability had reached more than 1 million samples.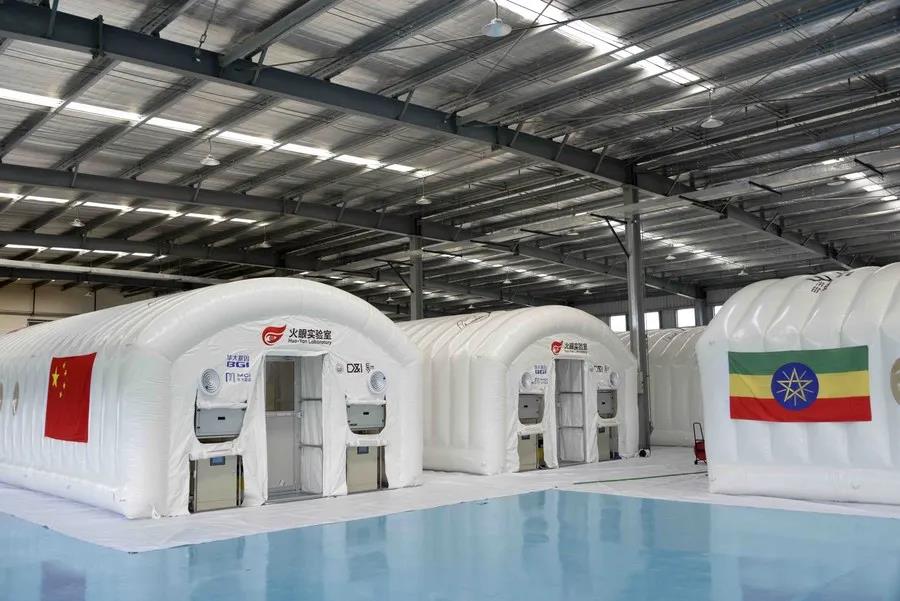 A scene at the BGI Ethiopia COVID-19 test kit factory in the Bole Lemi industrial park on the outskirts of Addis Ababa, Capital of Ethiopia. Xinhua
Serbia is the first European country to use a vaccine that was designed, trialed and produced in China. The first batch of 1 million doses of a COVID-19 vaccine developed by China's Beijing-based pharmaceutical company Sinopharm arrived in Belgrade on Jan. 16.
The Balkan country had inoculated more than 450,000 of its population of 7 million in almost two weeks as of Feb. 5, a rate that exceeds all other states in Europe apart from the U.K., according to publication Our World in Data.