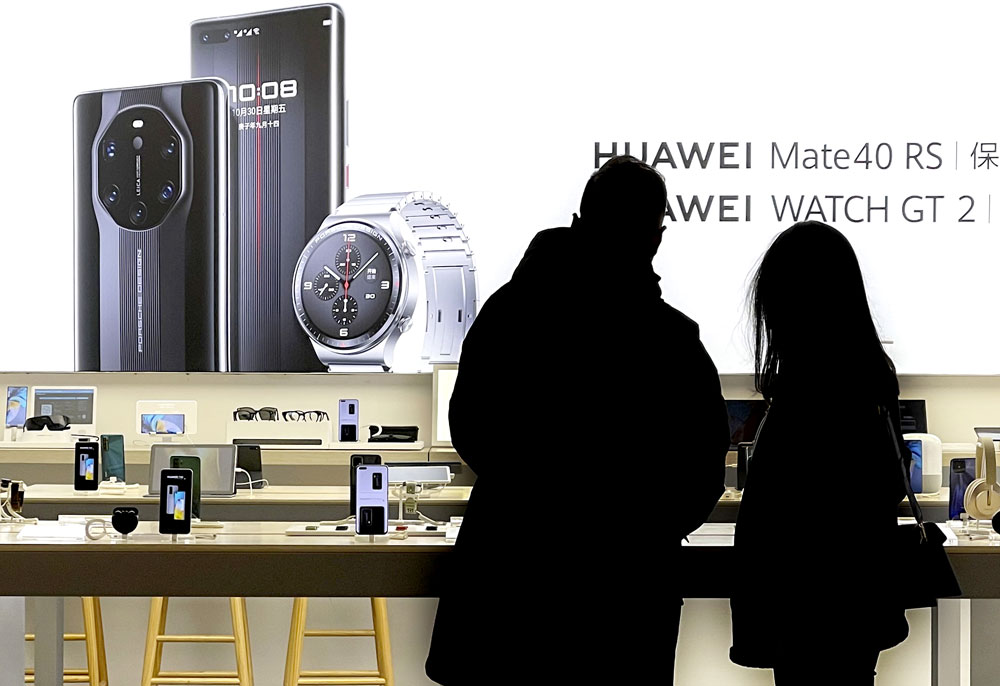 Shoppers admire Huawei products at a gadgets store in Beijing. China Daily
Shenzhen-based Huawei Technologies announced Tuesday that it will charge mobile phone makers a royalty to use its patented 5G technology.
The company released a white paper on innovation and intellectual property (IP) at its Shenzhen headquarters Tuesday, stating that it has become one of the world's largest patent holders through sustained investment in innovation.
For every multimode 5G smartphone, the company will provide a reasonable percentage royalty rate of the handset selling price, and a per unit royalty cap at US$2.50, said Jason Ding, head of Huawei's Intellectual Property Rights Department.
This price is lower than some of Huawei's competitors, including Finnish telecoms company Nokia.
In 2018, Nokia said the licensing rate for its 5G SEP (standard essential patent) portfolio was capped at 3 euros (US$3.58) per device. Ericsson has said it will charge US$2.50 to US$5 per device.
"We want to show the history of our innovation over the past 30 years and our long-term commitment to respecting, protecting and contributing to IP. With this white paper, we want you to better understand how Huawei has become what it is today," said Huawei's chief legal officer Song Liuping.
Huawei has filed the most international patent applications in the industry. It says its technologies are used in all 5G handsets.
By the end of 2020, Huawei held over 100,000 active patents in more than 40,000 patent families worldwide, according to the white paper.
In 2008, the World Intellectual Property Organization listed Huawei as No. 1 in terms of the number of patent applications filed under the Patent Cooperation Treaty for the first time. In 2019, the company ranked No. 2 in Europe and No. 10 in the United States in terms of the number of patents granted.
The company was put on an export blacklist by then U.S. President Donald Trump in 2019 and barred from accessing critical technology of U.S. origin, affecting its ability to design its own chips and source components from outside vendors.
But, Huawei is looking to showcase its own research achievements, with the company expecting to receive around US$1.3 billion in revenue from patent licensing between 2019 and 2021, according to Ding.
The company achieved positive growth for both 2020 revenue and net profit, the company's founder and CEO Ren Zhengfei said in February, adding that the company continued to see significant levels of customer confidence.
Huawei's consumer business made up 54.4 percent of the company's revenues in 2019.