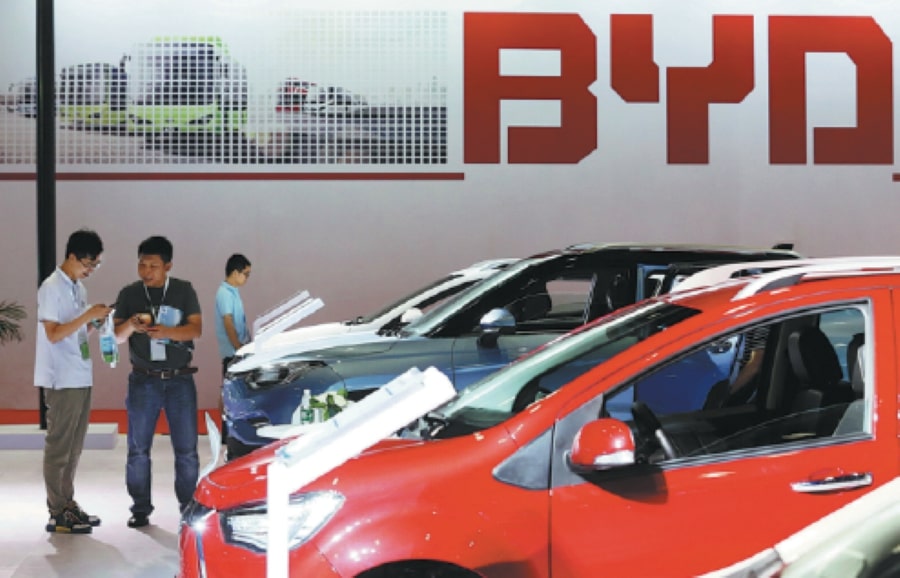 BYD's electric models attract visitors at a new energy auto expo in Beijing. China Daily
Two Shenzhen-based enterprises, Huawei and BYD, are among the top 10 private enterprises in the consumer sector in China, according to the "2021 Shu Yun Hurun China Top 100 Most Valuable Consumer Goods Companies" released Tuesday.
A total of 11 Shenzhen-based companies were on the list, same number as Shanghai.
Non-State-owned enterprises headquartered on the Chinese mainland with market value of at least 14 billion yuan (US$2.14 billion) are qualified to be put on the list.
The ranking followed the market capitalization or valuation of enterprises.
Listed companies' rankings were based on their closing stock prices March 9, while unlisted companies were evaluated based on the listed companies' valuations in the same industry or the companies' valuations in the latest round of financing.
Huawei is the top private company with a total valuation of 1.1 trillion yuan, while BYD ranked fourth with a market capitalization of 490 billion yuan, according to the report.
"Around 70 percent of the listed consumer companies are among the top 500 companies in China. Half of them are global 500," said Rupert Hoogewerf, chairman and chief research officer at Hurun.
"China has entered a brand era. I saw many Chinese brands entering the global market. Their products, including design and packaging, have already reached international standards," Hoogewerf said.
In terms of market value, the smartphone industry ranked first, followed by the auto industry and the home appliance industry, according to the report.
Food and home appliance industries saw the most listed private consumer-sector companies.
"Known for its 5G technology, Huawei has in fact gained most of its revenue from the consumer sector. Albeit the sales of Huawei products declined due to the company's chip shortage, Huawei is still the most successful company in China's consumer sector," Shenzhen Economic Daily quoted Hoogewerf as saying.