Siemens Shenzhen Magnetic Resonance Ltd. (SSMR), a wholly owned subsidiary of Siemens Healthineers, introduced a high-end magnetic resonance (MR) scanner powered by artificial intelligence to the Chinese market Saturday, reinforcing its leading position in a market which it believes has great potential.
The newly released 1.5 Tesla (1.5T) MAGNETOM Altea, hailed as a milestone for the industry, is equipped with the German medical technology company's innovative BioMatrix technology, which will enable higher patient satisfaction and improved workflow efficiency, Andreas Schneck, general manager of SSMR, said at a launch ceremony in Shenzhen.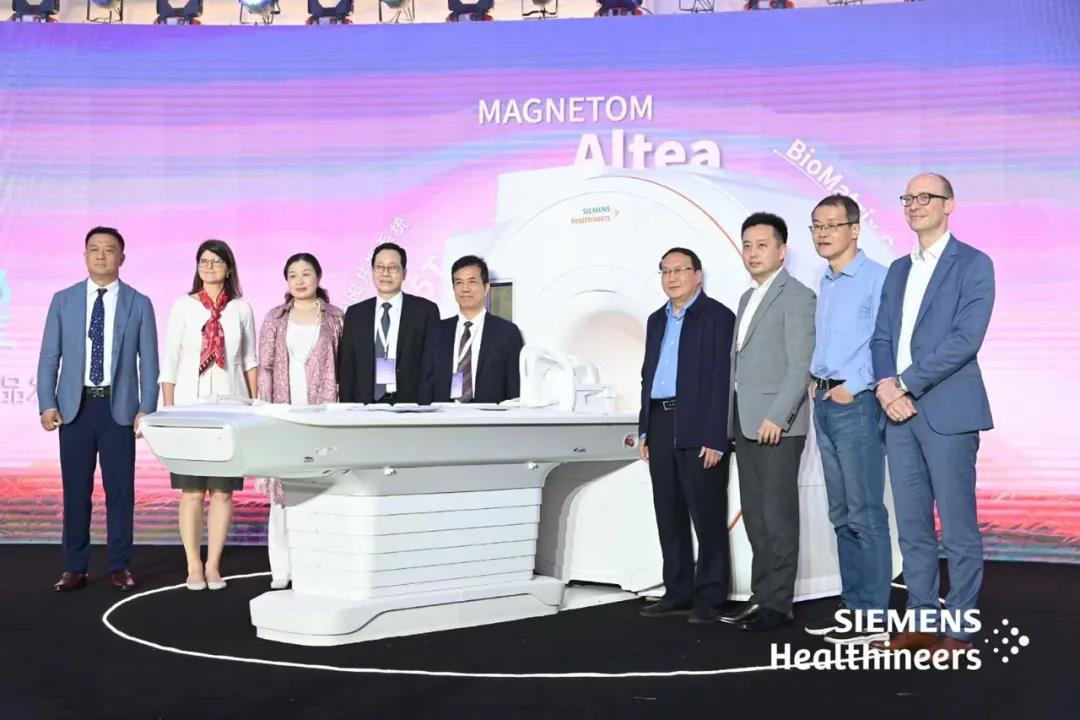 Elisabeth Staudinger (2nd L), president of Siemens Healthineers Asia Pacific, Jerry Wang (L), president of Siemens Healthineers China, Andreas Schneck (R), general manager of Siemens Shenzhen Magnetic Resonance Ltd. (SSMR), and medical experts pose for a photo with the newly released 1.5 Tesla MAGNETOM Altea at the launch ceremony in Shenzhen on Saturday. Courtesy of SSMR
The new scanner will be especially meaningful for the Chinese market, which has a large patient base but a relatively low rate of MR scanner penetration, said Elisabeth Staudinger, president of Siemens Healthineers Asia Pacific. Staudinger noted that the Chinese market has shown remarkable growth potential in the first quarter of this year with a year-on-year increase of 25 percent in revenue, compared with a 13.3 percent rise for the company globally.
Since taking root in Shenzhen's high-tech industrial park in 2002, SSMR has evolved into the biggest research and manufacturing center of Siemens Healthineers outside Germany. It has achieved the full capacity for development and manufacturing entire MR systems and key components that meet the global quality standards of Siemens Healthineers, according to Schneck.
The new scanner, developed mainly by the company's research and development (R&D) team in Germany with contributions from its Shenzhen engineers, will be manufactured locally on the Shenzhen factory floor.
Aside from producing for the China market, the Shenzhen factory is also tasked to meet the demand from other Asian countries and the Americas by exporting more than 70 percent of its products to these markets.
"One in every three scanners Siemens Healthineers is shipping globally comes from the Shenzhen factory," he said.
Since 2002, SSMR has delivered more than 6,000 products to global customers in more than 100 countries, achieving double-digit business growth every year, according to the company's website.
With a R&D team accounting for more than 20 percent of its some 1,000 employees in Shenzhen, SSMR has also developed on its own a number of MR systems that are being used worldwide.
In 2018 when German Chancellor Angela Merkel paid a visit to Shenzhen, SSMR was one of the two companies she saw during her brief stopover in the city. In 2019, SSMR won an award from Shenzhen's commerce bureau for its contribution to the city's development as a foreign-invested enterprise. Last year, the company was recognized by the Shenzhen government as one of the 10 outstanding foreign enterprises in the city at an event marking the 40th anniversary of the special economic zone.
"One of the key reasons why we are here in Shenzhen is that Shenzhen is the innovation center of China, and has developed into one of the big technological hubs in China," said Schneck. Shenzhen has the full industry ecosystem that Siemens Healthineers want to be part of, he said.
"We found Shenzhen has a very inspiring environment which is beneficial to us," with its progress in areas like digitalization and artificial intelligence, he said.
Schneck also expressed his appreciation for Shenzhen's business environment, which he said is "very supportive, very open and very economy friendly."
"We plan to increase our investment in both the factory side and the R&D side [in Shenzhen] in the future," said Schneck. "And we want to stay here in Shenzhen and the Greater Bay Area to keep growing together with Shenzhen and the Greater Bay Area companies."