Auto manufacturer BYD produced a total of 100 million face masks a day at its peak last year to help safeguard people's health amid the COVID-19 outbreak. BYD also hopes to perform better in ensuring people's safety with its self-developed blade-shaped battery.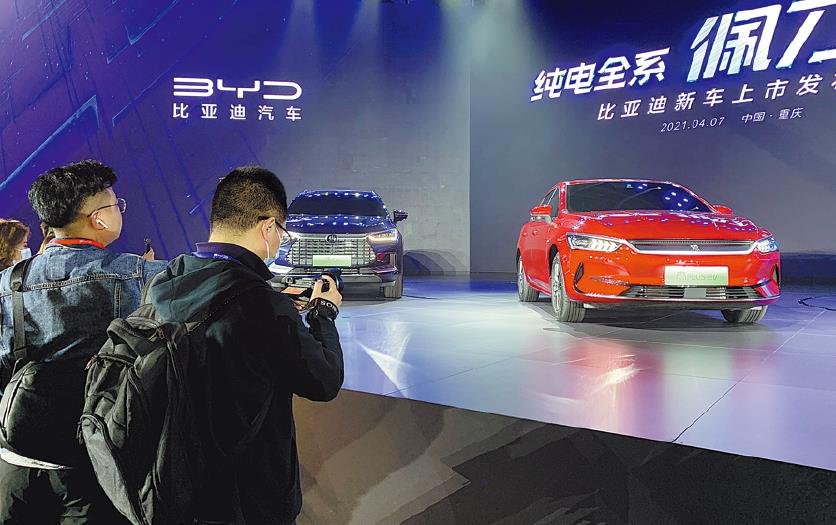 BYD launches its new electric models, including the 2021 Tang EV and the Qin Plus EV, last week in Chongqing. The new SUV and sedan are equipped with the automaker's self-developed blade-shaped batteries. China Daily
"The No 1 enemy to the better and faster development of the electric vehicle market is battery fire," said BYD Chairman Wang Chuanfu at a launch event last week in Southwest China's Chongqing.
As more people buy new energy vehicles, the risk of traffic safety accidents has increased accordingly. The safety of power batteries is of great importance, Wang said. "Safety should be the most 'luxury' feature of an electric vehicle."
BYD, with 26 years of research and development in battery making, launched its blade-shaped battery in March 2020. The battery has been recognized by the market thanks for its strong performance in safety and endurance.
BYD's Han EV is the automaker's first model to adopt the blade-shaped battery, and hit the market in July last year.
Through March, the model had achieved a sales volume surpassing 10,000 units in four separate months: November and December of 2020 as well as January and March this year, with total sales reaching 68,010. In March alone, BYD sold 10,323 units of the Han EV, soaring 105.3 percent from February.
"All of BYD's electric models have now started to adopt blade-shaped batteries," Wang said at the event last week, where the automaker launched four new electric cars-the 2021 Tang EV, the Qin Plus EV, the Song Plus EV and the 2021 e2.
Adhering to independent control of its core industrial equipment R&D and manufacturing, BYD independently developed and manufactured the blade-shaped battery, its production line and equipment along with other key components, the company said.
Meanwhile, the production capacity of the blade-shaped battery is rapidly climbing with reliable quality, BYD said. The batteries are expected to be used in NEV models of mainstream brands both at home and abroad.
The 2021 Tang EV can accelerate from 0-100 kilometers per hour in 4.4 seconds and travel up to 565 km on a single charge. With comprehensive subsidies for its three variants, the model is available at prices ranging from 279,500-314,800 yuan ($42,000-48,000).
Striking a balance between speed and range, the Qin Plus EV can accelerate from 0-50 km per hour in four seconds and drive up to 600 km on a single charge. With a power consumption for 100 km as low as 12.9 kilowatt-hours, the model can handle an average two-week commute once fully charged, according to BYD.
The four variants of the Qin Plus EV are available at prices ranging from 129,800-166,800 yuan.
The Song Plus EV, with a top driving range of 505 km on a single charge, is available at prices of 169,800 yuan and 186,800 yuan for its two variants.
The 2021 e2 can run up to 401 km on a single charge and has a power consumption of 10.8 kWh per 100 km. With three variants, the model is available at prices starting at 99,800 yuan.