The opening ceremony of the annual Shenzhen Fashion Week kicked off yesterday at its main offline venue, OCT Harbor.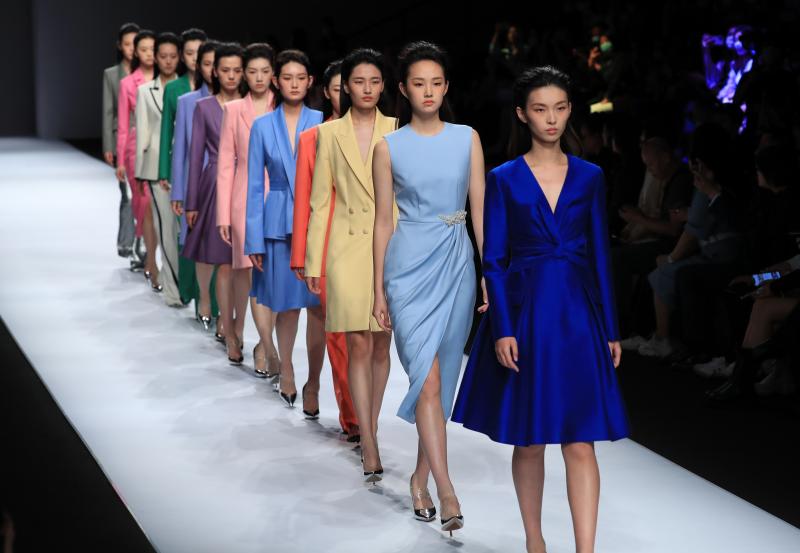 Models walk the runway at the opening ceremony of the annual Shenzhen Fashion Week that kicked off yesterday at its main venue, OCT Harbor, in Nanshan District.
Themed as "Reborn," this year's fashion week will run until Monday. During the week, over 80 runway shows will be held at OCT Harbor, along with more than 70 supporting activities to be held at subvenues including C Future Lab, Yitian Holiday Plaza and HaiYa Mega Mall to set the latest trends for the 2021 Fall/Winter collection.
The fashion week has attracted renowned designers with brands including Yiner, Ellassay, Kaltendin, Kavon, Carmen, LooraPwd and Tony&Tony's.
"This year's fashion week enhances two elements, namely technology and design-driven innovation, to showcase the fashion in the Guangdong-Hong Kong-Macao Greater Bay Area and to promote independent brand innovation, fashion consumption and a high-quality development of the fashion industry, so as to contribute to the building of a city featuring innovation, entrepreneurship and creativity," Pan Ming, head of Shenzhen Garment Industry Association, said at the opening ceremony.
This year's Shenzhen Fashion Week also takes place online. People can enjoy fashion designs via virtual showrooms and watch live streams of runway shows.
The offline venue at OCT Harbor was designed by a team named Fabletang led by French creative director, Penelope Guerineau. The venue covers an area of 8,000 square meters, including three runway showrooms.
A show that features an integration of traditional handicrafts of the Yi ethnic group from the Liangshan Yi Autonomous Prefecture in Sichuan Province and modern fashion designs will be held at 12 p.m. today at OCT Harbor.
It is said that a group of Shenzhen designers, attracted by Liangshan's intangible cultural heritage, went to Liangshan for fieldwork in November last year.
In addition, a series of forums will be held during the fashion week to discuss topics such as new ideas and technologies in fashion industry education, and sustainable development paths for the fashion industry.
The first Shenzhen Fashion Week was held in 2015. Starting last year, Shenzhen Fashion Week adopted an international schedule to include two sessions each year, specifically Spring/Summer and Fall/Winter.
Chen Dapeng, president of China National Garment Association, observed that Shenzhen's clothing industry plays a leading role in many aspects, especially the female garment industry that has made a huge impact on the market.