A Skyrail vehicle for Bahia State, Brazil, came off the production line of BYD Co. Ltd. (BYD) in Shenzhen on Thursday.
The Bahia SkyRail line is expected to be the world's first SkyRail line partly constructed over the sea, marking BYD as China's first private enterprise that exports rail transit equipment.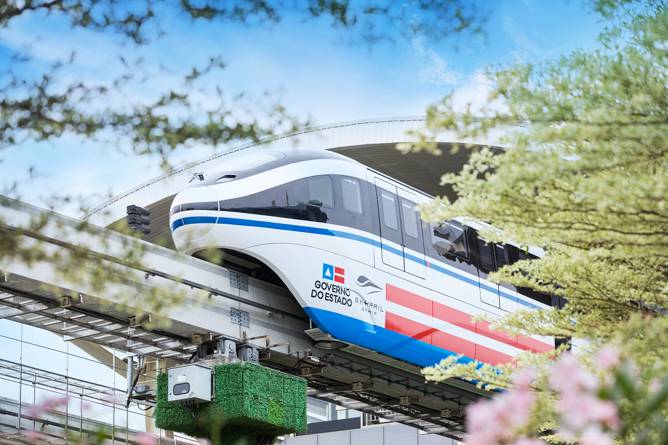 The BYD SkyRail. Courtesy of BYD
Bahia Governor Rui Costa and Vice Governor Joao Leao attended an online celebration ceremony held in the Shenzhen BYD headquarters.
"After placing Bahia as the second Metro extension in Brazil, we now take a large step toward modernization with this modern vehicle that will replace a train that no longer met operating conditions," said Costa.
Located in Salvador, the capital of Bahia State, the Bahia SkyRail line is expected to cover a total length of 23.3 kilometers with 25 stations along the route. Its connection with Bahia's subway will form a comprehensive public transit network.
Stella Li, executive vice president of BYD and president of BYD Motors Inc., said, "Today's vehicles are specially tailored to the unique geographical and cultural environment of Salvador. The smooth and comfortable ride, humanized and intelligent design will bring passengers a more pleasant and convenient green travel experience."
The Bahia SkyRail vehicle has been customized to meet the local regulations and the needs of Bahia. The streamlined-shape straddle-type monorail system features barrier-free doors and a walk-through train design accessible to all kinds of passengers, and the air suspension system ensuring quiet operation. The SkyRail is also equipped with a fully automatic operation system, an intelligent customer service system, on-board Passenger Information System, CCTV cameras and emergency intercoms. The vehicles can also be flexibly grouped according to actual capacity needs.
The BYD SkyRail was developed by a 1,000 R&D team with a 5 billion yuan (US$763 million) investment over five years to solve urban traffic congestion.