A total of 38 brands from Shenzhen have joined the list of China's 2021 top 500 most valuable brands.
The top 500 list was jointly released by London-based brand valuation consultancy Brand Finance and Federation of Shenzhen Industries at a sideline event of the 5th Shenzhen Brand Week, the GBA Quality Brands Summit, in Shenzhen Media Group Building in Futian District on Tuesday.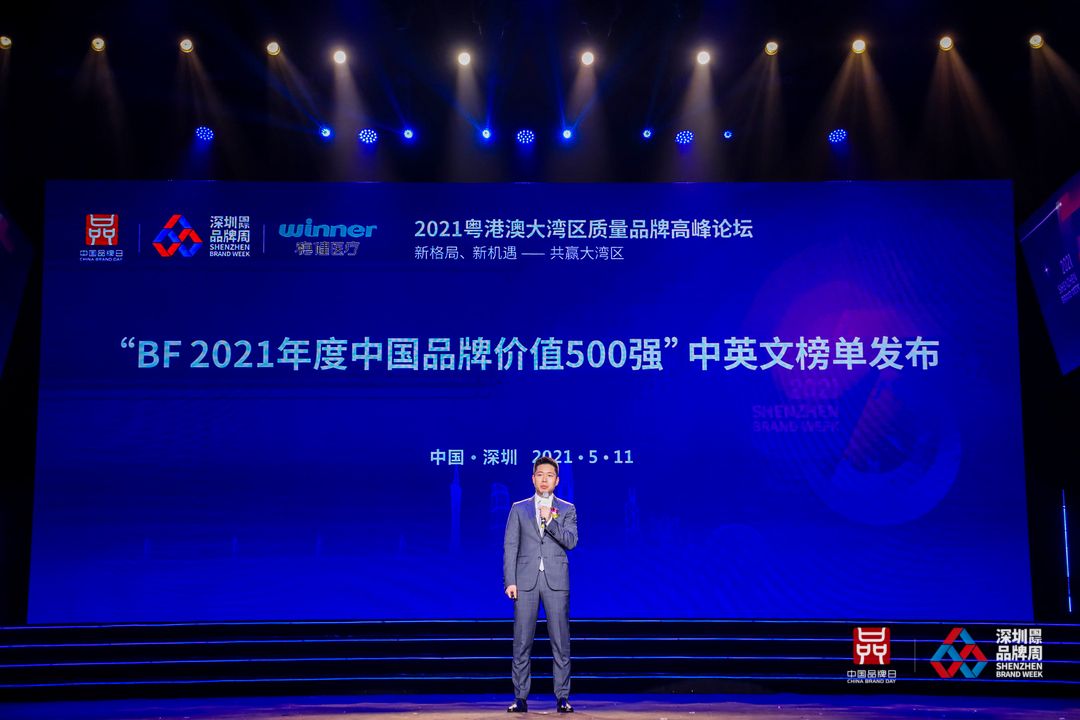 With 134 brands listed, Guangdong-Hong Kong-Macao Greater Bay Area (GBA) is home to more top brands than any other region in China.
These brands consist of 72 brands from Guangdong, 51 brands from Hong Kong and 11 brands from Macao. The total brand value of those enterprises in the GBA accounts for up to 28 percent of the total value of all top 500 brands.
Shenzhen brands took half the share of Guangdong's top brands.
A total of 23 different brands, such as Tencent's QQ, Huawei, Ping An, China Merchants Bank, Vanke, SF Express, ZTE, BYD, OCT, Happy Valley, won the title of "Shenzhen Well-known Brand" and 10 of the brands won the "International Prestigious Brand" title.
"Shenzhen and the Greater Bay Area are the perfect locations for a discussion about Chinese brands and their development. Shenzhen-based WeChat is now the world's strongest brand, ahead of Ferrari and Coca-Cola. Tencent, Huawei, and Ping An – all from Shenzhen – feature among the nation's top 10 most valuable brands. The city is developing fast and its brands are its best ambassadors," David Haigh, chairman and CEO of Brand Finance, commented.
The top 500 Chinese brands are mainly distributed in Beijing, Guangdong, Zhejiang, Shanghai and Hong Kong. Beijing tops the list with a total value of its brands at 5.24 trillion yuan (US$814 million). The brand value of Guangdong enterprises was appraised at 2.8 trillion yuan, double the value of Zhejiang.
Shenzhen in particular is known nationally and globally as a vibrant tech hub. The tech sector is represented by 86 brands in the top 500 ranking, more than any other industry, with hundreds other brands powered by technological innovation.
Industrial and Commercial Bank of china (ICBC) and Tencent's WeChat were two Chinese brands that broke into top 10 slots on the world top 500 brands list made by Brand Finance, taking No. 8 and No. 10, respectively.
The Shenzhen Brand Week holds local featured events of China Brand Day. Established in 2017, China Brand Day occurs on May 10 every year.
In another list, a total of 11 brands from Shenzhen have been listed among 2021 BrandZ™ Top 50 Chinese Global Brand Builders, a research list jointly released by Google and the advertising holding company, WPP, on Tuesday.
The research involved over 860,000 consumers from 11 separate marketplaces, including seven developed countries and four emerging countries, namely India, Indonesia, Brazil and Mexico.
The Top 50 list was based on each brand's scores of significance, differentiation and high-lighting, and was selected from 1,662 total candidates from 15 categories.
The results showed Alibaba, ByteDance and Huawei took the top three spots among Chinese enterprises. Among the Shenzhen enterprises that had entered the Top 50 list, Huawei was followed by One Plus (9th), ZTE (21st) and Honor (28th), showing the city's advantages in consumer products. Additionally, Tencent took 12th place in software and Internet businesses. The only drone maker on the list, DJI, came in 17th place while BYD secured 29th place.