In the Cambridge Dictionary, the word "documentary" means "a film or television or radio program that gives facts and information about a subject." To capture the real China through his lens, Takeuchi Ryo, a Japanese documentary director who has been residing in China for around eight years, always puts authenticity in first place when filming his works.
The Nanjing-based filmmaker visited Shenzhen over the last weekend, launching and promoting his new book "Reasons I Live Here." The book is based on "The Reason I Live Here," his first unscripted documentary series shot in China depicting Chinese people living in Japan and foreigners residing in China.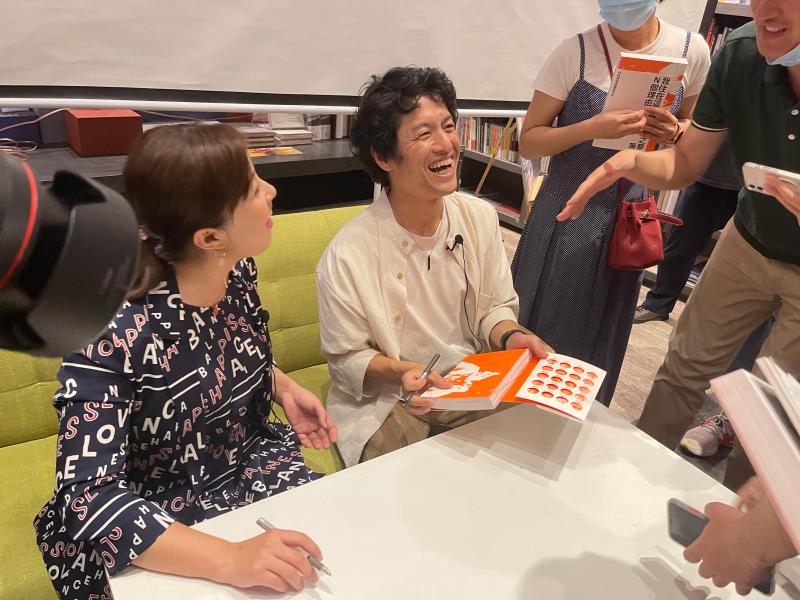 Takeuchi Ryo (2nd L) interacts with readers at a book promotion event at Biblio bookstore at Upperhills shopping mall, Futian District on Saturday. Courtesy of Biblio
Takeuchi and his wife moved to Nanjing in Jiangsu Province in 2013, setting up a documentary studio there to clear up Chinese people's misunderstandings about Japan at first. Over the years, he found more and more inconsistencies between foreign news and what he experienced in China. "I had read many smearing coverage released by the Western and Japanese media. I decided to show the real China to the world as an expat."
Takeuchi pays a lot of attention to the characters that are mostly ordinary people and authentically records their daily life. His preference is for authenticity rather than for the beauty of the composition.
"I like to film the details (of the characters). I want to present their thoughts and personalities via those details. For example, when an interviewee suddenly shakes their hands or legs, I will use a close-up shot to capture it. That's what unscripted documentary means," he told Shenzhen Daily.
"The Reason I Live Here"
Notable in addition to "The Reason I Live Here" series, Takeuchi's other five China-themed works have earned him over 4 million fans on Sina Weibo and countless views on video platforms both in China and from overseas. Chinese netizens gave Takeuchi a Chinese nickname, "Uncle Liang." "I had been shooting documentaries for NHK for almost 10 years in Japan. I had made many documentaries about the society, the economy, international relations, and other related topics. I have a keen interest in those issues," said Takeuchi,
However, his years of working experience in Japan didn't help much when it came to filming documentaries in China."After my move to China, I registered my own self-media account. No one knew me at the beginning," Takeuchi said. "I had great difficulty shooting documentaries on social issues because I was not from an official media outlet. I was just an independent expat director."
The turning point appeared in 2020. Takeuchi's two documentaries about COVID-19 prevention and control, namely "Nanjing's Anti-epidemic Scene" and "Long Time No See, Wuhan," made him widely known in China, Japan and other countries. He even won praises from Foreign Ministry spokespersons Zhao Lijian and Hua Chunying as those videos helped show to the world China's achievements about pandemic prevention and control.
Following the overnight success, he accepted interviews with hundreds of media, including big names such as CCTV and China Daily. He also found it easier to film documentaries on China's social issues."I am famous now, so I can film what I want to film."
"Faces of Huawei" is one of those projects, focusing on China's high technology and the China-U.S. trade war. When filming the Shenzhen-based tech giant, Takeuchi confronted some Huawei staffers with several sharp questions.
In the first episode titled "Can Huawei Survive?" that has over 1,200,000 views on his YouTube channel, he asked Huawei's rotating chairman "Does the Chinese government back Huawei?" and Huawei's board secretary "Why does Huawei not get listed on the stock market?"
"I just asked what I wanted because these questions interest foreign audiences," said Takeuchi.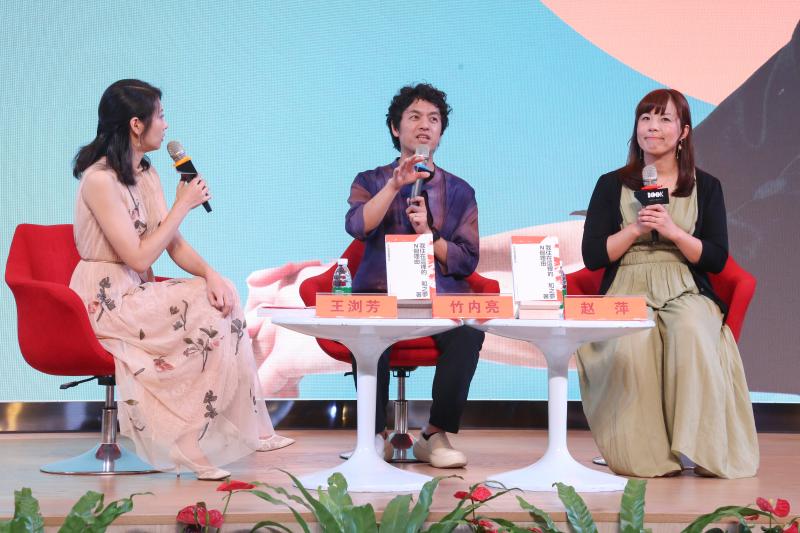 Ryo Takeuchi speaks during the new book promotion event at Shenzhen Book City CBD Store, Futian District, on Sunday. Photos courtesy of Shenzhen Book City CBD Store
The documentary series was yet again well-received across the world. Particularly, the series facilitated understandings of the insider stories of Huawei for many English-speaking audiences overseas.
Besides shooting the Huawei film, Takeuchi also has other shooting plans in Shenzhen, such as filming Shenzhen's Japanese for the third season of "The Reason I Live Here."
"The Japanese in Shenzhen are totally different from those in other Chinese cities," he said. What impressed him the most is their age. "Most of the Japanese living in Shenzhen were born in the 1990s. These young people are very well-educated, very capable, and many of them speak fluent Chinese and English. It is fair to say that Shenzhen has become the choice of many capable Japanese young people."
Although Takeuchi's wider international fame brought him more filming opportunities, the director admitted that he is shouldering heavier pressure."I was not able to say what I want to say. I was quite a casual person, who liked to publicly comment about international relations, international politics and economy." Now he is more careful about what he says to avoid misunderstandings that might trigger cyber-bullying. "Fame is a double-edged sword."
When answering the question of why you live here, Takeuchi said that "My reasons are changing every year. In the beginning, the reason is to spread the current Japanese culture to Chinese people. But now, my family, friends and others who mean a lot to me are living here. I got used to life in China. I took root here."