The MixC shopping mall in Luohu District is holding the "Thousand Mirages" exhibition in its outdoor and indoor spaces, showcasing contemporary artworks by 21 artists and teams. Highlighted items include LAAB's art installation "Kaleidome," Qiu Anxiong's video "New Classic of Mountains and Seas" and Tian Xiaolei's multi-screen video installation "Myth."
"Kaleidome" is composed of hundreds of polyhedral cells of polished stainless steel mirrors. Each reflective cell is a small window that frames the environment and multiplies the vista. Like a kaleidoscope, it shuffles the images of trees, buildings, passersby and flowers through the air, altering the mundane concrete plaza into a dynamic scene.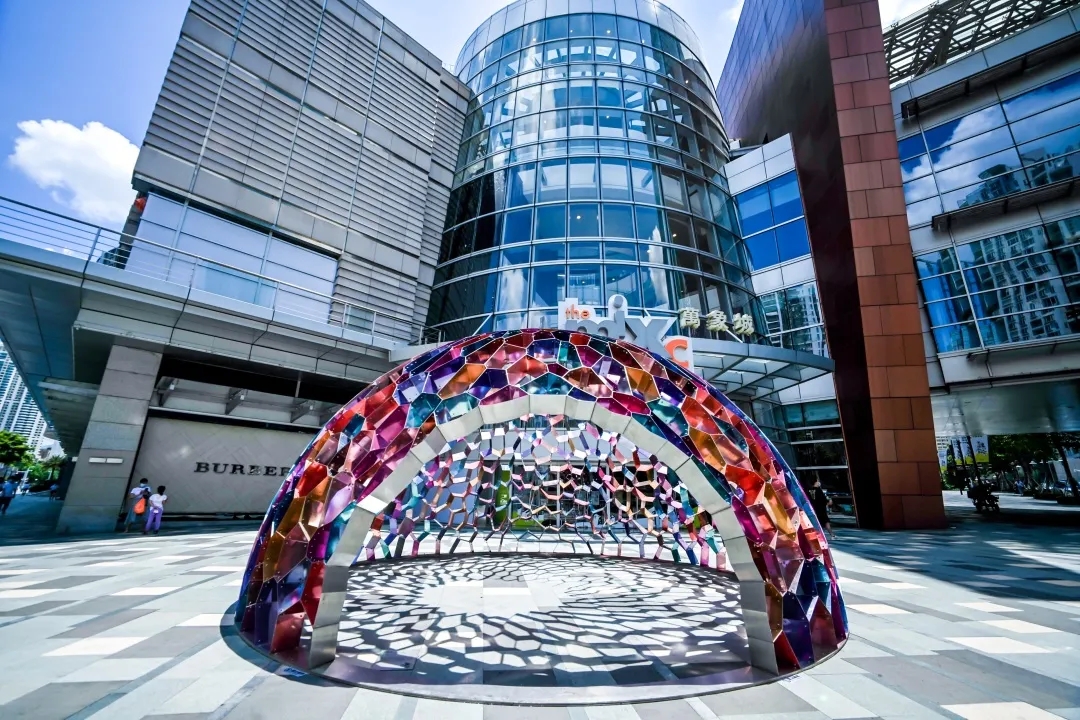 LAAB's installation "Kaleidome."
The art installation employs the unique medium of light-and-shadow interplay, creating constantly-changing sights that captivate the souls of urban strollers. In this public art installation, viewers are also the creators. Together, they can make various compositions of color-tinted reflections that transform the empty plaza into a flourishing garden.
LAAB, a Hong Kong-based studio, established its identity through a diversity of projects from architecture and public space to retail concept, interactive art and transformable residences. LAAB's designs embody sensibility, inventiveness and a subtle sense of humor. With commitment to innovation and community, the team has been recognized by the Japan Good Design Award Best 100 list, Design for Asia Awards, Perspective Awards and German iF Design Awards.
Inspired by the "Classic of Mountains and Seas," an ancient Chinese encyclopedic cosmography that describes a myriad of strange or imaginary creatures, Qiu began to develop his "New Classic of Mountains and Seas" bestiary around 2004 in a series of designs that simulate a traditional woodblock-printed text with accompanying illustrations. Presenting modern machines and weapons as fantastic beasts, each image bears a title with the creature's name — a thinly veiled phonetic equivalent of its name in English — and an enumeration of its salient characteristics.
In 2006, Qiu completed his ambitious three-channel video "New Classic of Mountains and Seas." In it, he tells a dystopic story of a land overrun by strange creatures, many of which have menacing overtones of technology running amok. To create the visual language of his animations, Qiu develops a technique of painting with dilute acrylic that evokes traditional Chinese ink painting. He uses these paintings, which he continuously alters, as the basis for his digitally manipulated animations.
Tian's multi-screen video installation "Myth" is an ongoing project he started in 2018. In each screen of the video, there's a human implanted with machines dancing against a backdrop of a strong dazzling color. The artist assumes that the special human beings are the experimental specimens in the future when we will become more bio-diversified and have more choices in deciding our own path of evolution through the implanting of gadgets. Tian said he is interested in the uncertainty of the rapid iteration in this era, the relationship between life, science and technology, and the new species produced by the hybrid age.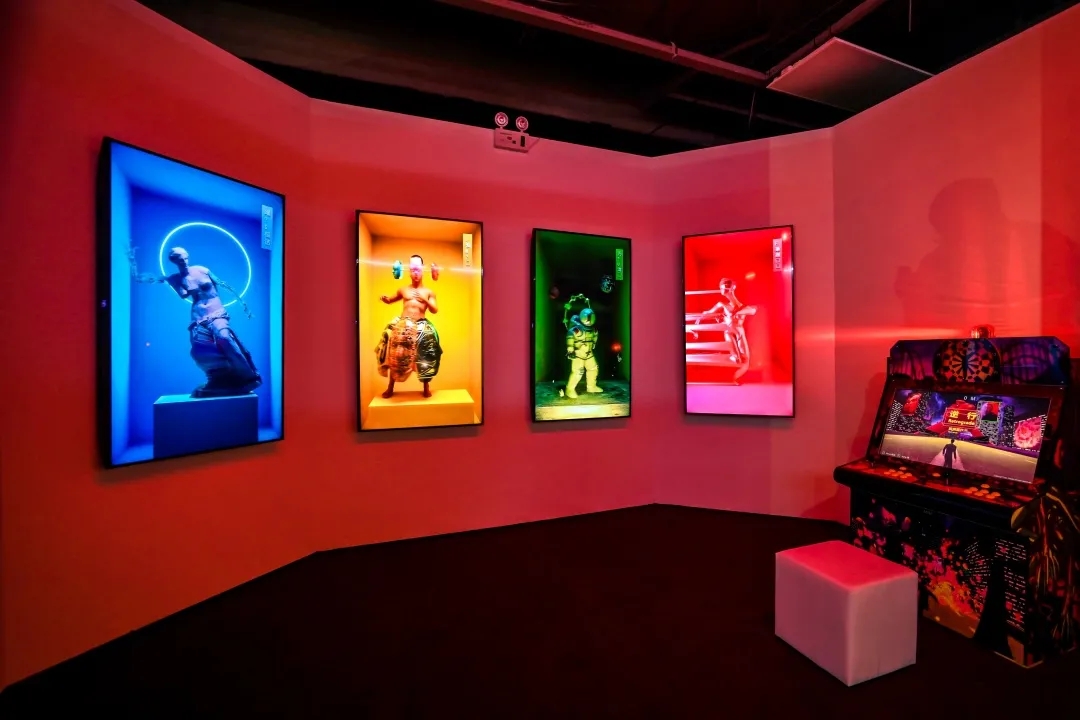 At the 2017 Bi-city Biennale of UrbanismArchitecture, a furniture exchange program launched by Huang Heshan and Jiang Fan allowed residents of several urban villages in Shenzhen to trade their home-made chairs and stools for brand new, fully functional ones Huang and Jiang bought at IKEA. The chairs made by urban villagers are displayed inside The MixC shopping mall. The chairs, constructed from cheap materials, highlight the villagers' involvement in the process of the region's rapid urban development.
Dates: Until July 31
Venues: Southwest entrance, northeast entrance and indoor area on the second floor of Phase I and outdoor corridor of Phase II, The MixC, Luohu Distirct (罗湖区深圳万象城一期西南门、东北门、二楼室内空间和二期户外通道)
Metro: Line 1 or 2 to Grand Theater Station (大剧院站), Exit C