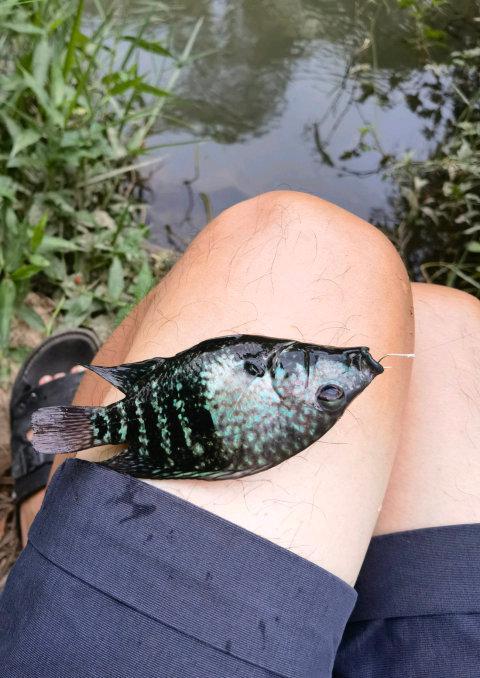 A strange green fish, classified under cichlid, caught in Xiangmi Lake. Shenzhen Evening News
A fisherman recently caught some strange piebald green fish from Xiangmi Lake in Futian District, which were later classified by experts under cichlid, also known as jaguar cichlid, an alien fish species originally from Nicaragua, according to Shenzhen Evening News.
The fisherman said that he caught two of the strange green fish from the lake, which looks like tilapia but has spots all over its body.
The fisherman uploaded the photos of the fish online, asking: What is the fish type? Is it edible? He hoped that netizens could shed light into these questions.
Surprisingly, many netizens responded that they haven't seen this fish before, while a netizen observed that the fish may be a hybrid cichlid fish that was released into the water.
Li Zuoshan, who works at the South China Sea Fisheries Research Institute of the China Academy of Fishery Sciences, suggested that the strange fish might be mutant tilapia, a hybrid of a freshwater tilapia and a grouper, which belongs to the cichlidae family, said the report.
Related records showed that cichlids were first introduced to Taiwan in 1988. In 1996, some aquatic cultivation institutions in Guangdong and Jiangxi introduced them from Taiwan.
Recent wildlife protection laws state that it is forbidden to randomly release alien species. This is to protect the local ecological environment of the city from invasive species.