As people are relying on technology to keep in touch with their families and friends during lockdowns due to the COVID-19 pandemic, Arianna Sorini believes that the fashion industry also needs to transform itself through digital solutions in order to navigate the pandemic.
Arianna Sorini delivers a speech at the seminar held by the China-Italy Chamber of Commerce (CICC) and the Shenzhen Garment Industry Association (SGIA) Tuesday afternoon. Photos by Wang Haolan
Sorini, fashion designer and fashion lecturer with the Italian Design Association (IDA), made these points in her speech given at a seminar held by the China-Italy Chamber of Commerce (CICC) and the Shenzhen Garment Industry Association (SGIA) yesterday afternoon at the Vanke Binhai Cloud Center in Futian District. Guests in attendance included Giorgio Daviddi, deputy consul general of Italy in Guangzhou, SGIA president Pan Ming, Raphael Paul Cooper, CICC board member, and Xia Guoxin, founder and president of Shenzhen Ellassay Fashion Co. Ltd.
Sorini pointed out that digital transformation is the way out for the industry to survive. She noted that with people being stuck at home and stores closed, manufacturing and supply chain processes should be smarter and more digitalized, and fashion brands need to implement sustainable innovation in their core product design.
She suggested fashion brands utilize social media platforms such as TikTok to interact with consumers, especially the youth. "Social media have revolutionized the market as more and more international brands and boutique designers are using various platforms to gain worldwide exposure and to approach the youth."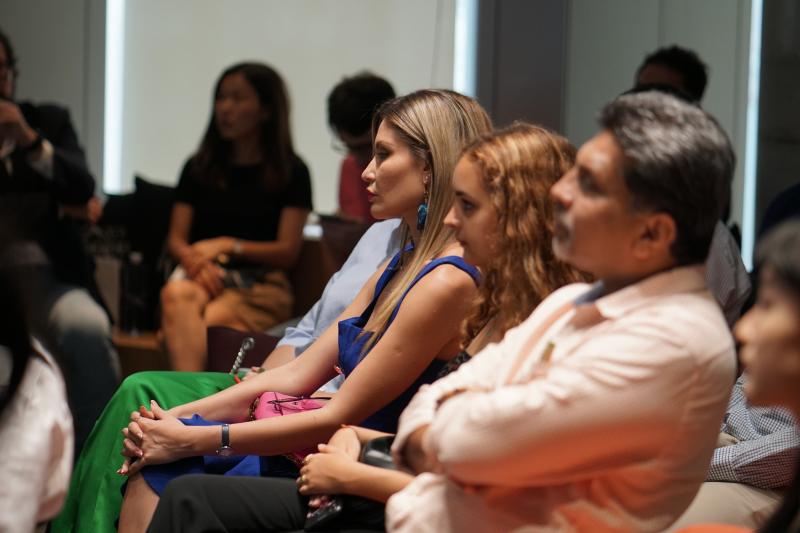 A scene at the seminar
Sorini cited the successful example of how Chiara Ferragni, an Italian fashion blogger, influencer and entrepreneur, uses Instagram to stay connected with her clients and consumers by sharing her life stories and styling choices. "She (Chiara Ferragni) is an influencer, but also a friend. She understands that if you are connected with people, you can sell your brands and products," Sorini said.
Alessandro Antonicelli, director of Creative Arts & Design at Whittle School & Studios, highlighted the importance of creativity in his speech. Antonicelli compares creativity to muscles that people must practice every day. "COVID-19 is forcing us to do a lot of mental workouts because we need to think out of the box. Businesspeople and designers have to think of a reason to be in the market," he said.
In Daviddi's speech, he introduced that "Italy is the homeland of luxury brands including Prada, Fendi and Gucci as well as a global leader when it comes to fashion," adding that fashion is a strong industrial sector in Italy's national economy.
Pan said in her speech that Shenzhen has conducted frequent exchanges with Italy regarding fashion. She mentioned that fashion companies and designers from Shenzhen had made their presence at Milan Fashion Week for four consecutive years from 2016 to 2019.
Pan hopes that in the future, Shenzhen's fashion industry can further expand communication and cooperation with their Italian counterparts, to help Shenzhen companies set up branches in Italy and other European countries, and vice versa. Pan also looks forward to more cooperation in teaching and nurturing fashion designers.