When asked if there were any songs in his mind when watching the Olympics Games, virtuoso Chinese musician Fang Jinglong smiled. "I think I'm more focused on what I'm looking at, and definitely can't think about art at that time," he said in an interview with Shenzhen Daily after a recent performance in Shenzhen.
The veteran musician has always been a focused man. He has been concentrated on promoting Chinese folk music for more than 30 years. Fang is currently one of the biggest names in China's folk music scene on social-media platforms. However, though having been a fixture of China's folk music scene for many years, Fang, born in 1963, didn't become known to young audiences until last year.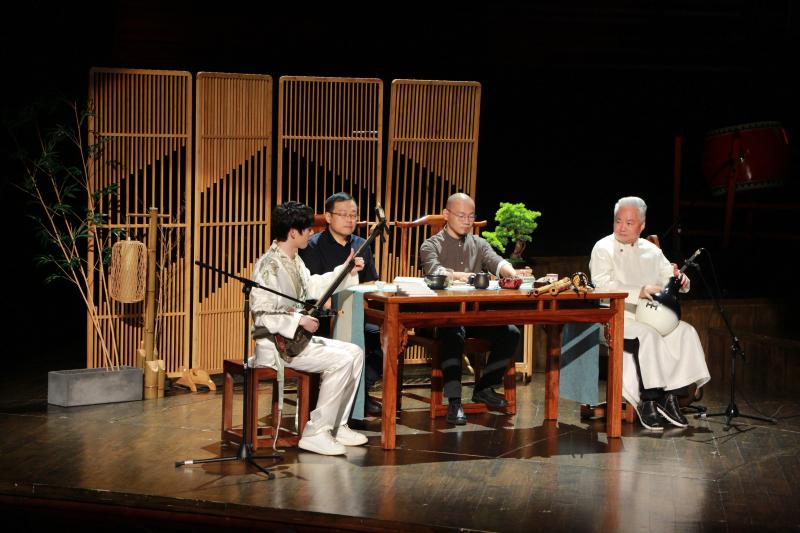 Fang Jinlong (R) and his musician friends present a concert of selected songs from the popular music and poetry show "Next-door Poetry Club" at Shenzhen Concert Hall on July 31. Photos by courtesy of Shenzhen Concert Hall
On Dec. 31, 2019, Fang's performance of "Rhythm World" on the video-sharing platform Bilibili's "Last Night of 2019," one of China's most talked-about TV events of New Year's Eve, won him overnight fame in the country. The musician performed alongside a 100-strong orchestra and played an array of traditional instruments from China, India, Italy and Japan, and even performed a solo by tapping his own face in the show. The performance showed a new look of traditional Chinese music and made him an online viral star.
As a versatile Chinese instrument player, Fang's contributions to traditional music include not only the innovation in performance forms but also other efforts such as bringing a five-stringed pipa back to life based on historical documents from the Tang Dynasty (618-907).
Fang's passion for traditional music can be traced back to the 1980s. In 1988, he joined the Guangzhou Military Region Soldier Song and Dance Troupe. "I had decided to promote Chinese traditional music at that time," he said.
So far, he has lived in Guangdong Province for more than 30 years and is also a master of Cantonese music, Hakka music and Chiu Chow music.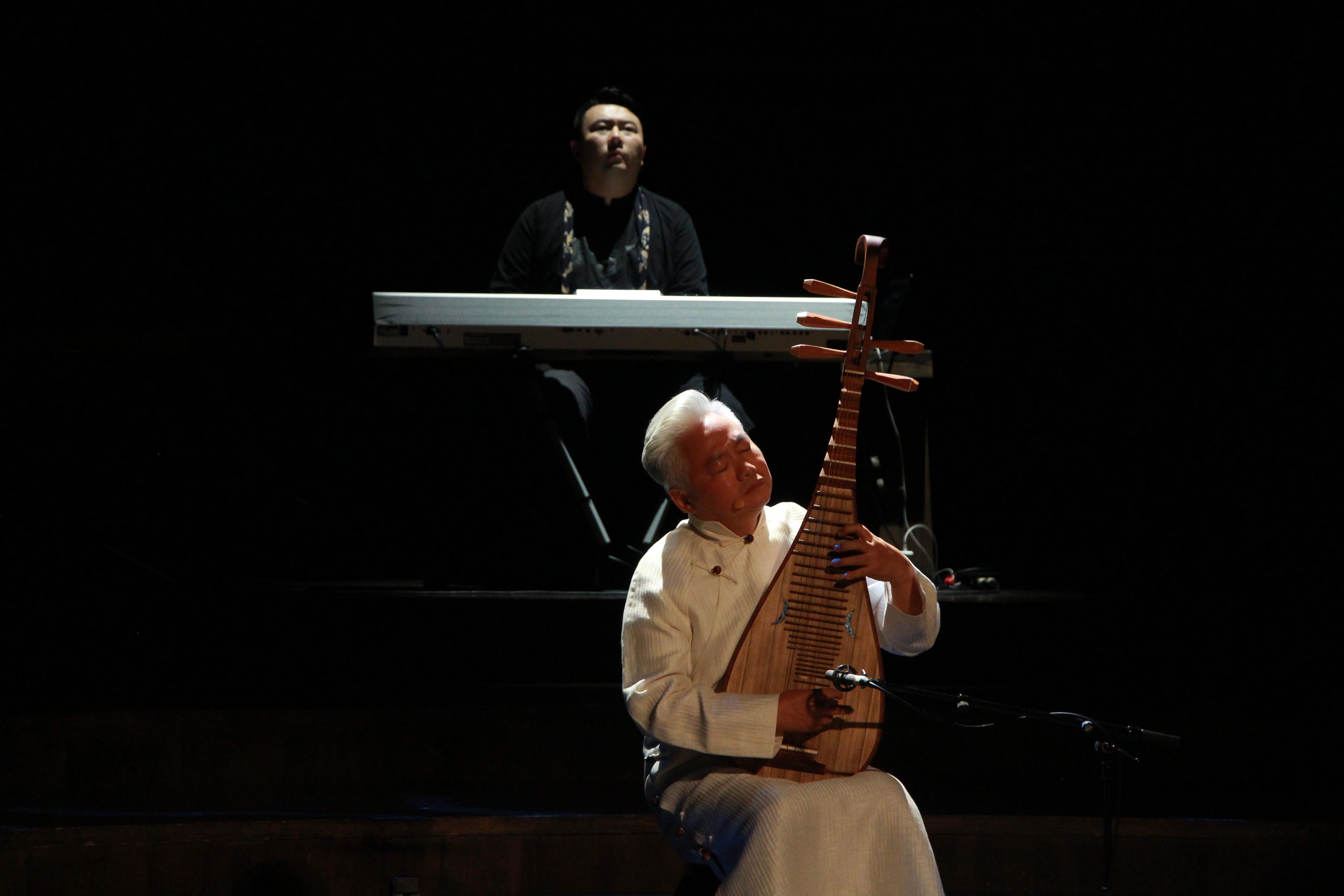 Fang Jinlong (Front) plays the pipa on stage.
The 58-year-old musician has always been a young man at heart. A Canto-pop fan, Fang began his cooperation with Hong Kong singers in his early years. He took part in over 10 concerts by renowned Hong Kong singer Samuel Hui as a guest performer. In his Bilibili performance, he dazzled the young audience by adapting pop songs to traditional Chinese folk tunes and played them on a nmuber of musical instruments.
Though he is recently better known to more people as a person innovating Chinese traditional music, Fang said he remains unchanged. "I just keep learning about what the young people like but do not curry favor with them," he said.
Some people say that the youngsters enjoy watching Fang's performances not because they like traditional music, but because he plays the music in anime and games that they are familiar with. Fang said that's one of the things he was hoping to achieve. "People want to be close to you when you present what they like. As a person who has always been young at heart, I joke to myself that I'm immature. However, I want to be in touch with the youngsters, I want to make them understand, and I want their opinions."
There were also comments saying that he is showy in performing skills and some even give him nicknames like "Fang Tianxiu" ("tian" means "every day," "xiu" means "show off"). Regarding that, Fang said he doesn't care about these reviews. "The traditional culture is excellent. There's no fault in that I want to show, right?" he refuted.
Fang Jinlong (C) and his fellow performers receive applauses and standing ovations from the audience after their performance at Shenzhen Concert Hall on July 31.
He thought the biggest enemy of Chinese music is itself. "We need to make something that the people like. We can't just be satisfied with what we now have with the so-called classics. Instead, we have to constantly create.
"I think the traditions will never change. Traditional music has a lot of possibilities for innovation. But of course, the process of trying new things is not necessarily a process of replacement," Fang added.
The musician also has high hopes for the music cooperation within the Guangdong-Hong Kong-Macao Greater Bay Area, "because many people are speaking Cantonese, listening and enjoying the Cantonese music as well as opera."