A BYD auto industrial park will be built in Shenshan Special Cooperation Zone, according to a strategic cooperation agreement signed between the zone's administration committee and the Shenzhen-based auto giant Friday.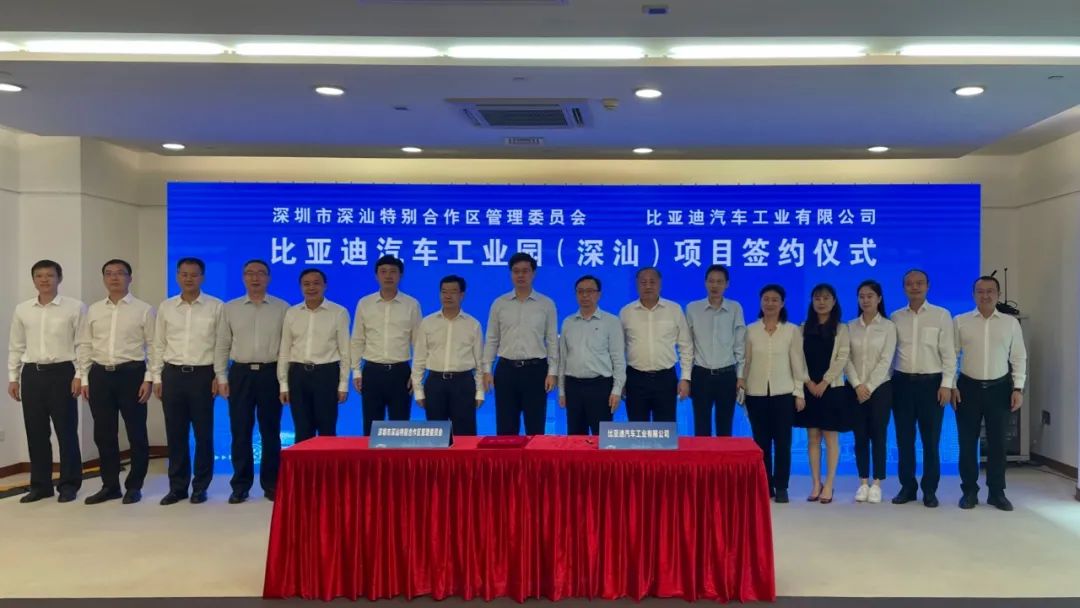 A scene at the signing ceremony. DT News
The annual output of the BYD auto industrial park, which will be built at an investment of 5 billion yuan (US$771.9 million), is expected to reach up to 10 billion yuan.
According to the agreement, the project will carry out research, development and production of auto parts and the core products of supporting industries.
Located in Ebu Advanced Manufacturing Cluster Zone, the project covers an area of 950,000 square meters. The construction will be completed in two phases — 400,000 square meters and 550,000 square meters, respectively. The cooperation zone authority will also reserve land for the third phase of the project.
Additionally, BYD's rail transportation systems, SkyRail and SkyShuttle, will be introduced to Shenshan. SkyRail will be used to carry medium traffic volume and SkyShuttle will used for small passenger volume.
The cooperation zone authority has formed a group of specialists to offer services in terms of land supply, production space, talent recruitment, residence subsidy, as well as educational and medical supporting facilities.
Shenshan Special Cooperation Zone aims to build itself into an advanced manufacturing base for aerospace and equipment manufacturing, and a new urban area to serve the expansion of Shenzhen's industrial systems and urban functions.