In 2009, a stunt show job opportunity at OCT East in Yantian District brought Australian Sally Grice to Shenzhen. Twelve years later, she still leads an action-packed life, but in another way: running a company, raising her 2.5-year-old daughter while expecting her second baby and engaging in dog rescue efforts, with the company and support of her business and life partner, Chris Apps.
Sally Grice gives a wakeboard show at Sea World in Australia in this undated file photo. Courtesy of the interviewee

Growing up at Sea World in Australia, Grice used to be a professional water skier and wakeboarder performing stunts in front of thousands of people every day in live action shows both on the Gold Coast and overseas when she was younger. During that period, Grice traveled frequently to China with her father sourcing, developing products and exporting from China. She landed a stunt show job in Shenzhen by chance.
"I had some Australian friends working for a stunt show in Shenzhen at the time and I visited them one day when I was on a business trip. Two weeks later, they urgently needed somebody to fill in for an injured performer. I was already doing a lot of business here, so it was a really good opportunity to come over to China and be based here to approve my samples," Grice explained. Soon after the business trip, Grice took the lead female role in the stunt spectacular water show, "The Flood of Mandrill Mountain," which involved stunt fighting, bike jumping, high diving and jet skiing.
After quitting the show, Grice continued pushing the limits. In 2012, she founded her own brand, RKD Co. — a custom headwear manufacturing brand. According to Grice, RKD manufactures premium headwear for different companies and brands, with a majority of clients outside China. "We offer many different customized options; we also help a lot with the product development side and the quality control as well," she said.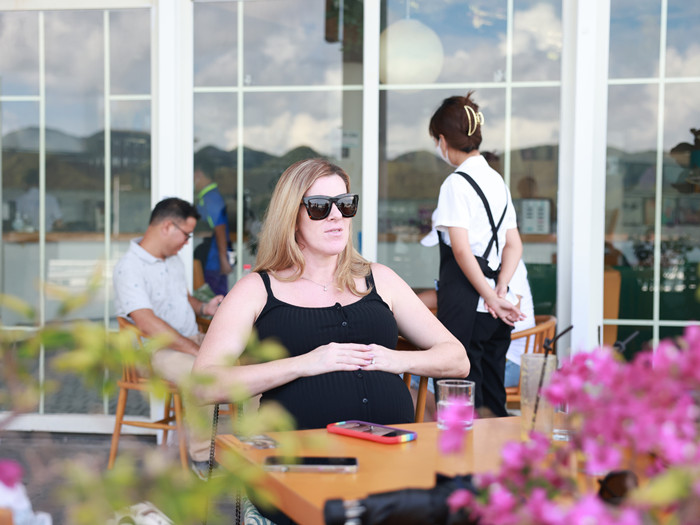 Sally Grice at a seaside bar in Yantian District on Aug. 19. Photos by Liu Xudong unless otherwise stated

"We love China. I'm happy that we've set up a business and have a base here." In 2018 she established her company, The Supply Base, which focuses on a broad spectrum of supply chain management.
Being a two-time World Cable Wakeboard Champion, Grice told Shenzhen Daily that she has learned the importance of having the right mindset working both within a team and individually, particularly as an entrepreneur. "As an entrepreneur you start from the ground up, relying on your own strength working on every facet of your business. However, the only way to grow your business is to build a strong team around you that truly shares your vision," she said.
Sally Grice introduces her company's products at her office in Luohu District on Aug. 19.

Luckily, the entrepreneur said she has got a supportive husband and great employees, so that she can maintain a good balance between life and work. Despite the busy work, the couple takes the time to drop off and pick up their daughter at school, walks dogs and joins social events to catch up with other parents. "I joined the Shenzhen International Women's Club (SWIC) to be more involved in the community and meet up with other mothers. This is really helpful having a baby here, knowing you're not alone, because it's not easy being a mom or a parent," she said.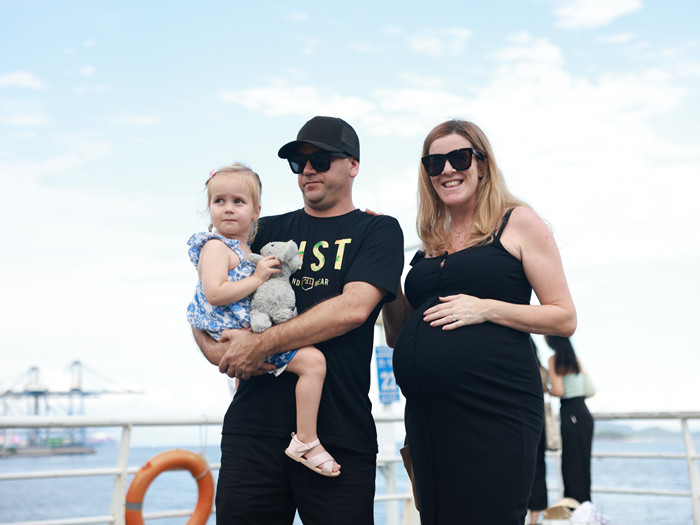 Sally Grice with her husband Chris Apps and daughter Lyla in Yantian District on Aug. 19.

With her second baby due in September, Grice told Shenzhen Daily that her life wouldn't change for having a second child if there is good time management. "My business is my baby as well. I also want to be a good mother, which is important to me. It's just making sure you manage your time properly and you have a good team around you," the mother said.
As owners of four dogs, the couple has long been sponsoring and helping Karuna Rescue, a local animal rescue group owned by their fellow Australians. "My husband and I have so far saved, rehabilitated and rehomed 16 dogs ourselves as well as do whatever we can to help Karuna Rescue," Grice said.
Hailing from Australia, Grice and her family have a natural affinity with the ocean, and they moved out of downtown to the coastal district of Yantian four years ago. Grice said she enjoys every bit of her life now. "I enjoy every part of my life in Shenzhen. Shenzhen is growing so quickly, and we've seen so many changes. It's a beautiful place to raise a family and for the dogs to be able to go on lots of walks," she said.