A stroll in places like Shekou Net Valley, one of Shenzhen's many industrial parks incubating high-tech startups, often gives a glimpse into the hottest tech trends. It may also lead to an informative talk with an aspiring entrepreneur like Raj Oswal.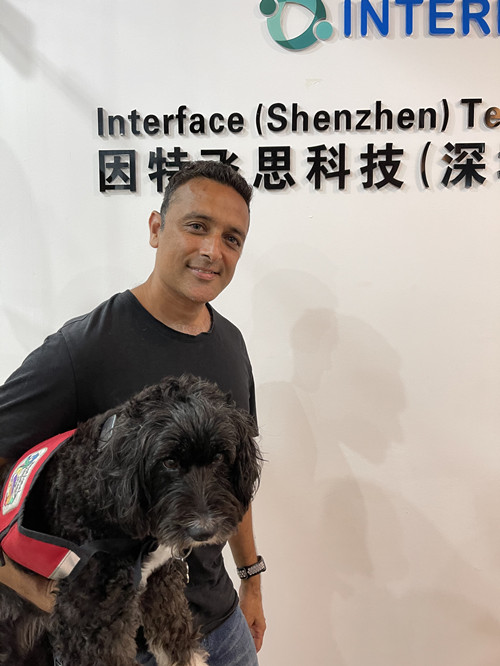 Raj Oswal

Sent to Shenzhen in April 2019 by Gupshup, a San Francisco-headquartered company, the Californian with a 25-year expertise in go-to-market initiatives for disruptive technologies has been on a mission to explore the Chinese market for the U.S. business messaging disruptor.
After marking successful inroads into the local market and building relationships with mobile phone giants like Xiaomi Corp., which had a part in helping Gupshup raise an additional US$240 million in its Series F financing round in July, Raj (he prefers to go by his first name) has recently set up his own Shenzhen company in Shekou Net Valley called Interface (Shenzhen) Technology Co.
Stepping into the newly furnished office, one cannot miss a framed Steve Jobs quote and photo hanging on the wall facing Raj's desk, which reads "Have the courage to follow your heart and intuition. They somehow know what you truly want to become."
Raj's strong intuition at present, based on years of strong observation across several countries, is that education needs to change.
"We need to do something new and concrete to help cultivate critical thinking, soft skills like empathy, as well as creativity among kids," he said.
He chose to develop a new career in education also because he said that people like him in their 40s tend to invest life with meaning.
"I do feel that if I can do my little bit to create some impact through disruption, we're doing something bigger than ourselves," he said. Disruption, another term for disruptive technology, is change, as Raj put it. "It's going from the old way to the new way," he said.
Asked how he had become a tech geek, Raj attributed it to his father, who moved to Silicon Valley from India in the 1970s in pursuit of his American Dream.
"That place (Silicon Valley) has decades of history of innovation and to see what Shenzhen's doing in such a short amount of time is amazing," he said. Shenzhen is now "really competing with Silicon Valley."
Shenzhen's long-term investment in both innovation and education has seen its technology innovation ecosystem come into being, according to Raj, who has also formed a local disruptive tech community on WeChat, with 400 entrepreneurs who mostly work on very cool things.
"So, Shenzhen's a natural second home for me," he said. "I love being around tech. It's very modern. You see it everywhere. You see it from day to day."
Raj cited a recent experience as an example of the city's tech application. He ordered groceries online at 11 p.m. one night and it was delivered to him 10 minutes later. "You can't have that happen anywhere else in the world," he said. "So it's the tech. The tech is very, very strong over here."
Having grown up in the San Francisco Bay Area, Raj said it's very exciting for him to be immersed in another rising bay area – the Guangdong-Hong Kong-Macao Greater Bay Area – with the two bay areas enjoying similarities in terms of innovation atmosphere.
"It's similar to what I saw over there as a young 20-year-old what I've seen over here with a lot of young entrepreneurs," he said.
Dedicated and hardworking, Oswal said he doesn't miss out on Shenzhen's lesiure life. Being a Californian, Oswal said he loves the outdoors and Shenzhen's pleasant natural environment is another reason he likes the city. "Just going for walks, or going to the ocean, or just the fresh air is something I really like. So that's part of the reason I like Shenzhen," he added.