A panda robot named Youyou has become a superstar at the China Pavilion of Expo 2020 Dubai, winning the hearts of visitors in a themed exhibition showcasing giant panda protection that kicked off in Dubai, the United Arab Emirates, at 4 p.m. Oct. 4, local time.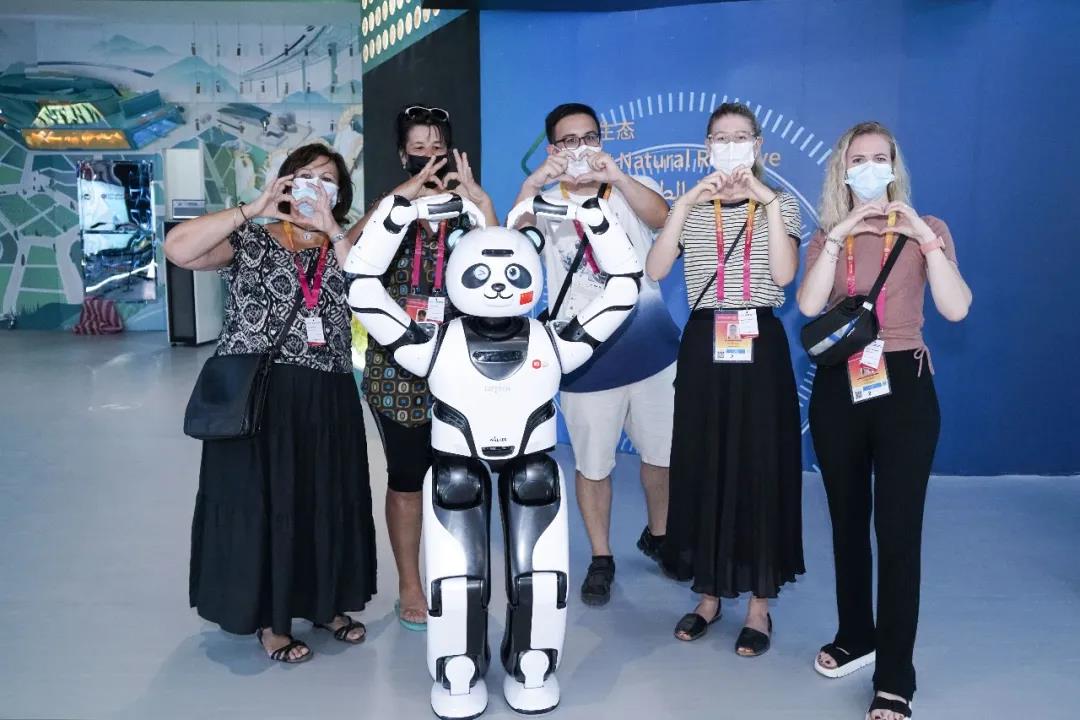 Visitors pose for a picture with panda robot Youyou. Photo by China Council for the Promotion of International Trade
The exhibition is the China Pavilion's first themed week activity, which displays the achievements of China's ecological construction and the advances of scientific research and protection of giant pandas.
One of the themed exhibition's highlights is a panda flash mob performance. At 7:45 p.m. local time every day, staff in giant panda costume and the panda robot Youyou come outside the China Pavilion to dance, do tai chi and take photos with visitors.
After the performance, the China Pavilion stages a light show, where beautiful giant panda projections are shown to the audiences' delight.
In addition, the first 300 visitors to the China Pavilion every day will get a giant stuffed panda during the exhibition.
Youyou, developed by Shenzhen robot maker UBTECH, is customized for the Dubai expo and has enjoyed great popularity among visitors since its dazzling debut at the China Pavilion's official opening Oct. 1.
Together with the company's other intelligent robot Walker X, Youyou greeted visitors and provided on-site intelligent services in several scenarios at the China Pavilion.
With 41 "joints," Youyou can perform tai chi and demonstrate its Chinese calligraphy skills as well as other traditional Chinese arts and practices. It also serves as a window for visitors to keep abreast of China's progress in smart cities, agricultural techniques and environmentally friendly practices.
Both Youyou and Walker X's presence at the pavilion demonstrates China's latest achievements in intelligent manufacturing and technological innovation, as well as the country's significant advances in the field of artificial intelligence (AI), said UBTECH, the China Pavilion's sole official partner for intelligent robots.
Within China Pavilion's Exploration and Discovery exhibition area, the "Intelligent Guide" Walker X skillfully introduces guests to China's overall vision and technological achievements in space exploration, such as the China Space Station, Chang'e-5 Mission, Tianwen 1 Interplanetary Mission and BeiDou Satellite Network.
Covering an area of 4,636 square meters, the China Pavilion is one of Expo 2020 Dubai's largest pavilions. Named "Light of China," the pavilion, which is shaped like a traditional Chinese lantern, symbolizes the hope and a brighter future for humanity, according to Xinhua.
Expo 2020 Dubai, the first world expo since the outbreak of the COVID-19 pandemic, and the first expo of its kind held in the Middle East, has attracted exhibitors from 192 countries. The expo, which will end March 31, 2022, is expected to attract 25 million visitors over six months.
At the expo, 26 provincial-level regions and more than 40 leading Chinese enterprises will hold exhibitions, forums and other activities through online and offline channels.