The 25th fall job fair for national college graduates was held in Shenzhen yesterday, attracting 16,000 jobseekers to apply for more than 30,000 vacancies.
Jobseekers at the fair. Photos by Sun Yuchen
More than 650 local enterprises, including 16 Fortune 500 firms, 70 State-owned enterprises (SOEs) and nearly 60 listed companies, attended the fair at Hall 1 of Shenzhen Convention and Exhibition Center in Futian District, offering more than 5,000 posts.
The firms are mainly engaged in high-tech, electronic information, finance, biomedicine and new energy industries, and half of them are privately owned.
The employers received around 18,000 resumes from job applicants at the fair and more than 28 percent of them reached employment intentions with applicants, according to the city's human resource and social security bureau, the organizer.
The job fair mainly catered to the incoming 2021 graduates, graduates that have been out of university for no more than two years, overseas-educated students, and graduates from the Guangdong-Hong Kong-Macao Greater Bay Area. Graduates with an advanced degree and solid scientific research background could receive an annual salary up to 600,000 yuan (US$93,000).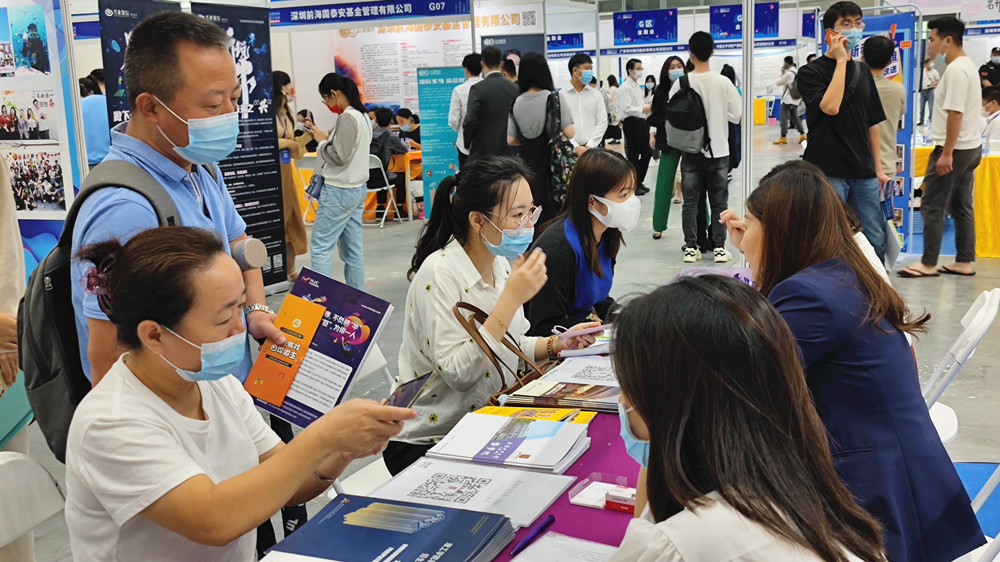 Recruiters with the Chinese University of Hong Kong, Shenzhen talk with jobseekers at the 25th fall job fair for national college graduates held at Shenzhen Convention and Exhibition Center in Futian District yesterday.

Statistics showed 65 percent of jobseekers at the fair were students from Guangdong universities and colleges. Among them, 60 percent were from Shenzhen. Students from outside of Guangdong mainly came from Jiangxi and Hunan provinces.
Of the job applicants, 82.9 percent have a bachelor's degree or above. Among degree holders, 42 percent have a master's or doctorate degree. SOEs remained attractive to jobseekers.
"We need high-quality professionals especially with biological education background and hope to find some excellent graduates," said Wang Lili, human resources manager from BGI.
Employers and jobseekers are seen communicating with one another at the fair.
The organizer also designated areas specially for employers in finance, biopharmacy and high-tech industries, and set up an area for Hong Kong and Macao graduates, offering internships and positions for youths in the two SARs.
"Our business has extended globally, and we hope to recruit some talents from Hong Kong and Macao and provide them better employment opportunities," said Zhu Lin, human resources manager of Water World Group, a local high-tech company.
According to Huang Chang'an, deputy chief of Shenzhen Public Employment Service Center, an online job fair that was initiated Oct. 1 will last until Nov. 30. Jobseekers can log onto http://szggjy.zshr.cn to seek opportunities from more than 1,000 employers.