Featuring themed exhibitions, curated forums, project roadshows and workshops, the 2021 National Mass Entrepreneurship and Innovation Week Shenzhen Venue & 7th Shenzhen International Maker Week officially kicked off at the Hetao Shenzhen-Hong Kong Science and Technology Innovation Cooperation Zone in Futian District yesterday.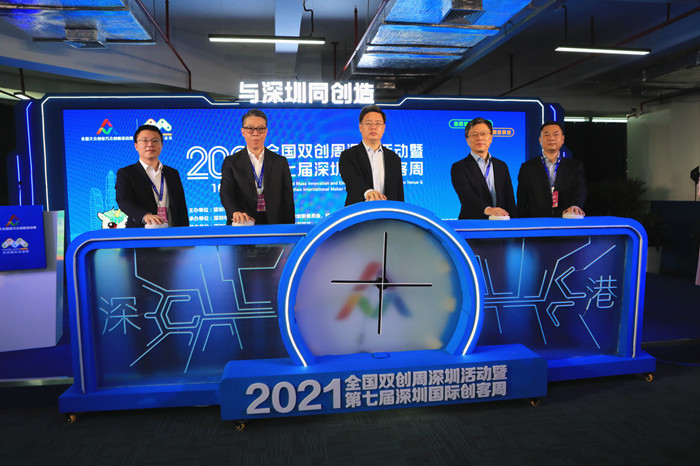 Mayor Qin Weizhong (C) and other leaders kick off the 7th Shenzhen International Maker Week. Photos by Sun Yuchen

The annual grand gathering for innovators and entrepreneurs will run until Monday in tandem with the national mass entrepreneurship and innovation week.
Themed "high-quality innovation, high-level entrepreneurship and employment," this year's national mass entrepreneurship and innovation week will see various activities being staged across the country, both online and offline, to display the growing trends and achievements in mass entrepreneurship and innovation.
The event's main venue in Shenzhen is the Hetao (also referred to as Loop) Shenzhen-Hong Kong Science and Technology Innovation Cooperation Zone, which has become a paradise in recent years for Shenzhen and Hong Kong makers and entrepreneurs to bring forth new ideas and start businesses.
A total of 21 supporting activities that aim to motivate the public and promote mass entrepreneurship and innovation will be simultaneously held across the city.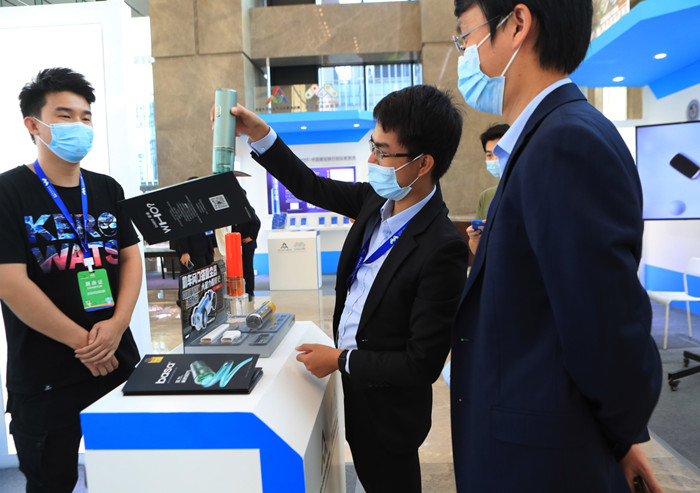 An exhibitor demonstrates how a portable cordless mini-vacuum cleaner for cars works.The product, which won the 2021 Red Dot Award & iF Design Award, is developed by basaXLab, which was set up by innovators from Hong Kong and other cities of the Guangdong-Hong Kong-Macao Greater Bay Area.

An interactive experience exhibition at the main venue became the launch ceremony's showstopper yesterday. A variety of creative products were showcased, which enabled citizens to experience various new technology applications in different life scenarios.
The exhibition gathered together innovative enterprises, maker institutions, scientific research institutions, colleges and universities from Guangdong, Hong Kong, Macao and Taiwan.
"This noninvasive glucose monitoring device can provide real-time blood sugar data and facilitate patient health management while allowing cloud data access by family members and medical professionals," said Li Shuang, a staffer from Glutrac, a cross-border firm focusing on non-invasive human health data monitoring technology R&D.
Shenzhen NED Optics Co. Ltd., a national high-tech firm, brought its signature headset that can bring immersive and realistic cinema experience to the exhibition.
Peng Huajun, chairman of the company, received his Ph.D. in flat panel display and optoelectronics in Hong Kong University of Science and Technology.
"The cooperation zone provides a broad platform for Hong Kong entrepreneurs. It is not only open to the Pearl River Delta and the Guangdong-Hong Kong-Macao Greater Bay Area, but also the whole country and even the whole world," said Peng.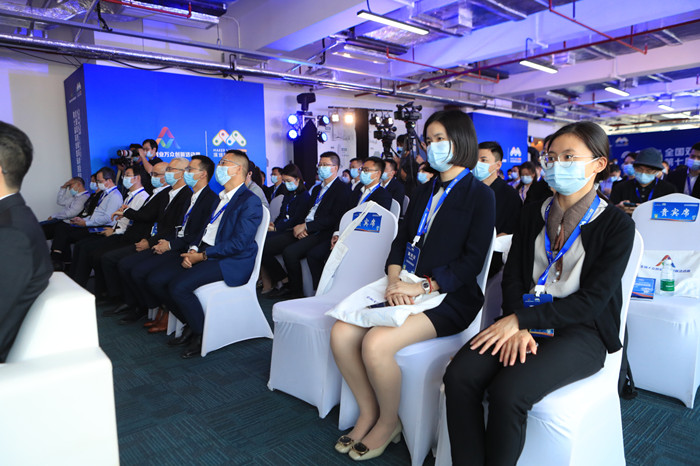 Attendees at an event during the maker week

The mass entrepreneurship and innovation policy, introduced in 2014, has been an effective driver for economic growth and the consistent transition between traditional and new growth engines, according to Xinhua News Agency.