A remote ultrasound robot produced by Shenzhen-based MGI Yunying, which won the Excellent Award of the Shenzhen Global 5G Application Competition last year, appeared at the Fourth China International Import Expo (CIIE), which takes place in Shanghai from Friday to today.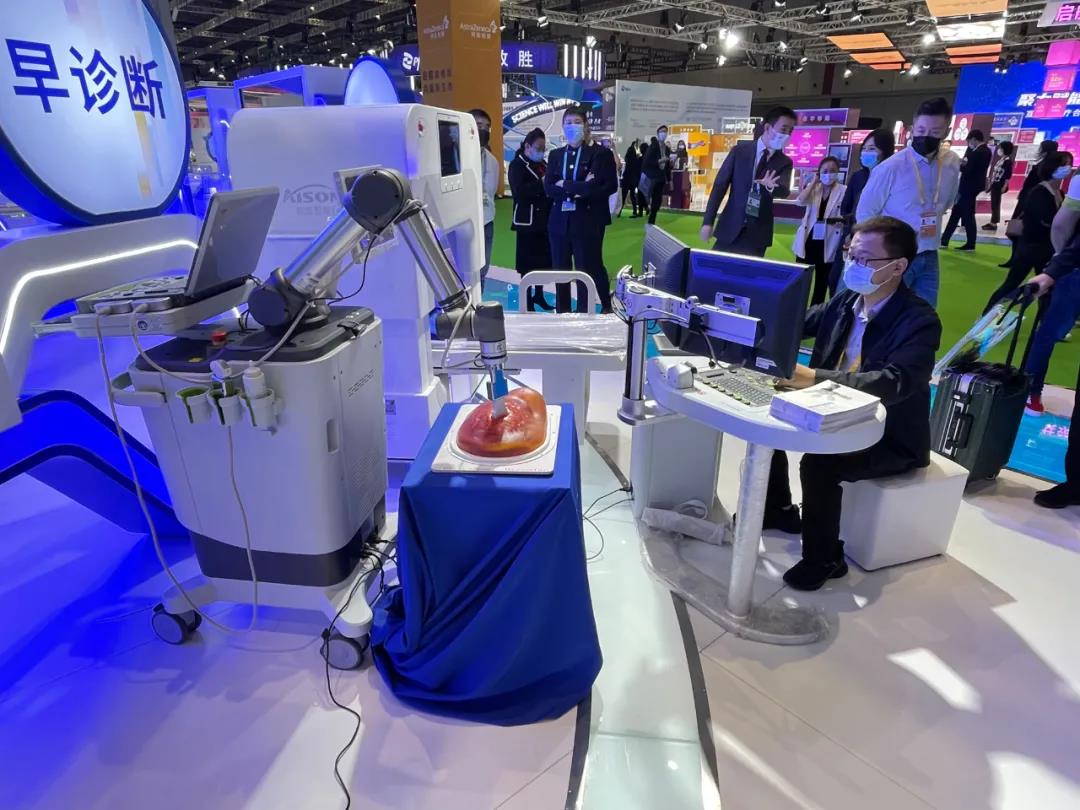 A man remotely controls the ultrasound robot produced by MGI Yunying during the CIIE. Courtesy of MGI
MGI's remote ultrasonic robot MGIUS-R3 demonstrated its advantage of solving medical resource shortage in remote areas and how 5G technology enables smart health care services and innovative development at the CIIE.
During the expo, MGI signed cooperation deals with three other medical institutions to jointly form a strategic alliance in cancer prevention and treatment.
According to MGI, the remote system is composed of doctor and patient terminals, which are separated in different places and are paired and connected through the network to help provide more high-quality services to areas with scarce medical resources. MGIUS-R3 is equipped with multiple sensitive ultrasound probes on its robotic arm that can be operated by a doctor 1,000 kilometers away to complete ultrasonic scanning and diagnosis. The scan results can be transmitted to the patient through the real-time network. Doctors can also have real-time communication with patients during the whole screening process.
As the world's first remote ultrasound robotic system, MGIUS-R3 combines robotic technology, remote real-time control system and high-resolution ultrasound imaging to overcome the distance limitations of traditional ultrasound diagnostic methods.
"Through strategic cooperation, MGI will establish remote ultrasonic treatment system at grassroots medical institutions in remote areas. MGI has established a cooperation network with a dozen of Chinese top hospitals and experts," Wu Li, general manager of MGI, said at an interview with Shenzhen Special Zone Daily.
In April this year, MGI's first mobile vehicle for the ultrasonic robot was put into use in Anji County, Zhejiang Province, to offer breast cancer screening for female employees at local enterprises. Also, in June this year, the robot carried out thyroid carcinoma screening in the city of Tongren, Guizhou Province.