While many things are being put on hold due to the sporadic COVID-19 outbreaks in parts of the country, the enthusiasm for innovation and entrepreneurship was unstoppable at the PHBS-CJBS Global Pitch Competition Finals at Peking University HSBC Business School (PHBS) in Nanshan District on Friday.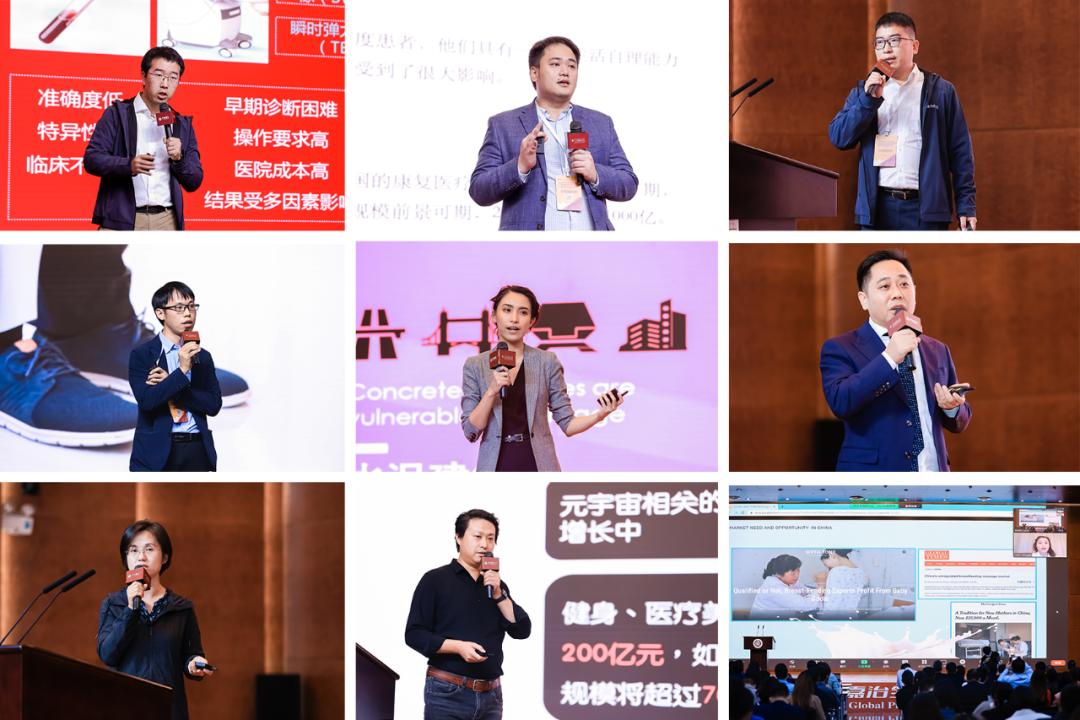 Snapshots of entrepreneurs presenting their projects at the finals. Photo by courtesy of the organizer
At the finals, 10 startups from home and abroad pitched their most innovative technologies to a panel of judges consisting of eight renowned scholars, investors and entrepreneurs.
Co-organized by PHBS and the Cambridge Judge Business School (CJBS), the competition was staged online and offline, and was one of the key events of the 2021 National Mass Innovation and Entrepreneurship Week Shenzhen Venue and the Seventh Shenzhen International Maker Week. According to the organizers, the finals attracted over 3,000 observers from startups and guest audience on-site and online.
After fierce competitions, the first prize went to MAGIC WEAVER AI body digitization and measuring, a digital solution for precise body measurement and automatic apparel size recommendations for individuals and businesses.
Shenzhen-based startups BionicM and QYSEA won second prize with their AIoT-based intelligent prosthetic leg as well as underwater robotics and underwater AI solutions respectively. AIoT is the combination of artificial intelligence and the Internet of Things.
Five projects got the third prize, namely, CIMC Cold Chain's "R&D and Industrialization of Modular Intelligent Combined Mobile Cold Storage" project, Enhanced Robotics' intelligent and affordable exoskeleton, a system for noninvasive detection of liver fibrosis developed by Precision MedCare, optical active alignment system designed by Shenzhen AIT Precision Technology Co., Ltd, and Mimicrete's self-healing concrete technology.
Lilu's Breast Pumping Massage Bra project took home the Outstanding Startup Award.
After 10 online roadshows, eight startup teams from the domestic division and two from overseas division (Europe and North America) stood out and entered the finals to present their ideas and projects from nearly 150 quality projects from around the world, covering various fields such as medical and health, agricultural technology, advanced manufacturing and consumer technology.
In his opening remarks, Prof. Hai Wen, founding dean of PHBS, said that PHBS has made great efforts in facilitating entrepreneurship and innovation. According to Prof. Hai, in November 2018, PHBS established the Center for Innovation and Entrepreneurship, which had undertaken a series of competitions, lectures and research under the theme of entrepreneurship and innovation. In the future, PHBS and CJBS will work closely to strengthen the cooperation in education and scientific research in Shenzhen and promote the exchanges between them in innovation and entrepreneurship through student trainings and competitions.
Stelios Kavadias, deputy dean of CJBS and director of Entrepreneurship Center at CJBS, gave his congratulations and wishes to the finals via a video link.