The Third Shenzhen Book Fair, which will kick off the "Readers Carnival" section of this year's Shenzhen Reading Month, is scheduled to open Saturday and will run until Nov. 28.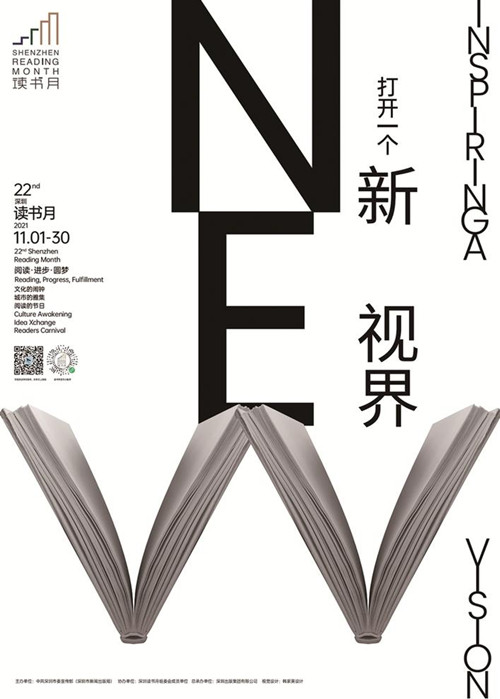 The 22nd Shenzhen Reading Month, themed "Inspiring a New Vision," encompasses activities under three key sections, namely "Culture Awakening," "Idea Xchange" and "Readers Carnival."
The book fair's main venue will be at the Shenzhen Book City CBD Store and its west square in Futian District. Shenzhen Book City's other stores in Luohu, Nanshan, Futian, Bao'an, Longgang and Longhua districts will host six subvenues, while the seventh subvenue will be outside Maxland Shopping Mall in Guangming District. Each subvenue will roll out distinctive reading and cultural activities for residents.
According to the event's organizers, citizens will be offered various discount, with some as high as 76.6 percent off.
A series of reading activities, including more than 100 cultural activities such as cultural product displays, interactive games, tea tasting, music parties, film screenings and famous writers' sharing sessions, will also be held with the goal of involving every citizen.
This year, the book fair will have 318 booths and 102 publishers will be invited to set up stalls to display and sell 223,000 different types of high-quality books totaling 1.2 million.
For the first time, the book fair will collaborate with the National Book Release Center to release an annual report on new book publications, as well as the national new book publication index.
It will also publish national well-known publishers' new book plans for 2022, select and promote high-quality new books with high reader value.
The book fair's night market will continue to take place, and the main venue in the Shenzhen Book City CBD Store will be open until 10 p.m. every day.
The First Shenzhen Book Fair was launched in 2019 and had the greatest sales performance among national book fairs of the same kind that year, according to the fair's organizers. The Second Shenzhen Book Fair brought in a total of 20.186 million yuan (US$3.16 million) in book sales.