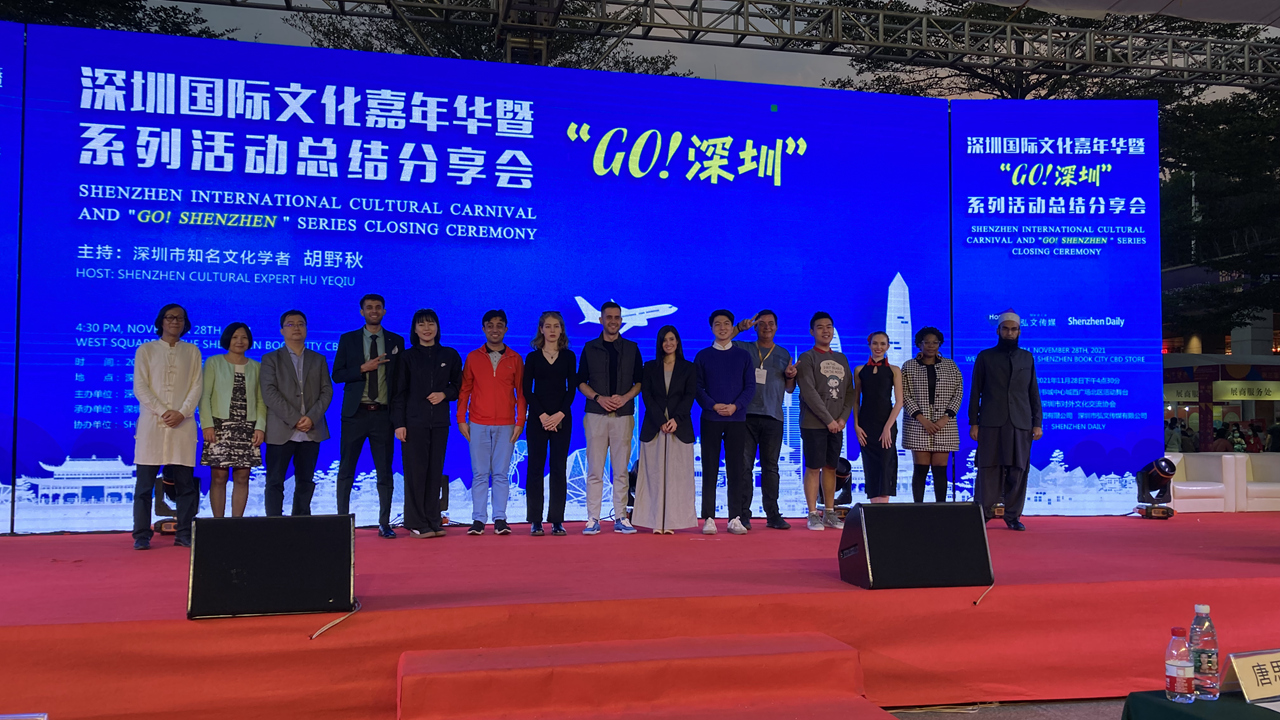 Attendees pose for a photo at Sunday's event. Lin Lin
The "Go! Shenzhen" cultural event series, aimed to help expats know more about the city, wrapped up yesterday with a closing ceremony held at the west square of Shenzhen Book City CBD Store in Futian District.
The series, hosted by the Shenzhen International Communication Association, was launched in October and included three events: a TED-style speech event where expat speakers talked about their stories of living and working in Shenzhen, an overseas social media contest titled "Dining in Shenzhen," in which 20 expats shared their favorite Chinese restaurants in Shenzhen, and a tour at the third Shenzhen Book Fair, which invited five expats to experience the book fair as reading ambassadors.
Karla Angarita from Colombia won second prize at "Dining in Shenzhen." She is an active social media user with more than 20,000 followers on Instagram and she has noticed that there is much interest from overseas about life in China, especially after the COVID-19 pandemic started.
However, she also finds that the stereotype of China being a closed country with limited options still persists. "So, I think opportunities like 'Dining in Shenzhen' allow us foreigners in China to show the real China to the world," Angarita said.
Third-prize winner Chung Yee Tsang from the U.K. showed his video eating dim sum, with baskets piled taller than him. For him, the contest was not about attracting views or winning, but about "exposing the hidden little treasures of the city."
"I do lots of vlogs about where to eat, how to eat like a local," Tsang said. "Food is how I learn about different cultures and different countries. This event was actually very kind of my thing."
Anna Kazanova from Russia, one of the reading ambassadors at the book fair, grew up in Shenzhen and is now a postgraduate student at Shenzhen University. She said that the book fair enables all visitors to feel the "soul" of printed books, a texture that digital books can't offer. "The book fair actually gives you the urge to buy books," Kazanova said.