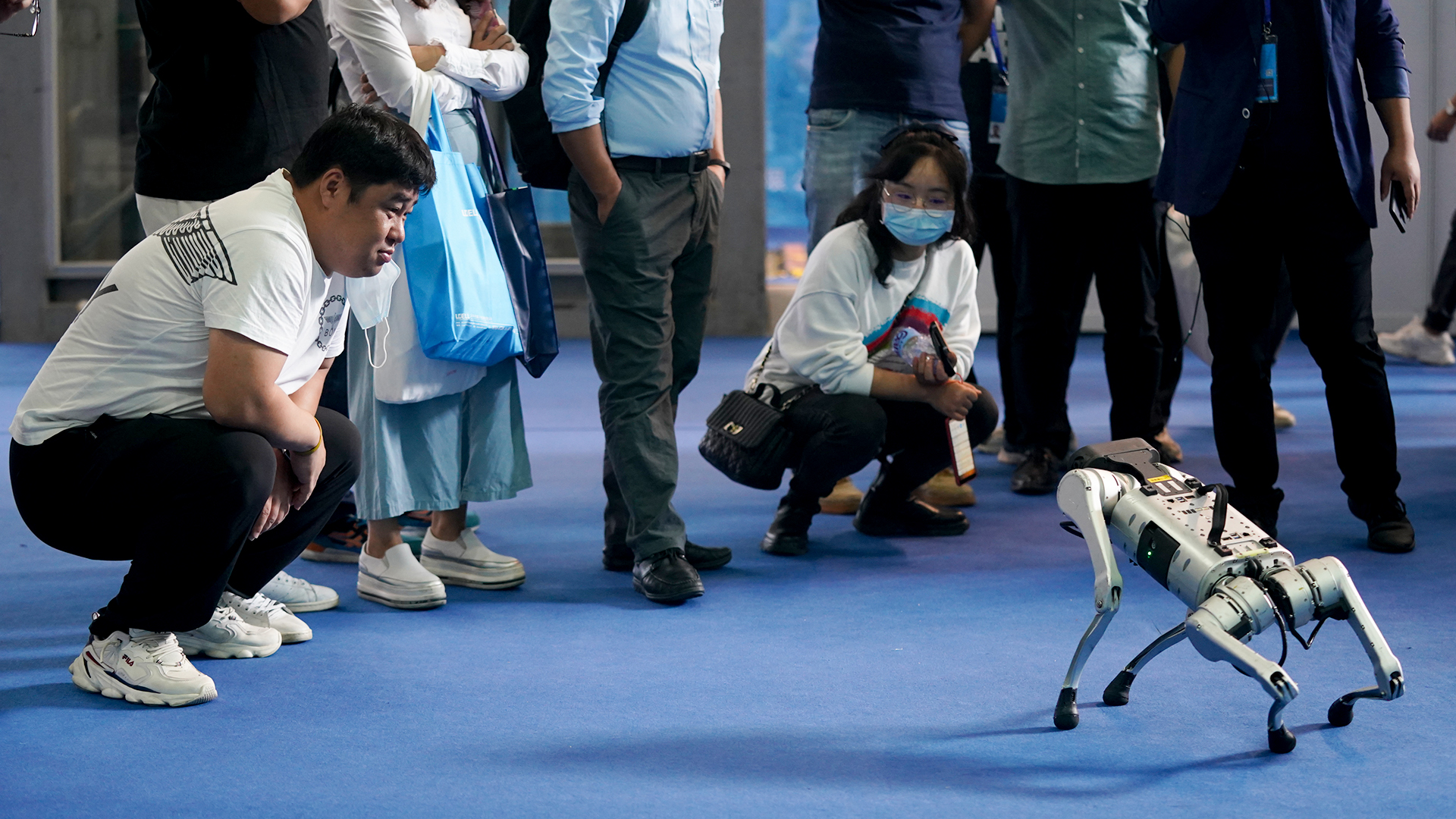 Visitors to the 22nd China Hi-Tech Fair (CHTF) held last year looks at a robot. Liu Xudong
The postponed 23rd China Hi-Tech Fair (CHTF), the country's largest and most influential scientific and technological fair, will kick off in the city's two major exhibition centers Monday.
The fair, which was scheduled to take place at the Shenzhen Convention and Exhibition Center in Futian District from Nov. 17 to 21, was postponed due to the COVID-19 pandemic, its organizers announced last month.
This year's fair will take place at the exhibition center in Futian and Shenzhen World Exhibition & Convention Center in Bao'an District both online and offline, according to the organizers.
The offline fair will last three days from Monday to Wednesday while the online event will run from Monday through Friday.
Shuttle buses will be available between the two venues.
Themed "Advance quality development and build a novel development pattern," this year's fair will highlight strategic emerging industries such as new-generation information technologies, biotech, new energy, new materials, high-end equipment, new-energy vehicles and aerospace technologies, as well as cutting-edge innovative technologies in life health, smart equipment, robotics, wearables, quantum science, hydrogen-powered batteries and micro-nano materials. It will also showcase the deep integration of new technologies, products and modes in internet, big data and AI industries.
The exhibition area for foreign delegations and Belt and Road countries will feature state-of-the-art technologies and significant cooperation projects, especially new products, technologies and projects from Belt and Road countries, such as new-generation information technologies, high-end manufacturing, smart city, new energy and new materials.
So far, 37 countries including France, Germany, Russia, Argentine, Austria, Belgium, Brazil, Sweden, Italy, Mexico, Spain and Singapore have confirmed to attend the fair. Twelve of them will attend on site and 25 online.
Nearly 50 big names will appear at this year's China Hi-Tech Forum to deliver speeches on scientific and technological innovation, and international cooperation.
They include a number of academicians from the Chinese Academy of Engineering and Chinese Academy of Sciences; Clas Neumann, senior vice president of German software and cloud service giant SAP; and Zhao Juntao, president of Ericsson China.
Visitors to the fair must hold a proof of negative COVID-19 nucleic acid test issued within 48 hours prior to entering the venue, have no traveling history in medium- and high-risk areas in the country in the past 21 days and in foreign countries in the past 28 days, and hold a green health code. For more details, please check www.chtf.com on computers and m.chtf.com on mobile phones.
Meanwhile, the 18th China Public Security Expo will coincide with the China Hi-Tech Fair.