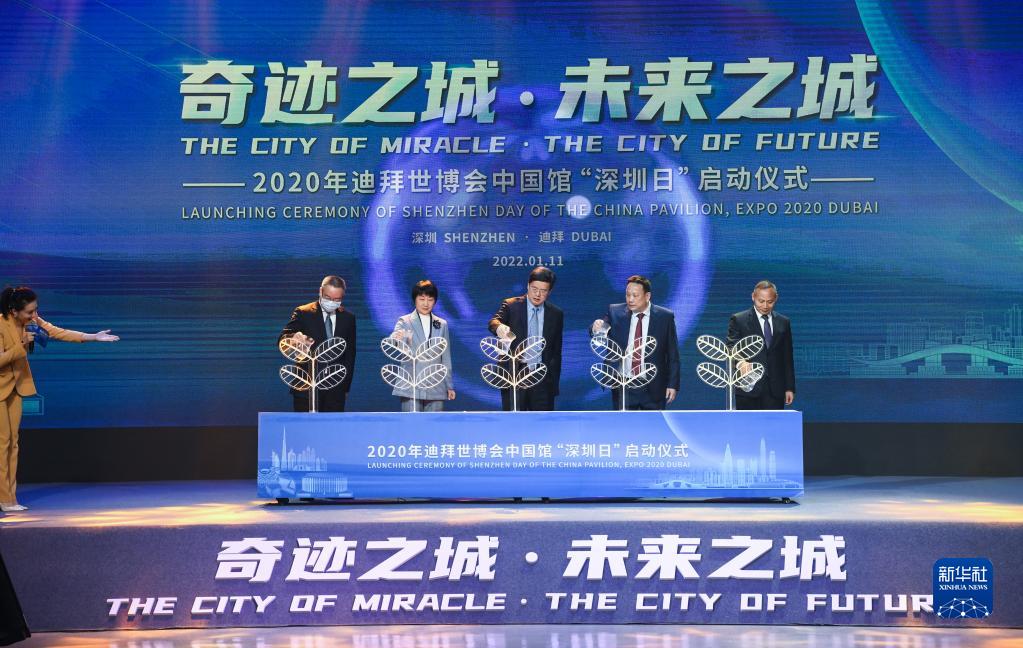 More than 50 Shenzhen-based high-tech companies are displaying their latest products at the Expo 2020 Dubai, seeking opportunities and potential markets not only in Dubai, but also in the wider Middle East and North Africa region (MENA), during the Shenzhen Products Show in the UAE.
The three-day products show is part of China Pavilion's "Shenzhen Day," which kicked off yesterday.
Themed "The City of Miracle, The City of Future," the opening ceremony was both held and livestreamed in Shenzhen and Dubai.
"Shenzhen Day," which is scheduled to last until tomorrow, highlights the city's achievements in high-tech and manufacturing industries to the world.
In a speech at the opening ceremony in Shenzhen, Mayor Qin Weizhong said the city will enhance pragmatic cooperation with Dubai in scientific innovation, investment and trade, financial services, culture and art, and pandemic prevention and control in the future.
The products show, as a highlight of "Shenzhen Day," focuses on "Shenzhen Design, Shenzhen Intelligent Manufacturing and Shenzhen Quality" and is jointly hosted by the Dubai Chamber of Commerce & Industry (Dubai Chamber) and the China Council for the Promotion of International Trade Shenzhen Municipal Committee (CCPIT Shenzhen) to reinvigorate economic exchanges and trade between Shenzhen enterprises and companies located in the MENA region.
The exhibitors include BYD, one of the world's largest electric vehicle manufacturers; CSG, China's leading architectural glass manufacturer; and Mindray, one of the major global medical device providers, according to CCPIT Shenzhen.
At a 700-square-meter exhibition hall in Dubai Chamber Building, 350 Shenzhen-made high-end products from consumer electronics, life and health, and intelligent security industries are being displayed.
The Dubai Chamber has invited hundreds of local businesses to pay on-site visits to the exhibition. An online matchmaking platform was also deployed for those seeking cooperation to directly contact Shenzhen companies at https://app.meetby.net/shenzhen.
"As innovation leaders, Dubai and Shenzhen would benefit by expanding their cooperation and knowledge sharing in new areas and fields such as high-tech equipment manufacturing, research and development, green and low-carbon, biomedicine, digital economy and marine economy," H.E. Hamad Buamim, President & CEO of Dubai Chamber of Commerce & Industry, said at the launch ceremony.
Dubai and Shenzhen signed an agreement in 2018 to reinforce cooperation in entrepreneurship and innovation. In 2020, a memorandum of understanding was signed stating that the two cities will cooperate to achieve prosperity and development in several different sectors of common interest.