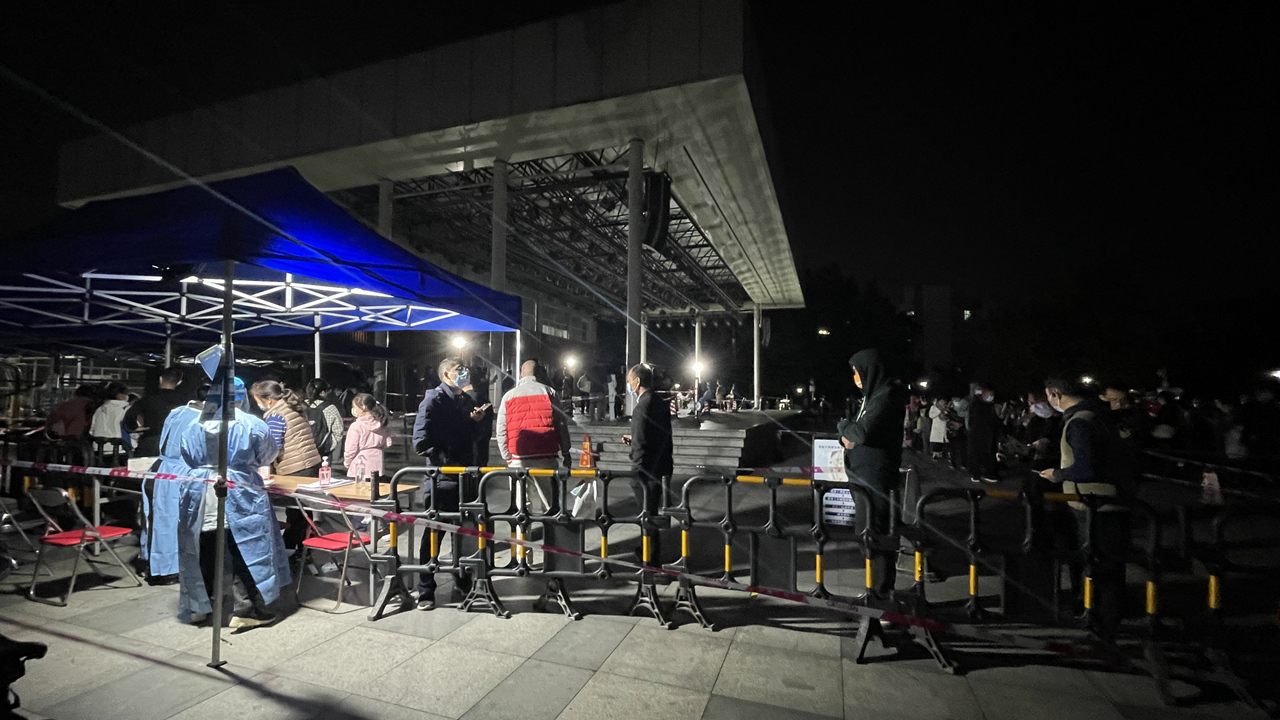 Residents wait in line to take nucleic acid test at the Lianhuayicun Residences in Huafu Subdistrict, Futian District on Tuesday. Wang Haolan
Shenzhen reported one new confirmed COVID-19 case as of 8 p.m. yesterday, bringing the total number of infections in the latest COVID resurgence in the city to 13, the municipal health authority said at a press conference in Futian District last night.
Case 13 is a 42-year-old woman who works in a diner in Caopu Community in Qingshuihe Subdistrict, Luohu District, and lives in Jihua Subdistrict in Longgang District. She went to the Second People's Hospital of Shenzhen to seek medical treatment Tuesday noon.
The hospital issued a notice yesterday afternoon, announcing to suspend outpatient and emergency medical services. But its internet hospital will continue to operate normally.
Seven new confirmed COVID-19 cases and one asymptomatic infection were reported in the city Tuesday.
A preliminary investigation showed that the infections belong to the same transmission chain of the COVID cases reported in the city since Friday.
According to the commission, case 9 is a 26-year-old woman and was diagnosed as an asymptomatic infection. She is the daughter of case 5.
Case 10, aged 2, is the son of case 9. He was diagnosed as a confirmed case of COVID (common type).
Case 11 is a 42-year-old man who lives in Luohu District and works at a logistics company in Bao'an District. He was diagnosed as a confirmed case of COVID (common type).
Case 12 is a 34-year-old woman who lives and works in Luohu. She is a close contact of case 4, and was diagnosed as a mild case of COVID-19.
Cases 9, 10 and 11 live in Hewei Village in Caopuxi Community in Qingshuihe Subdistrict. In addition, cases 9 and 10 are family members of cases 5, 6 and 7.
All of the newly reported infections were detected in routine nucleic acid tests of the key risk groups and in the citywide screening of close contacts and secondary close contacts of the infections confirmed earlier.
As of 8 p.m. yesterday, 2,098 close contacts and 2,625 secondary close contacts of the 13 cases had been put under health monitoring.
Luohu designated control areas in Dongxiao Subdistrict's Lanhua Community yesterday, according to a notice from the district's COVID prevention and control headquarters office.
Enclosed management has been enforced in residential buildings and markets, and personnel flow and gathering has been restricted in the control areas. Nucleic acid testing will be conducted once a day from yesterday to Tuesday, said the notice.