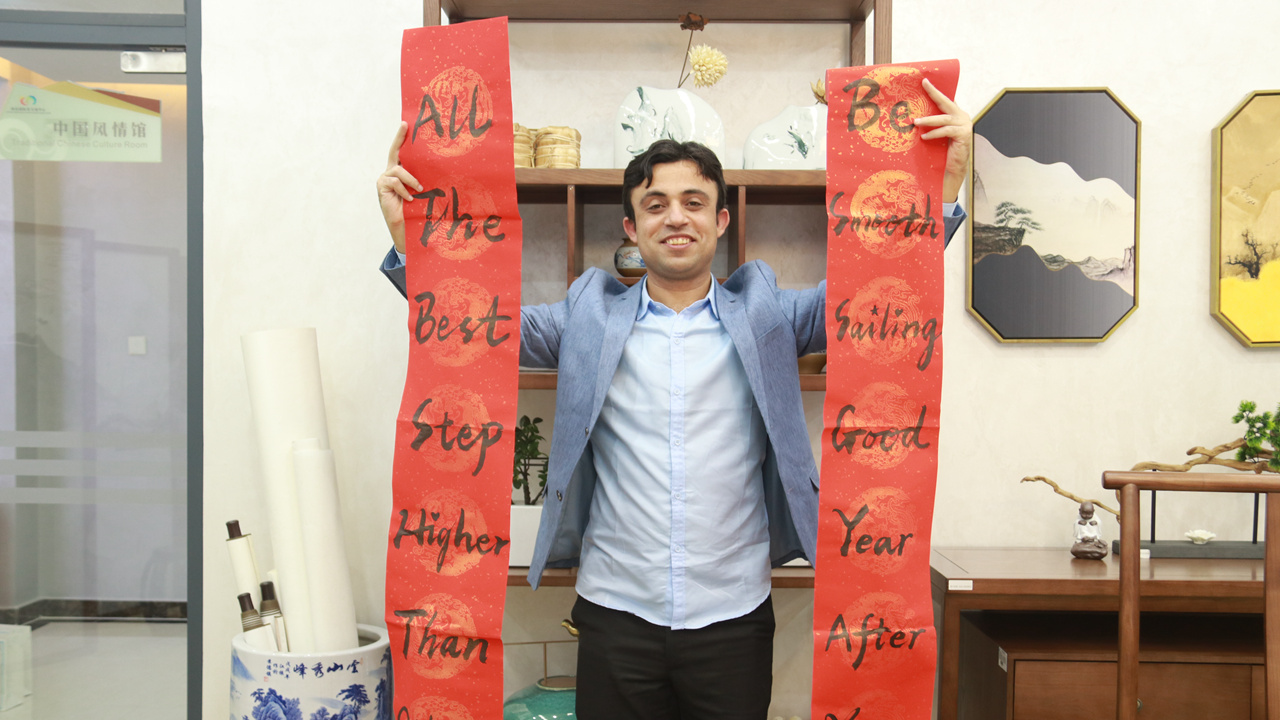 Yasin Muhammad, a Pakistani optical engineering Ph.D. student in Shenzhen University, shows the Spring Festival couplets he has received from the Nanshan International Cultural Exchange and Service Center (NSIC) as a gift for the Spring Festival, which falls on Feb. 1. In a recent event, the NSIC in Zhaoshang Subdistrict in Nanshan District invited many expats to learn writing the Spring Festival couplets and other traditions to celebrate the holiday and help them understand more about traditional Chinese culture. Courtesy of NSIC
Chinese Lunar New Year, which is just around the corner, is celebrated worldwide by many communities. In Shenzhen, the expat community has their own special ways to mark this most important Chinese festival.
Johannes Bults from the Netherlands, who is married to a Chinese woman, knows what he is doing in terms of honoring Spring Festival traditions such as house cleaning, cooking traditional cuisines, and preparing cash gifts and floral decorations. More importantly, he religiously observes these centuries-old traditions.
The 62-year-old told Shenzhen Daily in a video interview Thursday that he had already cleaned the house with his family, grabbed Spring Festival couplets at the community service center, and decorated their home with all kinds of flowers.
Bults said that his hometown in the rural area of the Netherlands shared the same custom on cleaning houses to welcome the New Year. "What I like most about the whole Spring Festival is the tradition of people throwing away old stuff and getting everything cleaned, so we start the year fresh," he said.
Bults also said he enjoys visiting flower markets to feel the holiday's happy and colorful vibes, and he will go to Dutch Flower Town in Nanshan District or Xiangmihu Flower Wonderland in Futian District to check out the flowers.
For his family, flowers are essential, especially during major holidays like the Spring Festival.
"Our home is full of flowers right now, with at least five bunches of flowers like white and red roses, carnations and oranges," Bults said, adding that the color orange is his country's national color, which makes it more special to have it in his home.
Bults mentioned that he also loves making and eating dumplings as they are symbols of fortune and family reunion.
When asked about his upcoming holiday plans, Bults said his family will take a stroll and see what's happening at Sea World, go to the beach in Dapeng and visit his in-laws in the northern Chinese city of Tianjin.
Bults is looking forward to the Year of the Tiger as he believes that "this year will only be better and stronger because the tiger is a strong and fast animal."
Portuguese artist Maria João Costa e Príncipe, who prefers to be called by her artistic name "Majó," is celebrating the Year of the Tiger with her brushes as she created two tiger paintings, one is titled "Sweet Tiger" and the other "Fierce Tiger."
Majó said the two paintings represent two sides of humanity.
Although it's not a family tradition for Majó and her family to celebrate the Chinese New Year, she enjoys the city's air of festivity. "I love to see that flowers and colorful decorations are everywhere. As an artist, I love colorful things and the color of red gives me inspirations for my works," she said.
Majó happily showed the reporter her home which is decorated with red posters with the character "fu" or "happiness" on them, which are gifts from her neighbors and community.
Roman Dogush from Russia, who runs a wellness club in Shekou, said he will stay in Shenzhen to check out celebrations around the city. The 31-year-old said he likes dragon and lion dances, firework displays, as well as the cozy and nice atmosphere.
Dogush is an international volunteer in Zhaoshang Subdistrict, Nanshan District. For the Year of the Tiger, Dogush said he wants to dedicate some of his free time to volunteering and hopes for more opportunities to serve the community.
According to Ge Jiahao, a staffer from the Nanshan International Cultural Exchange & Service Center (NSIC) in Zhaoshang Subdistrict, many expats have chosen to stay in Shenzhen during the Spring Festival and continue to offer services at nucleic acid testing sites to contribute their part in the fight against the COVID-19.