At the Beijing 2022 Olympic Winter Games opening ceremony at the National Indoor Stadium on Feb. 4, crystal-clear Olympic rings slowly rose from a three-dimensional cube resembling an ice block accompanied by background music, presenting a perfect marriage between LED technology and optic artistry.
Without Shenzhen enterprises' scientific and technological contributions, this successful ring presentation would not be possible, Shenzhen Special Zone Daily reported.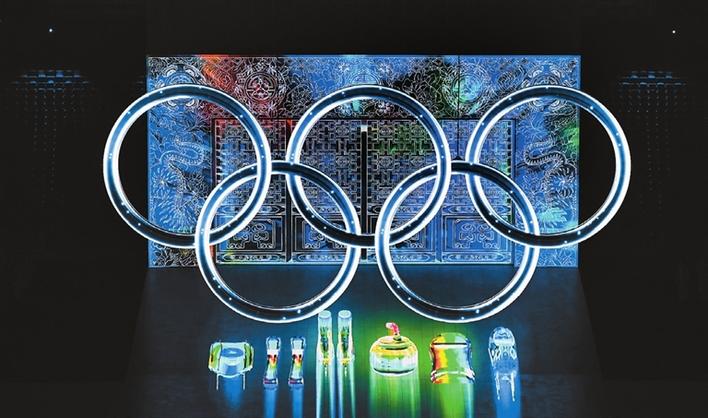 The crystal-clear Olympic rings hang at the National Indoor Stadium during the Beijing 2022 Olympic Winter Games opening ceremony Feb. 4. Xinhua
Shenzhen-based Ledman Optoelectronic Co. Ltd. and its subsidiary Shenzhen Apexls Optoelectronic Co. Ltd. were instrumental in achieving the perfect presentation of the Olympic rings' translucent effect.
Wu Quanguang, the project manager, said that the company completed an elaborate ring design after taking on the project. The rings' interior was made up of a full-angle LED ring screen that could display any image and gave the opening ceremony director's team the most creative space possible.
According to Wu, the outermost plate was prepared for the display screen to ensure a clear and soft visual effect.
"We have run tens of thousands of virtual simulation tests, using millimeter precision control to ensure a stable rise to 13 meters in 43 seconds, presenting the world with super dazzling Olympic rings," senior R&D manager Liu Shaobo told the Daily.
Aside from light transmission, the rings' overall weight had to be kept under 3 tons, which presented the design team with a significant challenge. According to Liu, the developers ensured that the rings were lightweight and strong enough to withstand strong wind, with reference to the space rocket's structural design.
Moreover, the intelligent seats developed by Shenzhen company Avant Sports Industrial Co. Ltd. have also provided spectators at the National Indoor Stadium with comfortable viewing conditions and a modern viewing experience, according to Shenzhen Evening News.
The seats feature an industry-leading intelligent seat management system that superimposes collected spatial data with the actual scene using AI visual recognition algorithm.
Spectators can find their seats by entering their seat numbers in the National Indoor Stadium's official WeChat account "guojiatiyuguan-nis" and find the quickest route with the assistance of augmented reality (AR) navigation. The entire process does not need manual guidance.
The seats have built-in low-power chips with several years' lifespan, according to Zhang Feng, the company's deputy general manager. The navigation's point position can be accurately controlled, and even the about 1-meter-wide aisle can be precisely located, thanks to the chips.