Shenzhen has adeptly leveraged its technological strengths in its fight against COVID-19, according to a press conference held by the city government's information office March 3.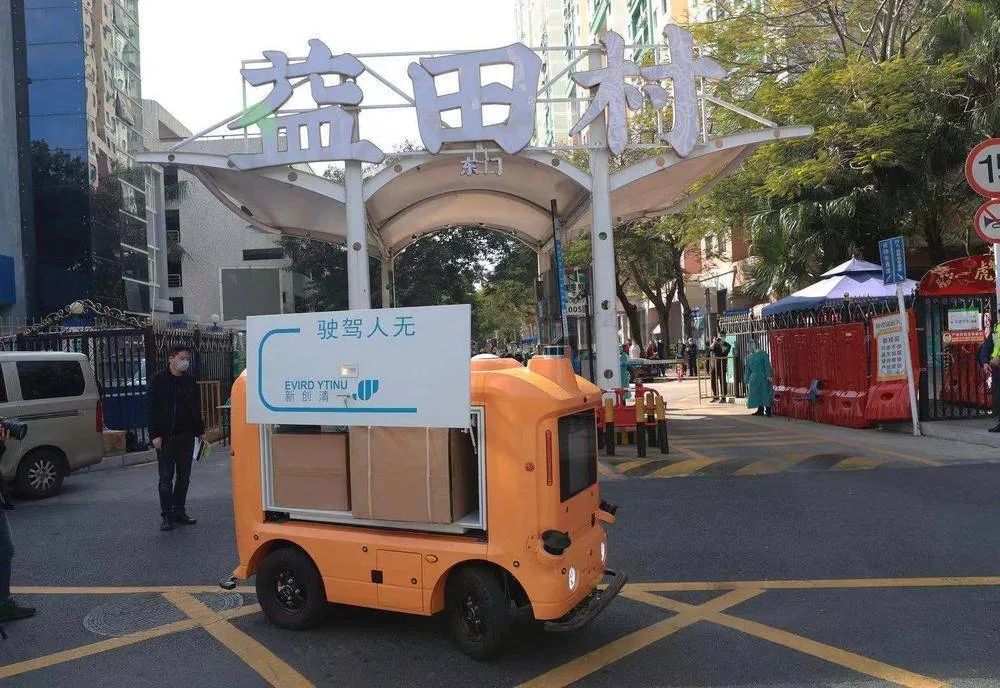 A driverless vehicle delivers cartons of anti-epidemic materials to the entrance to Yitiancun housing estate in Futian District. Li Tianjun
Wang Yaowen, deputy head of the city's government service data bureau, introduced that Shenzhen has established a multilevel collaborative information application system in health code inspection, nucleic acid testing, epidemiological investigation, border entry appointment, individual quarantine, lockdown-area management, and at-home health monitoring.
Meanwhile, the bureau has developed the "深i您" health code and digital platforms for vaccination information system, quarantine hotel management, and imported frozen food management.
The government service hotline 12345 provides rapid response services for businesses and citizens with epidemic-related requests.
"The reassignment of urgent requests must be completed within 10 minutes. The requests should be closely followed up for completion and be given timely feedback," Wang said.
According to Wang, professionals are tasked with performing system operation and information security monitoring around the clock to avoid system collapse, congestion and crash. In terms of protecting personal privacy, the bureau utilizes information encryption and desensitization to ensure information and data security in all steps.
Zhong Hai, deputy director of the municipal science, technology and innovation commission, said the city has used technology to meet practical needs in COVID prevention and control.
Shenzhen has prioritized scientific research in areas such as etiology and epidemiology, rapid testing, drugs and vaccines, medical equipment, and disinfection, making phased achievements so far, according to Zhong.
Additionally, several R&D projects, such as COVID vaccines, oral drugs and nasal sprays, are making steady progress. The Huo-Yan Lab, a high-throughput nucleic acid testing facility, has been used in many countries and regions around the globe. The lab has also recently been used to assist in Hong Kong's fight against the virus.
Shenzhen has also adopted new-type disinfection equipment and materials, electron-beam technology and robots for goods transportation, meal delivery and garbage recycling to prevent infections and improve efficiency, Zhong said.
Meanwhile, an offline training center in Pingshan District's Kengzi Subdistrict is being investigated for providing offline training during an inspection Feb. 27, which is in violation of anti-epidemic rules, according to the conference.
Lin Hancheng, spokesperson of the city's COVID-19 prevention and control headquarters, urged off-campus training institutions to strictly abide by anti-epidemic provisions.