Shenzhen enterprises' latest products and technologies were unveiled at the 2022 edition of Mobile World Congress (MWC), grabbing visitors' attention at the world-class event for the information and communications technology (ICT) industry, Shenzhen Economic Daily reported.
The four-day event kicked off Feb. 28 in Barcelona, Spain.
Apart from four Shenzhen ICT firms, namely Huawei, ZTE, Honor and Realme, nearly 50 Chinese enterprises attended the on-site event.
Hosted by the Global System for Mobile Communications Association, the 2022 MWC covers 110,000 square meters in total exhibition area, has over 1,500 exhibitors and has its number of attendees estimated at over 100,000, according to official data.
Huawei, which has six stands set up at the event, is featuring its latest ICT infrastructure solutions, including gigabyte mobile network, cloud network, optical networking, digital transformation operation and maintenance, and green development.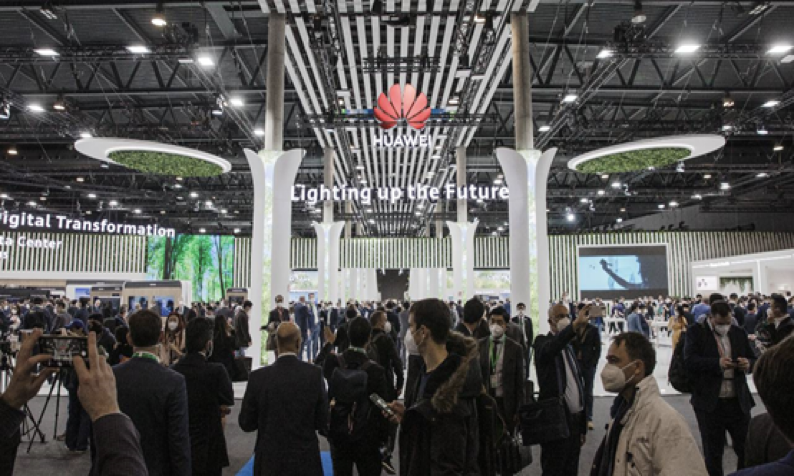 Visitors at the Huawei pavillion at the 2022 MWC. DT News
Before the 2022 MWC, Huawei has launched seven new "Smart Office" products, including a high-end laptop and its first printer and e-ink tablet.
ZTE, another Shenzhen-based global leading ICT solution provider, is presenting its innovative solutions and practices targeting individuals, families, governments and enterprises at the 2022 MWC.
It also launched a UniSite NEO solution and a series of industry-leading innovative products, such as nubia Z40 Pro and medium- and high-end Blade V40 series.
Similarly, smart device provider Honor held a global launch at the event Monday, unveiling its Magic 4 Pro. Zhao Ming, CEO of Honor, said that they have fully prepared to tap into the global market.
Honor has resumed its cooperation with Qualcomm, Microsoft and Google, and it has fully restarted its overseas retail system since last year. In October 2021, the Honor 50 series hit the shelves in nine countries, including the U.K. and France.
Shenzhen-based smartphone provider Realme's 150W "UltraDart Charge" technology has also been launched at the event. The company announced its upcoming GT Neo 3 smartphone will boast the technology that can charge the phone to 50 percent in just five minutes.