UBTECH has built partnerships with Vietnamese enterprise Imex Pan Pacific Group (IPPG) and Singapore's Institute of Technical Education (ITE) College West to help popularize artificial intelligence (AI) education through establishing AI centers and student training centers in both countries, the Shenzhen-headquartered humanoid robotics company said Monday.
IPPG has introduced the copyrights of UBTECH's AI education textbook series, which includes teaching materials, classroom training courses, professional practices, competitions and certification systems, and has localized the teaching materials to provide AI education and training for students.
The Vietnamese enterprise also plans to cooperate with universities and educational institutions to establish 10 AI centers and 1,800 AI laboratories, with the goal of providing AI training for over 2.5 million students every year to meet the needs of scientific research, teaching and practical training, and promoting the transformation of Vietnam's AI education system, according to UBTECH.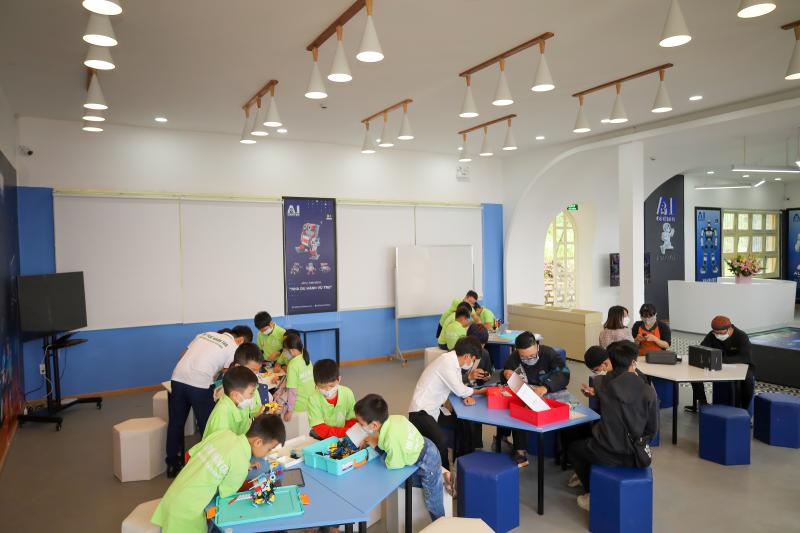 Students experience robots at an AI education center in Vietnam. Courtesy of UBTECH

IPPG has recently opened its second AI center at the University of Dalat. In 2021, its first AI center for primary and secondary education was inaugurated at the Vietnam National University Ho Chi Minh City.
According to UBTECH, several of the company's independently developed intelligent service robots, such as educational robot Yanshee and commercial service robot Cruzr, have been put into use in these AI centers.
The set of AI course books introduced by the University of Dalat's AI center has been used in 10 countries around the world, UBTECH said.
The Shenzhen firm is also one of the global tech companies that will collaborate with Singapore's ITE College West on on-campus AI curriculum design and development, as well as school-enterprise talent training.
A drone and robot hub jointly established by ITE and companies including UBTECH has been opened in Singapore to teach students about its operation and programming.
According to UBTECH, it has helped over 40 countries around the world to carry out AI education, including Vietnam, Singapore, South Korea, Thailand, Malaysia and other countries along the Belt and Road.