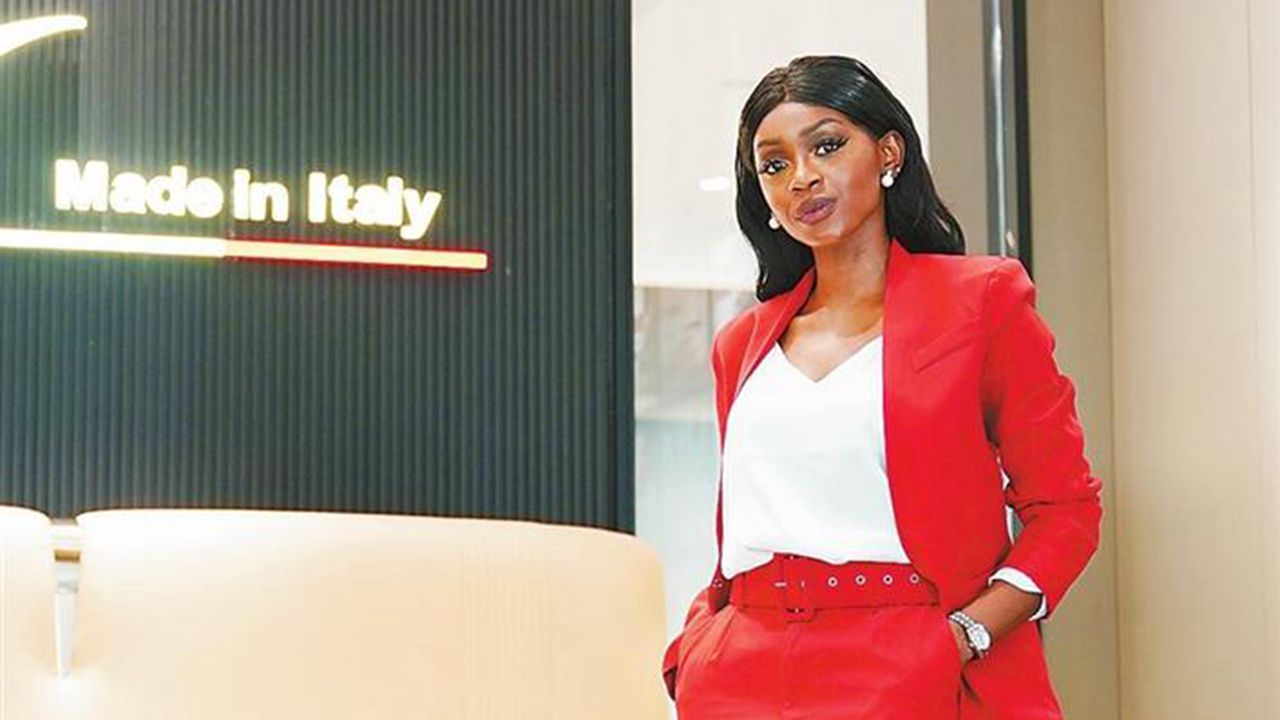 Guylaine Mayuba poses for a photo at Magniflex's new showroom in the Qianhai area Friday. Liu Xudong

Guylaine Mayuba, general and operations manager of Magniflex — an Italian mattress manufacturer — in the Asia-Pacific market, has made endeavor this spring to return to Shenzhen, a city she regards as a cradle for entrepreneurs and a "women empowerment capital" in her words with Shenzhen Daily on Friday.
She expects a rapid growth of her company's business in China this year, as a new showroom of the company's products was just opened in the new Qianhai area, which enhanced her confidence to expand the business to other regions in the Guangdong-Hong Kong-Macao Greater Bay Area.
According to Mayuba, Magniflex is one of the largest mattress manufacturers in Italy, which has tapped the markets in 99 countries. In 2017, Mayuba started her business journey in Shenzhen and later on, she established her company's Asia-Pacific branch in Qianhai.
"We chose Qianhai because of the infrastructure and the policies that the government has set in place in the past years. They really make this place a top-quality business environment," said Mayuba. "We were very much attracted by the tax exemptions and subsidies that the government has provided for our company. For a foreign-funded enterprise, Qianhai is one of the easiest and most attractive zones to invest in the Greater Bay Area."
"Being here has allowed us to develop in China and open over 100 stores throughout the territory and also to expand our business to Southeast Asia, such as in Vietnam and Thailand," she added.
Mayuba, born in the Democratic Republic of Congo and raised in France and Italy, has been an individual endowed with the ability to embrace different cultures, which greatly helped her integrate into Chinese society.
"When I moved to Shenzhen, I was only 25 years old. A leadership position managing a company with over 50 Chinese employees wasn't easy," she said. "I had to be open-minded and adaptive to this fast-paced environment. Most importantly, I had to understand how to listen to our employees and consumers."
Actually, Shanghai was Mayuba's first stop in China. She moved to the megacity in 2014 and worked in a trade company. "After a year and a half in Shanghai, I moved back to the U.S., Europe and Africa. However, I felt that my experience in China wasn't completed yet. I felt that I still needed to get involved in China's thriving business environment," Mayuba said.
So when Magniflex chose to enter China, Mayuba relocated to Shenzhen with it.
"Shenzhen for me is the women empowerment capital of China, is a city driven by the 'she economy.' Women are contributing considerably to society and essentially reshaping the city's economic trajectory," she said. "When I first saw the strength, the power and the great sense of self-worth of the city, it gave me hope and empowered me to advocate for more young women's freedom and diversity."
Mayuba said that her dream is to live in an international city like Shenzhen and be able to make the Italian product a top-notch brand in the Chinese market.
"We are working with different Shenzhen-based technology companies to develop new products that are not only beautiful and highly-crafted, but also with a tech component," she said.
To Mayuba, a "promising future" has unfolded as her brand is growing with Qianhai and the city, which takes a "special place in the world."