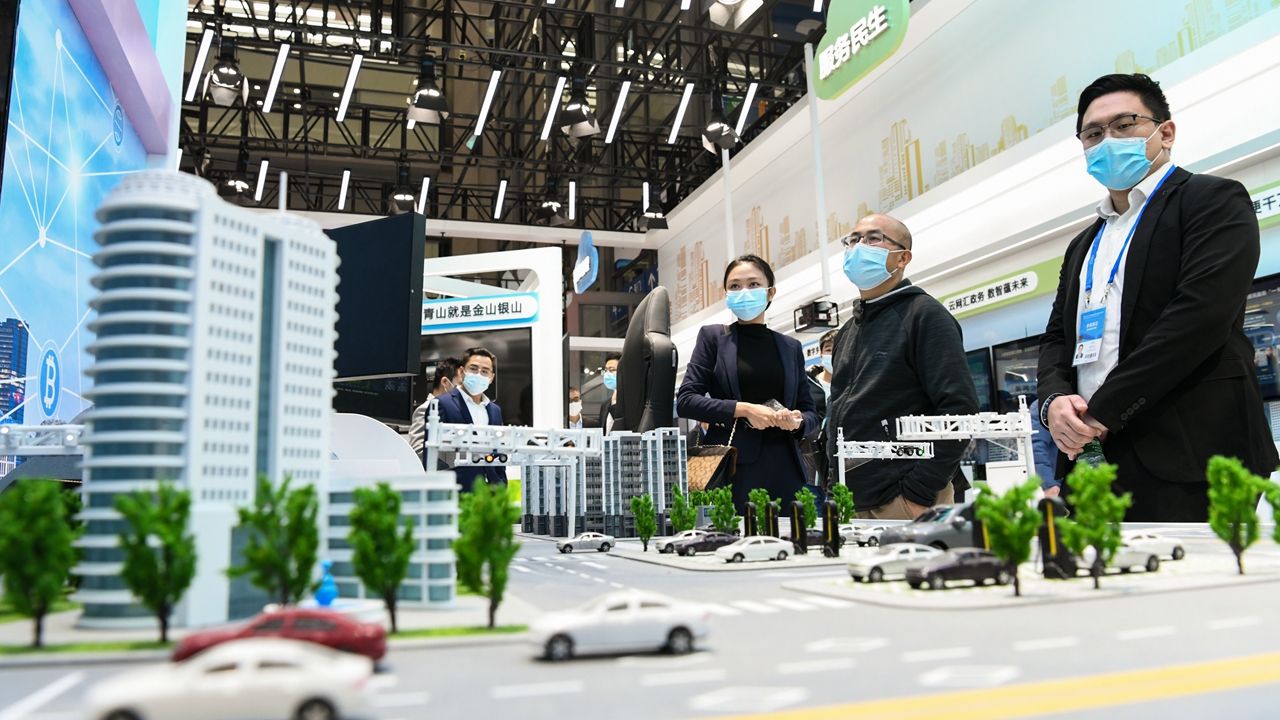 Visitors look at Huawei's intelligent connected vehicle concept at the smart city section of China Hi-Tech Fair in Shenzhen in this file photo. Xinhua
Shenzhen-headquartered tech giant, Huawei, announced the winners of its biennial Top 10 Invention Awards yesterday at a forum on IP (intellectual property) and innovation held at its headquarters in Longgang District.

The award is designed to recognize inventions that could create a new series of products, become important commercial features of existing products or can generate considerable value for the company and the industry.
Through a short video, the award-winning inventions' application scenarios were presented in a vivid and comprehensible manner. They range from an adder neural network that significantly reduces power consumption and circuit area to a game-changing "optical iris" that provides a unique identifier for optical fibers. It is designed to help carriers manage their network resources, cutting time and costs associated with broadband deployment.
Song Liuping, Huawei's chief legal officer, said at the forum, "We are eager to license our patents and technologies to share our innovations with the world. This will help broaden the innovation landscape, drive our industry forward and advance technology for everyone."
Song Liuping
By the end of 2021, Huawei held more than 110,000 active patents across over 45,000 patent families. It has filed the most patent applications with the EU Patent Office and ranked fifth in terms of new patents granted in the United States.
Alan Fan, head of Huawei's IPR Department, said the value of Huawei patents has seen wide recognition in sectors such as cellular technology, Wi-Fi and audio/video codes.
He added that the company is expected to establish a new patent pool to give the industry "quick access" to Huawei's patents for Wi-Fi devices worldwide. It is also considering joint licensing programs for 5G patents with licensing experts and other leading industry patentees.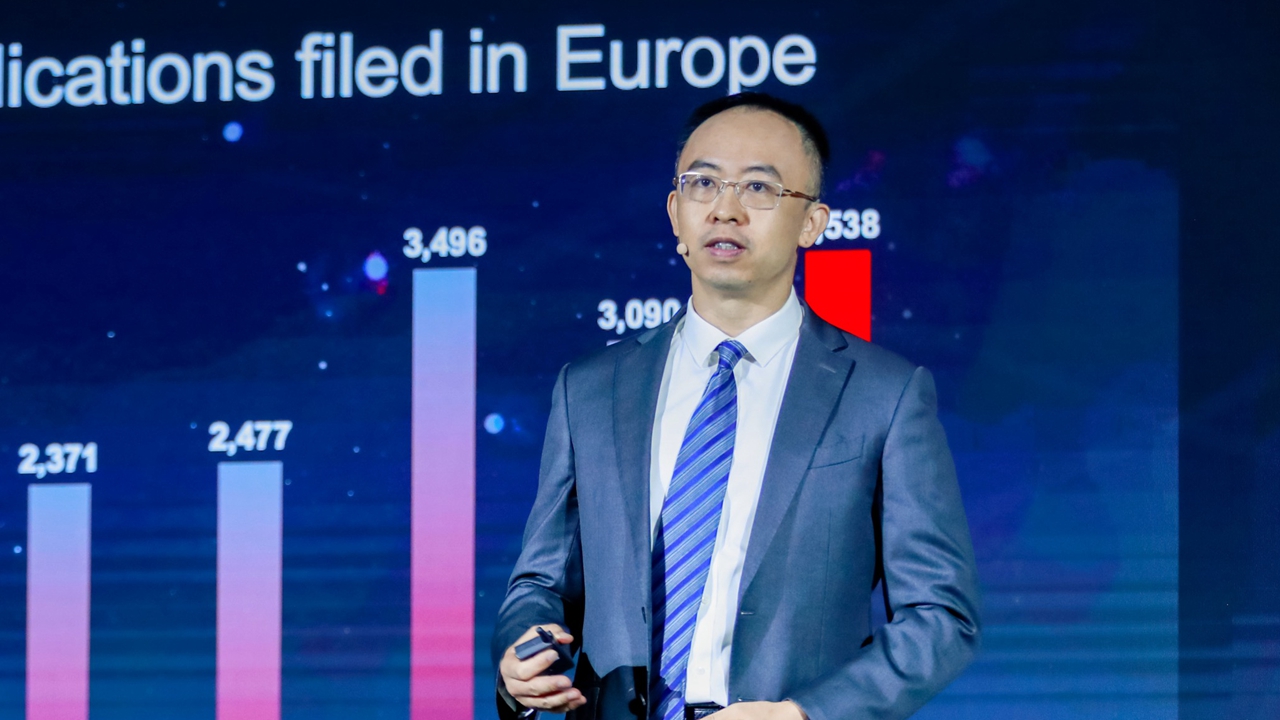 Alan Fan
Through a video speech, Manuel Desantes, former vice president of European Patent Office, contended that what matters most is not the number of IPs, but their quality.
"The IP system should assure that the creations that merit protection are those that bring actual value," he said.
The forum marked the third innovation and IP-themed event Huawei has hosted on its innovation practices.
In 2021, the enterprise increased its R&D investment to 142.7 billion yuan (US$21.3 billion), accounting for 22.4% of the total revenue. Both figures have reached a 10-year high, making the company the world's second largest investor in R&D, according to the 2021 EU Industrial R&D Investment Scoreboard.
The winners of the Huawei Top 10 Inventions in 2021 (the following introduction is provided by Huawei):
1. An all-new Adder Neural Network. This invention reduces computing power usage and circuit area by 70% while ensuring accuracy. Derivative technologies have broad application in terminal devices, consumer electronics, smart cars, and telecom networks.
2. A Multi-object Interaction Algorithm. This algorithm resolves some of the foremost challenges in autonomous driving. These include positioning, perception, and decision-making challenges in complex urban road scenarios where people and vehicles are mixed. The invention resolves 70% of challenges in these interactive scenarios. It shortens vehicle pass-through time by 40%. It also reduces storage overhead by 200 times, and cuts computing power usage by over 85%.
3. Iris on Fiber Optics. The passive nature of optical fibers makes them hard to manage. This invention marks each fiber with a unique optical iris, serving as a biometric identity. It helps carriers accelerate broadband rollout, reduce resource waste by 30%, and cut operational costs by 20%.

4. Full-Precision Floating-point Computing. This invention is a fusion of high-efficiency and high-precision. It meets floating-point computing requirements for both High Performance Computers and AI inference. This innovation has become part of our Ascend chips.
5. A revolutionary Head-Up Display. This invention solves ghosting, glare, and vertigo problems for automotive head-up displays. It cuts size, frees up computing resources, reduces latency, and makes augmented reality head-up displays more visible, affordable, and user-friendly.

6. Deterministic IP. This invention enables deterministic low latency and low jitter for large-scale packet networks. Using this, we released the industry's first and only deterministic IP network solution, achieving microsecond-level response time for industrial remote control.
7. "Kite" for Core Networks. This invention allows carriers to deploy remote core networks, or "kite networks," on their business clients' campuses. It helps meet stringent reliability and security requirements for scenarios like manufacturing, mining, and education.
8. Massive MIMO In-N-Out. This invention addresses several major challenges for indoor and outdoor 5G deployment. In outdoor scenarios, BladeAAUs simplify 5G network deployment and ensure optimal cross-generation network performance. Indoors, Distributed MIMO greatly improves 5G network capacity and user experience.

9. 5G Single Air. As a standardized 5G technology, this invention allows networks to use more shared spectrum. Compared to 4G, spectrum sharing with earlier generations of radio technology increased from 20% to 90%.The invention also allowed users to achieve millisecond-level dynamic spectrum sharing in commercial networks. It is the only solution of its kind, and it's currently used by 26 carriers around the world.
10. Dual-Active Network Attached Storage. This invention is behind the world's first symmetric active-active high-end storage system. It doubles storage performance, meeting scalability and zero service interruption requirements for sectors like transportation, energy, and finance.
11. LinkTurbo and Hyperhold. It is a device acceleration bundle. With this invention, smartphones are able to deliver a smooth user experience under all network and memory usage conditions. LinkTurbo greatly improves concurrent download rates, and reduces game delays and video buffering time. At the same time, Hyperhold greatly expands available memory and improves basic read-write performance.