Editor's note: Shenzhen Daily has joined other media organizations for a months-long research tour of the city's enterprises and industrial parks to find out through vivid case studies how the city is striving to achieve more efficient, more equitable and more sustainable growth. From today until the end of this year, we will present you a series of stories about enterprises in the city that are contributing to Shenzhen's high-quality development.
BIG questions like "Who are we," "Where did we come from," and "Where are we going?" usually provide us an intriguing window into how we perceive and position ourselves in the world.
ZTE Corp., a global leader in telecommunications and information technology headquartered in Shenzhen, has been committed to becoming a steadfast driver of the digital economy by providing reliable and trustworthy infrastructure, intelligent connectivity and ecosystem empowerment across all industrial verticals.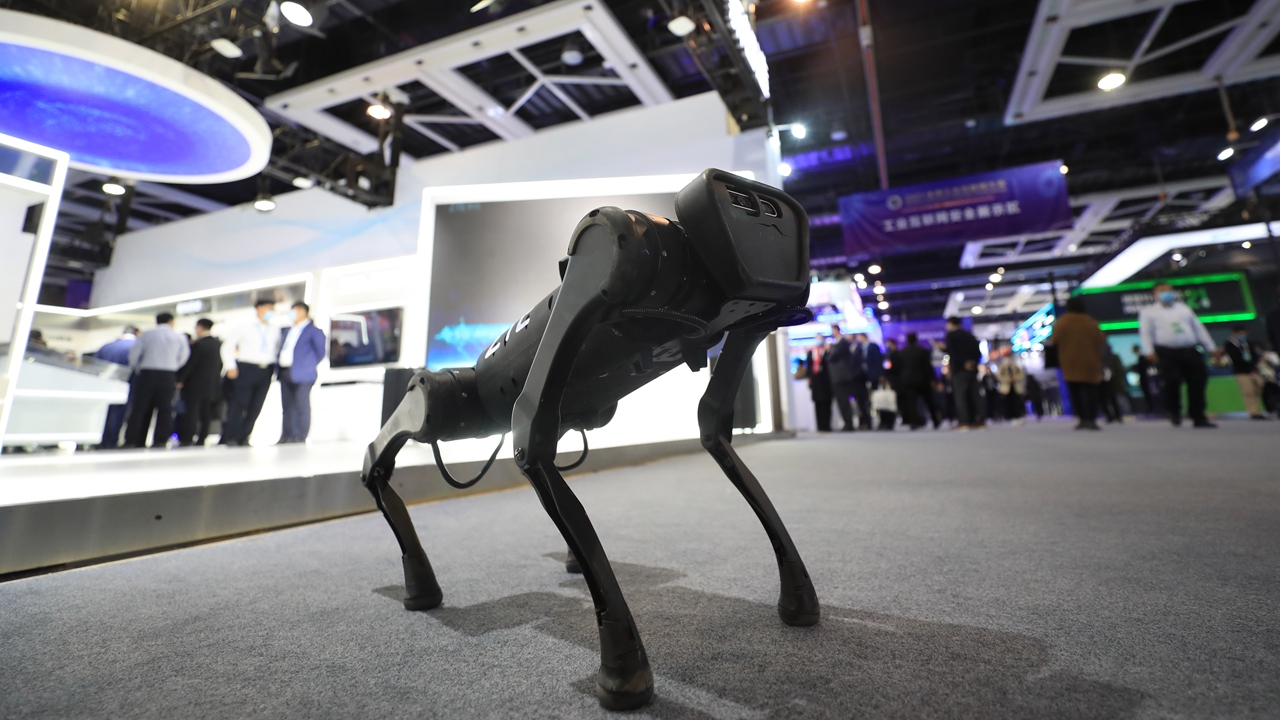 A robot dog made by ZTE is on exhibition. File photo
On Friday, Shenzhen Daily and other media organizations visited the company as part of a research tour.
ZTE was founded in 1985, aspiring to make affordable phone calls available to everyone and facilitating communication. The company has been dedicated to telecommunications and independent innovation since its inception.
In 37 years, ZTE has grown from CT to ICT with its own technical prowess and developed core digital technologies such as chipsets, operating systems and databases, and is able to provide complete cloud-network-end solutions and use intelligent and efficient tools for network deployment, operation and maintenance, and management.
As one of the world's top four communications equipment providers, ZTE has been providing innovative technologies and product solutions to customers all over the world.
According to the telecom giant, if technology companies, particularly communications companies, want to go global and serve the world, core competence and compliant and sustainable operations are paramount.
"It takes a good blacksmith to make good steel," Wang Xiang, chief strategy officer of ZTE, quoted a famous Chinese proverb in an interview Friday, adding that the company will continue to beef up its R&D and enhance its foundational competencies.
In 2021, ZTE's R&D investment reached 18.8 billion yuan (US$2.8 billion), up by 19.7% year on year and accounting for 16.4% of the company's operating revenue, up by 1.8 percentage points over 2020, statistics from the company showed.
To pursue sustainable and high-quality development, ZTE has proposed the principle of "three directions and two curves."
"Three directions" refer to innovation, globalization and end-to-end product solutions. "Two curves" mean that the company sticks to solidifying its position, keeping the steady growth of operators' business in the first curve while creating its new horizon to achieve the rapid growth of government and enterprise business, terminals business and new business in the second curve.
"We resolve to maintain high-quality growth with a solid foundation in the first curve, and actively increase product competitiveness and expand market share in the second curve," Wang said.
Shenzhen's guidelines on developing strategic emerging clusters and fostering future industries have motivated the company in terms of its development, according to ZTE, which will collaborate with ecosystem partners to help Shenzhen and possibly the entire country achieve new industrial breakthroughs and form a number of leading emerging industrial clusters.
Riding the wave of the digital economy, ZTE is also dedicated to building a solid ICT digital foundation for the digital economy and supporting the digital transformation of hundreds of thousands of industries.
According to the company, it has been actively innovating 5G industry applications, covering various scenarios in education, health care, manufacturing, finance, transportation, and daily life, empowering various industries in digital ecosystem construction.
"ZTE hopes to help promote the development of industries, boost the healthy development of domestic industrial chain, and help enterprises realize digital transformation," Wang said.
As an innovation leader, an industrial chain driver and a digitization enabler, ZTE presses ahead in tandem with China's new infrastructure strategy, said the company, whose objectives are to strengthen its resilience to agilely address risks and seize opportunities in new business, sustain annual growth and enter the Fortune Global 500 list.