Dorophy Tang, a female artist born and raised in Hong Kong, said in an interview with Shenzhen Daily that she dreamed of creating a representative cultural intellectual property (IP), through which she can contribute to the inheritance and promotion of traditional Chinese culture.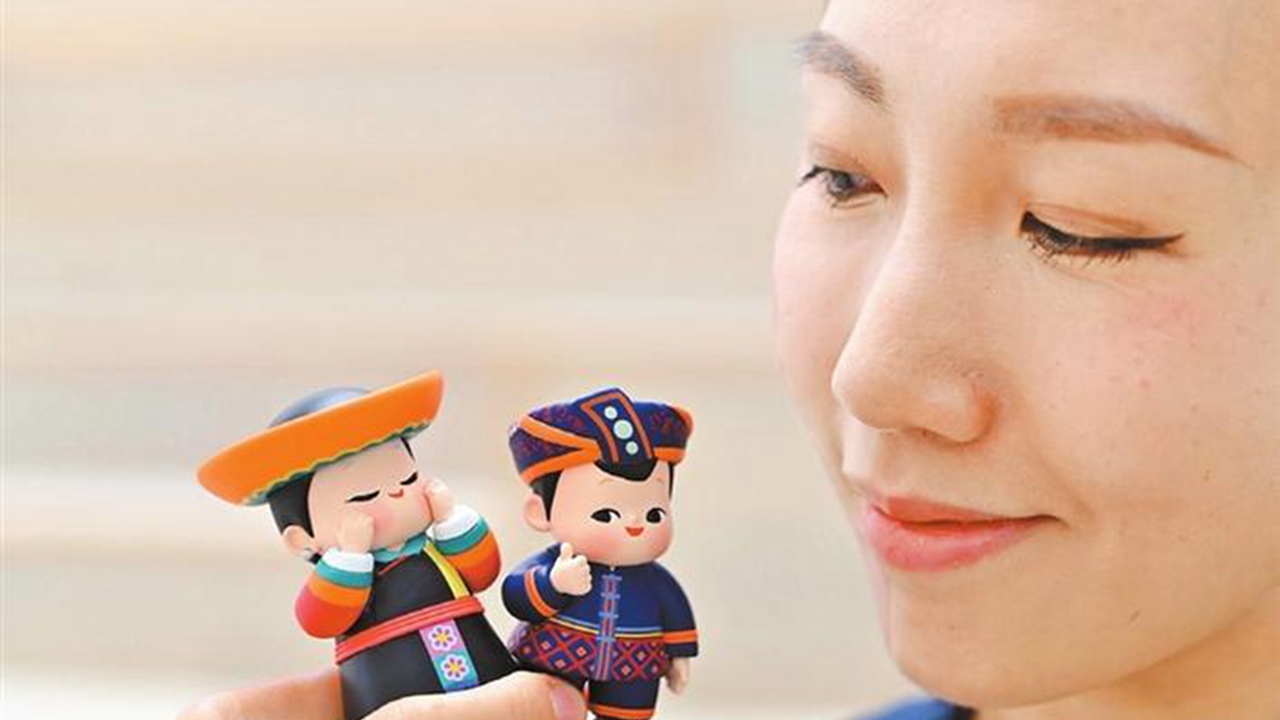 Dorophy Tang looks at the cartoon images she created. Courtesy of the interviewee

After finishing her bachelor's and master's degrees in art design at Hong Kong Polytechnic University, Tang joined a local company specializing in IP authorization, where she was inspired to create her own IP to tell her stories. After only one year, she successfully created the artwork entitled "A Shoppin' Baby" and was frequently invited by commercial brands to design their products.
Tang said her affection for traditional Chinese culture was derived from her childhood spent with her grandfather, who worked in the shipping industry and often brought her some small ornaments such as glazed ducks, blue and white porcelain vases, and old-fashioned rotary phones.
"My grandfather didn't have much time playing with me, so he would hand me a piece of paper and a pencil. Maybe that's when I fell in love with drawing, and I started to outline doll images with simple lines on the paper," she said, adding that her creations were inspired by New Year paintings, papercutting artworks and duozaifo, a Buddha symbolizing "the more children, the more blessings."
"Hong Kong is a shopping city, and I tried to combine modern consumption elements such as coffee and sneakers with my baby image. That's the origin of my artwork's name 'A Shoppin' Baby,'" Tang said.
After the baby image was launched, it was quickly favored by young people in Hong Kong. Some established brands including Adidas, Vans, Starbucks, and Disney consecutively sent Tang cooperation invitations.
Last year, Tang and her family moved to Shenzhen to seek more opportunities, and she was introduced to meet the head of China Council for the Promotion of National Trade in Beijing. She got the chance to create a set of cartoon IP images representing China's 56 ethnic groups based on her doll image.
She spent a year reading and researching many ethnic group-related records and finally used ethnic groups' costumes, lifestyle, landforms and folk customs as inspiration for her creation. "I hope that the younger generation can better understand the 56 ethnic groups and feel the great inheritance of Chinese culture," she said.
Two months ago, Tang registered her first mainland company in Qianhai. She said when she was in Hong Kong, she heard about Qianhai's rapid development and its huge potential.
"Qianhai supports the development of the cultural and creative industry, and offers all kinds of subsidies. I think there are infinite possibilities in the Guangdong-Hong Kong-Macao Greater Bay Area, and my dream is to promote my artworks showcasing traditional Chinese culture to more mainland cities and the whole world," Tang said.