Four young entrepreneurs from Hong Kong and Macao attended a sharing and reading event at UN Boox in UpperHills, Futian District on Saturday, marking the 25th anniversary of Hong Kong's return to the motherland.
They were Sing Chan, director of UNI Hong Kong Youth Entrepreneurship Space in Futian District; Esther Hui, president of the Greater Bay Area Dream Hub for Youth; Eugene Lam, vice chairman of a sodality of Hong Kong people in Dongguan; and Wilson Leong, a director of the Macao alumni association of the Academy of Chinese Culture.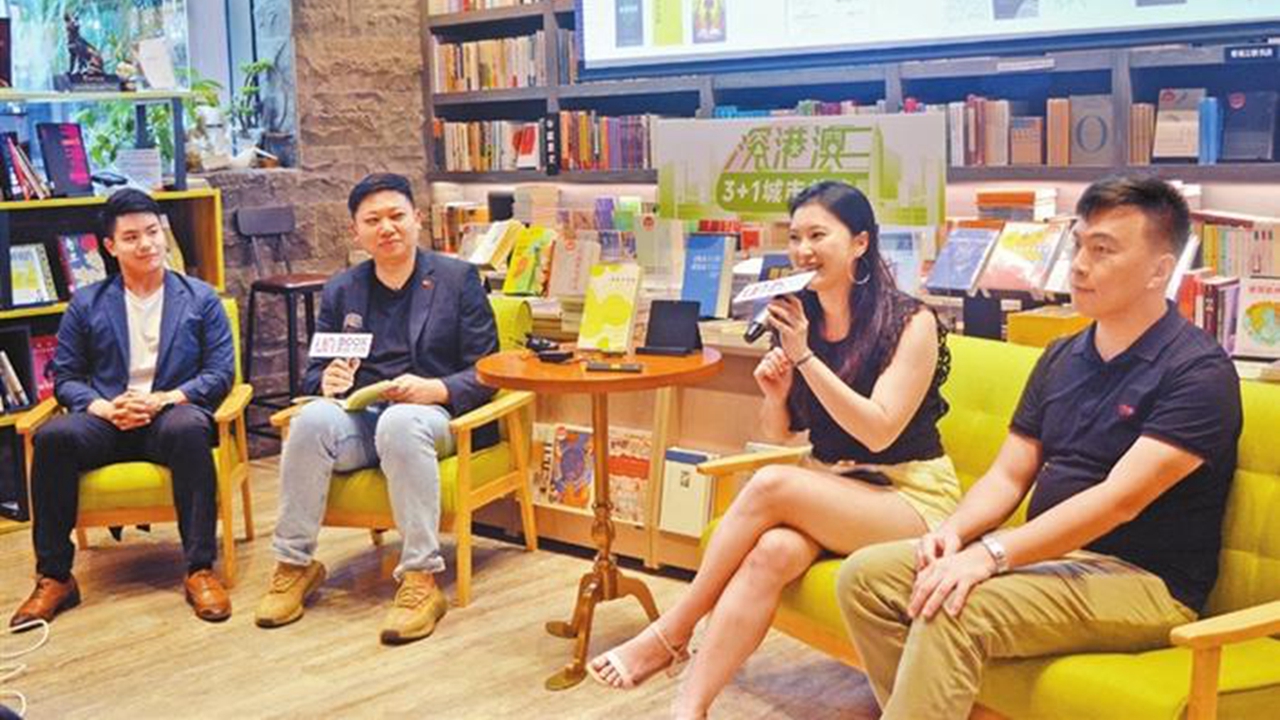 Esther Hui (2nd R) speaks as Wilson Leong (1st R), Eugene Lam (1st L) and Sing Chan look on during the sharing event in UN Boox, UpperHills, Futian District on Saturday. Lin Songtao

Chan, who moved to Shenzhen in 2014, recalled his entrepreneurial journey in the city. He took part in the establishment of Qianhai Shenzhen Hong Kong Youth Innovation and Entrepreneur Hub (E Hub) and initiation of Greater Bay Area Youth Entrepreneurship Plan, helped many Hong Kong youth adapt to life in Shenzhen and met President Xi Jinping in 2018.
"I will return to Hong Kong to participate in a Shenzhen-Hong Kong tech park project, which will cover a million square meters at the proposed Northern Metropolis. I appreciate Shenzhen for giving me opportunities and confidence to realize dreams I've never imagined before," he said.
Hui, co-founder of Shenzhen-Hong Kong-Macao Culture Association, is operating a service platform promoting brands in Shenzhen. The company helps Hong Kong brands enter the mainland market through e-commerce livestreaming and platforms such as Douyin and Xiaohongshu. It also gathers renowned intellectual property (IP) resources at home to provide Hong Kong brands better cooperation with mainland enterprises.
Lam, who used to hold a senior position in a Hong Kong bank, now manages an international education institution in Dongguan, which offers courses for kids younger than 6. "Life begins at the end of your comfort zone, so I came. There's more room for business development under the Greater Bay Area plan and a high level of openness is here," he said.
Leong is running a coffee shop in Guangzhou. The cafe routinely invites youths from Hong Kong, Macao and the mainland to its talking salons. "I never thought that the coffee supply chain in Guangzhou is that well-developed and the coffee beans are also much cheaper than in Macao. The ways to promote products in the mainland differ from Macao, so I have to learn and I found it interesting."
Saturday's event was the first of a series events celebrating Hong Kong's return at UN Boox hosted by Sino United Publishing (Holdings) Ltd., which is the most influential publishing group in Hong Kong.
The group is also hosting large book exhibitions featuring Hong Kong's return in Hong Kong and Macao that will last until next month.